Best Software To Test Laptop Battery Health Of Windows 10
If you are using a Windows laptop for a long time, you might have already faced a problem with the battery. Most of the Windows running laptop users often face battery issues after a few months using buying a new laptop. No matter how much money you spent on the computer, you can meet the low battery life issue on the Windows laptop. Therefore, you should check how good is your battery health. To do that, you need to install this software to test the laptop battery health of Windows 10.
Best Software To Test Laptop Battery Health Of Windows 10
1] In-built Battery Health Checker
There is an in-built battery health checker tool in your Windows computer. You may not find it in the Start Menu or Taskbar search box, but you can run it via Windows PowerShell. Windows PowerShell is another in-built tool like Command Prompt, and you need to run a command to get the report. It shows a lot of information, including original capacity, full capacity, cycle count, recent usage, usage history, and so on. To use this tool, open Windows PowerShell with administrator privilege. For that, press Win+X and select Windows PowerShell (Admin). Now you need to enter this command-
powercfg /batteryreport
You will be welcomed with a message saying – Battery life report saved to file path C:\Windows\system32\battery-report.html. Therefore, you need to navigate to that path and open the file in a browser. You will be able to find all the details on your screen.
2] BatteryInfoView
BatteryInfoView is a free third-party software for Windows laptops so that you can know every kind of detail on your screen. It shows a lot of things including the following-
Battery name
Manufacturer name
Serial number
Manufacturer date
Power state
Current capacity
Current capacity value
Full charged capacity
Device capacity
Voltage
charge/discharge rate
Chemistry
Full battery time for the current activity
Remaining battery time for the current activity
And more others. To use it, download and run the program on your computer. Following that, you will be able to check all these details. Download
3] BatteryBar
BatteryBar is a simple yet feature-rich battery health checker software for Windows. It offers a lot of features so that you can know the current battery state of your laptop. For example, you can find these features-
Alternate time remaining and percent
Only show percent remaining when the battery is charged
Show individual battery status popups for dual batteries
Display the battery ID in the status popup
Information to display – time remaining, percent remaining, capacity remaining, charge/discharge rate
Critical battery warning
Low battery warning
Finished charging notification
BatteryBar is a very lightweight Windows software that does what it says. As it supports various customizations, you do not have to spend much time to understand the result. Regarding the cost, you can download the Basic version for free. However, you need to spend $8 to purchase the PRO version, which contains all the features mentioned above. Download
4] BatteryMon
BatteryMon shows some useful information and visuals to help you understand the battery health of your laptop. For example, it shows product code, status, manufacturer name, device name, serial number, unique ID, time remaining, battery temperature, date of manufacturer, type of use, rechargeable or not, chemistry, design capacity, full charge capacity, alert levels, and others. Talking about the visual, you can find a graph – no matter if your battery is charging or not. It lets you understand how your battery is performing and the state of the battery. The only problem with this tool is the graph itself. If you are new to this, you might not be able to understand a single thing about this too.  You can download it for free, but if you want more features, you need to purchase it for $28/unit. Download
5] BatteryCare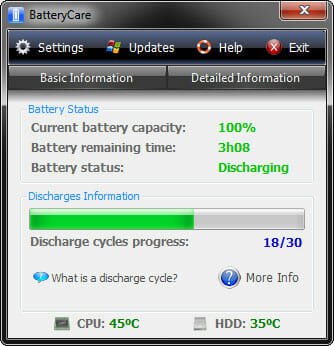 BatteryCare is another handy software to check the battery health of your Windows laptop. It shows more detailed information than other tools, and that is why BatteryCare is so much useful for many people. Some of the important features are as follows-
Battery's discharge cycles monitor
Complete battery information
CPU temperature
Hard drive temperature monitoring
Auto power plan switching
Control over Windows Aero
Notification area information
The most useful features of this tool are auto power plan switching and battery information checker. That means it can help you switch from one power plan to another automatically when a certain filter matches. Also, BatteryCare is a very lightweight software for Windows so that users do not need to worry about space while using it. Download
6] Smarter Battery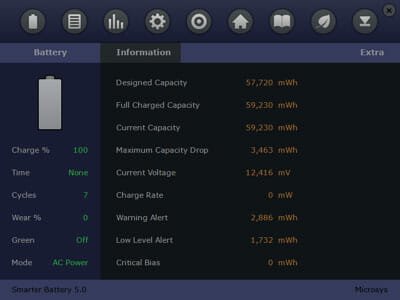 Smarter Battery shows only the information that you need. For example, you can find designed capacity, full charged capacity, current capacity, maximum capacity drop, current voltage, charge rate, warning alert, low-level alert, and Critical Bias. Apart from that, it shows a graph so that you can understand the ups and downs of your battery. It will let you understand if a specific program is degrading your battery life, or you need to change the battery itself. The advantage of using this tool is that you can check up to four batteries at a time by serial numbers. It also has brightness control so that it saves the battery life. Download
Final Word
There are tons of other software and methods to check the battery life or performance of your laptop battery. As Windows laptop users mostly face this issue, all these tools are compatible with Windows only. I hope these tools will be helpful to you.