Best Websites For Students
If you are a student and you are about to go abroad for education, but you have no idea about accommodations or anything, these websites might help you a lot. Many people go abroad to study, but many of them encounter various problems related to lodging, etc. It doesn't matter whether you are going abroad or being at home if you are a student and you want to take the full advantage of the internet for your education, do check out these following websites those will let you get various courses and more other things.
Please note that most of the enlisted websites are not free. Having said that, you can browse the website, but you need to pay to get something from those sites.
Student.com
Let's assume that you are going to a university in another country and you do not know whether you can find an apartment near to your university or not. If you must stay a minimum of six months for your university, Student.com website can help you find an apartment at various popular cities. It has a quite wide range of cities as well as apartments. You can browse the country/city list to find the desired one. The best thing is you can search for an apartment by the name of the university. It shows all the available apartments near to your university. You can rent a room privately, share a room or book the entire place. The rate depends on the different facilities and security related things. You can talk to a person directly to know about an apartment and book that apartment right from the website.
Udemy.com
Udemy is one of the most popular websites where you can find countless courses on different topics. It doesn't matter whether you want to learn digital marketing or mathematics, you can certainly find something useful for your study. Although courses are not free, they are affordable. Before purchasing a course, you can read about the course, the content of the course, the duration of each chapter, and so forth. Most of the courses come with videos so that you can learn something quickly.
Khanacademy.org
Who doesn't love to get free tutorials? In case you do not have money to spend on the internet, and you want to learn something new for free, you can visit Khanacademy.org. Khan Academy is a non-profit website, where you can find tons of courses. No matter whether you want to learn computing, finance, economics, mathematics, or anything else, you can certainly find some courses on this website. You can prepare yourself for various exams including SAT, GMAT, IIT JEE and many more. Generally, you do not need to create an account. But if you want to get better access to your courses, you can create an account for free.
StudentLoanHero.com
To study in a foreign university, you need a lot of money, and most of the people take a loan for education. Obviously, you need to pay the loan as per the terms. If you have taken a loan and you want to calculate everything so that you can pay the mortgage without any issues, StudentLoadnHero.com will let you do that. You need to go through several questions so that it can calculate everything and suggest something useful. You can ask for suggestions, advice, etc. Also, it will help you create an action list so that you can keep everything in mind and pay your student loan on time.
KeepMeOut.com
When you or your parents are spending a ton of money so that you can study at a prestigious college or university, you should waste your time on various social networking or video streaming sites such as Facebook, Twitter, YouTube, etc. Keepmeout.com is such a website that will prevent you from using such websites for a particular amount of time. You can set a timer for a website, and it will notify you whenever the time limit exceeds. To use this webs tool or website, you need to bookmark this site in your browser.
StudentRecipes.com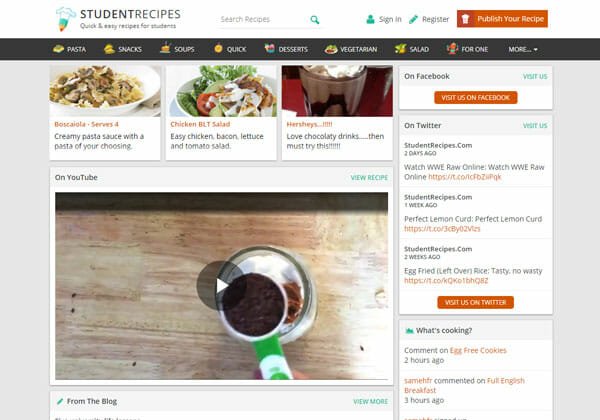 The vast majority of students miss breakfast to catch the morning class, and this is a common scenario. Since breakfast is the most important meal of the day, you should learn some basic cooking so that you can make your own breakfast before heading towards the university. StudentRecipes is such a website, where you can find a lot of simple menus so that you can make them even if you do not have much time in hand. It has videos as well as text tutorials, and you can use whatever you want to make something for breakfast. Not only breakfast but also you can make your own lunch as well as dinner.
There are more other websites on the internet. However, these websites are quite different than usual. I hope they will help you a lot.