How to Check Sent Friend Requests on Facebook
Facebook is one of the most popular websites on the internet, which is being used by millions of people in every month. People have been getting its services since past 10 years and the most interesting thing is it is 100% free. Therefore, anybody can create an account and start using this social networking website. No matter what is your age, you can certainly use this social networking website without any limitations. On the other hand, different people are using this for different reasons.
For example, a normal user uses Facebook just to connect with friends and relatives. This was the initial motto of Facebook. However, Facebook has grown up a lot and now, different fields' people can use this to do something important. For instance, if you are a businessman, you can grab attention of people to your business. The same thing can be done by a blogger, writer, politicians, sportsman or anybody else. This is not a theory. People are actually doing this on this website.
If you are very much familiar with Facebook, you may know how to connect with someone on Facebook. However, if you have just opened your Facebook account and you have got a block from sending friend requests, you should definitely read this article. This is where you can get a solution.
Generally, people open their Facebook account and send friend requests to random people. This is what newbie does. However, this can be a reason, why you are not able to send any friend request and getting an error message. If you send too many friend requests and those people do not accept your request, you will get a block by Facebook. Facebook will consider you as a spammer and hence, you will confront different problem in future. Therefore, if you have sent a lot of friends requests intentionally or unintentionally and now you want to check or cancel those friend requests, here you go.
You can easily check sent friend requests and delete them if you want. There are many people, who do not want to connect with random guys. Therefore, they do not accept your friend request and hence, your requests get stored once by one. However, if you want to check and remove sent friend requests on Facebook, here is a solution. You do not have to install any extension or anything else.
Check Sent Friend Requests on Facebook
This is very easy and you can do so without using any third party software. At first, open Facebook and log in to your account with correct credentials. Therefore, you can find an avatar on the top right section of your screen. This should be visible near message button. Click on that to check friend requests. Here, you can find an option called Find Friends. Click on that.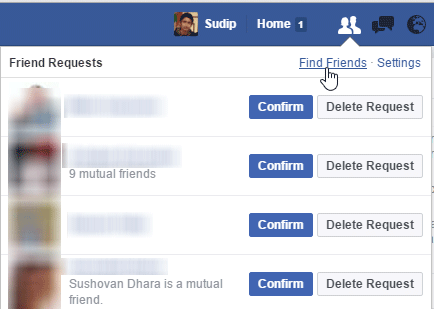 Now, you should get another option on the following page, which is visible as View Send Requests.
Click on it to check how many requests are pending right now. From here, you can cancel also.