How to Check Your Uber Passenger Rating
The California based cab company has been doing pretty well in various countries such as US, India etc. since a very long time. Although, Uber is not available in all the places in India but still their availability is pretty good. When it comes to professionalism, passenger security and reasonable price for going to somewhere by cab, Uber is the company you should opt for. Although, there are many complaints against this cab service but still Uber is probably the best at this time.
Alike other cab services, you can request for a cab using your mobile and with the help of Uber app. Simply use PayTM or cash to give the fare of your ride. However, you might have noticed that whenever you left the cab, your Uber app shows a screen where you can submit your review of driver and add rating based on your received service by the driver. You can rate the driver from 1 to 5 and the 5 means the best.
There is a very less chance that you may know the driver also gets the same screen to rate you as a passenger. Just like the passenger, drivers also get option to rate you and it may affect you in future while booking cabs of Uber. Now, if you want to check your Uber passenger rating, here is a simple trick. You can use Uber mobile app or the web version of Uber to see your Uber passenger rating.
Check Your Uber Passenger Rating
As said above, you must have to the Uber app in case you want to use the app or you can also open the Uber help page. At first, open Uber app on your mobile and click on the menu button. Here you should get Help option. On the next page, you will get Account and Payment >> Account Settings and Ratings.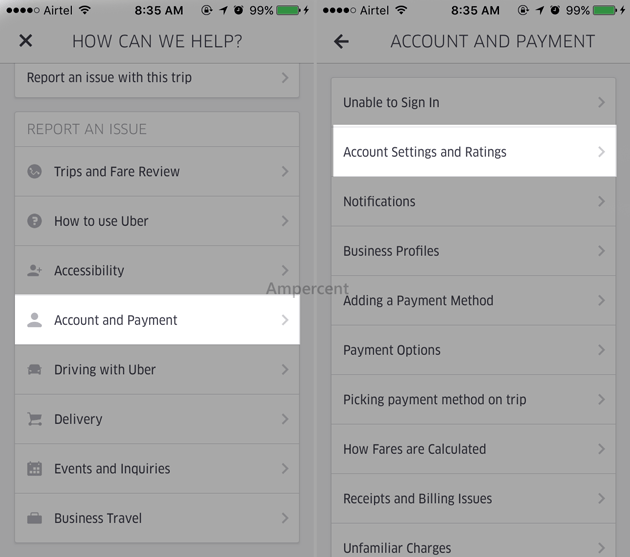 The next page will contain an option called I'd like to know my rating.
Now, you can get a screen where you can find some information on Uber rating. The same page should contain a button called Submit. Just tap on the button. Following that, you will get your average rating as a popup.
Just like drivers, you also cannot view the individual rating given by a particular driver. You will get an average rating.
How to get a good passenger rating in Uber?
Although, there is no such actual solution but you may have the following tips to get a better passenger rating in Uber.
Always be polite with the driver because the driver is the person, who gives you rating. Obviously, that doesn't mean your driver is always right, but you should always talk to driver politely.
Do not smoke or drink alcohol inside the cab. Uber doesn't allow passengers to do any such thing. If you try to do that forcefully, you may get low rating.
Do not move somewhere else from your location after booking the cab. It makes the driver angry as he may have to find you if you go here and there.
Do not throw any fling any food or water bottle inside the cab. It will get you a low rating and most importantly, it will make the cab dirty.
Hope you will follow the aforementioned tips and get a better rating.