How to Convert After Effects Project to .mp4
Doubtlessly, Adobe After Effects is one of the best tools and backbone for graphic designer and motion graphic maniacs. There is nothing in motion graphics that cannot be done via Adobe After Effects. Although, this is much expensive but you will get the more value than its price. You might have heard about more other software for motion graphics and 2D animation but nothing can beat this beast.
Nobody can describe this software in one line but you can call it as backbone of graphic designer. You can create various things using this software. For instance, you can create high quality graphics, unique motion graphics, unbelievable animation and more others. There is one more thing that can be done using this After Effects.
You know that YouTube is the second largest search engine out there. Whenever, you create a channel professionally, you supposed to do some branding. YouTube channel branding means, high quality video, a good logo and most importantly, an attractive intro that will describe your channel to your viewers. Generally, most of the professional YouTube channel owners use intro video at the starting of each video. That is really an awesome thing for branding.
Therefore, Adobe After Effects can create eye-catching intro video for your YouTube channel. Although, it takes few minutes or hours for a newbie but professional Adobe After Effects users can do that within few moments. That is pretty good.
However, everything is ok except exporting. Generally, After Effects doesn't offer any standard file format to save your intro video or anything that is created in this tool. That is the actual problem. Suppose, you have made a small video clip for YouTube but you cannot export or save it in any standard format such as .mp4 or similar to this.
If you are facing the same issue after creating a video clip in AE, here is a solution. This will help you to convert any Adobe After Effects project (.aep) file to .mp4 within seconds.
How to convert After Effects Project to .mp4?
This is very easy and it consumes less time than your video development time. At first, open your .aep file in AE. You can do the same thing with the file that you are currently creating. Therefore, select the entire file after importing the project.
Now, click on Composition and New Composition respectively.
After that, copy all the files from your project and paste that in the new Composition. Therefore, click on Compositions and Add to Render Queue respectively.
Now, click on Lossless.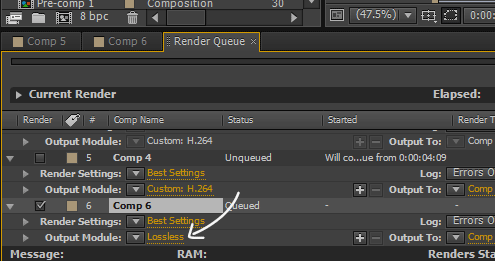 After that, expand the drop-down menu and select H.264. If your video clip contains audio, just tick on Audio Output. Otherwise, leave it blank.
After doing the aforementioned step, the Output path and file should be changed to name.mp4.
If you cannot find and relate the output file name and composition name, just click on the output file name. Now, select a path and file name.
At last, click on Render button.
That's all! It takes few times to convert your Adobe After Effects project to .mp4.
Hope this tutorial will help you a lot. Do let us know if you have any problem.