Need Resume for Job? Check out These Online Tools
If you have done your school and college and now you are looking for a job, you should know that the resume plays a vital role. If you have a proper resume with all the information, this will be very for companies to recognize you and hence, you will get the job faster. Although you can use Microsoft Word or Google Docs to create a resume, you should check out these dedicated online resume makers so that you can do something new.
Best Websites to Create Resume Online
Resume Build
Resume Build is a simple yet compact resume maker tool that you can use to create your resume within moments. It has the option to include almost all the information you should enter in a resume. From educational background or part-time jobs, you can include everything in your resume when using this app. It is available for free, and you can download the resume without any account. However, if you want to save your resume, you need to create an account with Resume Build. The best thing is you can include a brief description of yourself in your resume.
Zety
Zety is another awesome tool that allows you to create a resume within moments. Although you should spend some time to create it, you can create one within 5 minutes, according to the Zety officials. This is possible to create a resume as well as CV within moments. The best thing is it comes with a tutorial on how to create resume in case you are creating one for the first time. Another useful thing is you can find some examples so that you can get inspiration. On the other hand, it offers some templates that will let you fast forward the whole process of creating a resume.
Resume
Resume.com is another comprehensive website that allows you to create a resume within moments. According to this website, you need to spend the minimum time to create a resume for your job application. There are different types of resumes for different jobs. For example, there is an engineering resume, internship resume, nursing resume and so on. You can find examples of those resumes so that you can get an idea of what you want to create and how you want to create. Following that, you can use that resume as a template and create one for yourself. The drawback of this tool is you need to create an account to download your resume. However, it is completely free to use.
Venngage
Venngage has probably the best editing panel that you can use to create an attractive resume. Apart from having all the degree and experience, you need to have the talent to showcase them in the right way. If you use Venngage, you can do that without having any prior experience. You can include various things including charts, maps, text, icons, pictograms, image, frame and so on. In case you want to change the background of your resume, you can do that as well. However, you need to create an account to get them all. Also, the download option gets unlocked when you create an account with Venngage. Like other tools, you can find tons of templates, and that is one of the advantages of using this simple online resume maker.
Resumonk
Resumonk is a very handy online resume maker that allows you to create a resume by spending minimum time. It comes with very professional and attractive templates. However, this is not completely free. You can find only four free templates. Following that, you need to spend some money to use more. It costs around $19/year to access all the features. From including your bio to your image, you can do everything with the help of this simple tool. If you use the free version, you do not have to create an account. However, if you purchase a paid subscription, you need to create an account. Also, it has a very comprehensive user interface to enter all the details.
VisualCV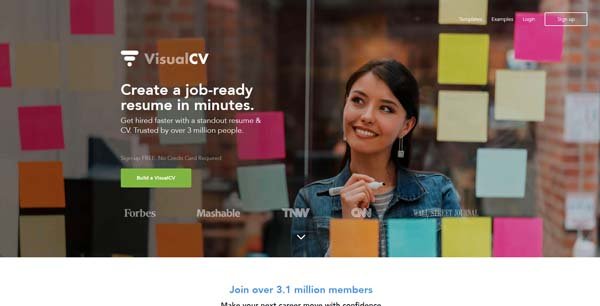 VisualCV tool will let you create a professional CV within a couple of minutes. Like other standard tools, you will get the option to select a resume template. However, it doesn't mention which CV is suitable for which job, and you can consider it as a drawback. Like Resumonk, VisualCV has two variants. The free version has limited access and features. On the other hand, the paid version costs $12/month, and it comes with all the essential features as well as more templates so that you can choose from something more professional. The advantage of using this tool is you can download the CV in PDF or Portable Document Format that you can use anywhere you want.
That's all! These are some of the best online resume makers out there. You can use them without any problem and for free. Hope they would help you to create a professional resume or CV using these tools.