Practical Tips to get a better Battery Life of  Windows Laptop
Apart from the hardware, price and usability, there is a huge difference between a Windows laptop and a MacBook. You can find an enormous distinction in battery life. Perceptibly, Macbook's battery life and resilience are much higher than a Windows laptop, if you do the same tasks. Conversely, if you do something what are cited below, you can find a healthier battery of Windows laptop. Certainly, you won't get the same performance as a Macbook's battery, but you can at least augment the battery's durability.
Practical tips to enhance Windows Laptop's battery
You can do a few things on a regular basis and some other important things at specific times.
Use Power Saver

Windows laptop has two different modes. 1. Balanced and 2. Power Saver. Generally, Windows laptop has Balanced settings by default, which automatically optimizes the performance as per the power outlay. If you do not play games and do photo editing, this is recommended to use Power Saver mode instead of Balanced. To do so, just head over to Control Panel and click the Power Options menu.
After that, select Power Saver and save your changes.
Power Saver Plan Settings
After selecting Power Saver or Balanced mode, you can reduce the time to let your laptop turn off the display and put in Sleep. You can get the settings by clicking on the Change plan settings link. After clicking the link, you will get some options s follows:
Just select low time interval and reduce the brightness.
Disable WiFi
Nowadays, almost all laptops have WiFi support. But, do you know that WiFi consumes a more battery power than Ethernet? Therefore, if you have a direct Ethernet connection, just make use of this instead of WiFi Router. On the other hand, just disable WiFi when you are not using it. To turn this off, press Win + R and type ncpa.cpl and hit Enter. It will show you all the available and previously connected data connection resources. On the same window, you can find WiFi. Just right click on that and select Disable.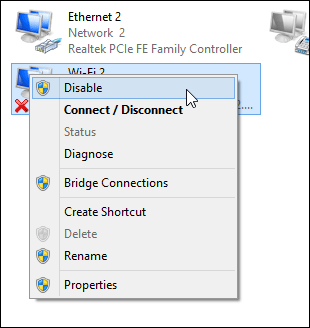 That's it!
4 Cell vs. 6 Cell battery
Depending on your usage, a 6 cell battery provides far better (almost two times) battery backup than a 4 cell battery. Although, it depends on how you use your laptop but still you should check this when you go to purchase a laptop.
If you want to know whether your laptop's battery is 4 cell or 6 cell, you can check this software.
Disable High End Running Processes
Running apps and tasks always have a huge impact on computer. Apart from getting a slow PC, your laptop's battery will be dispersed. If you have more than 10 high end apps on your PC those run all the time in the background, you will never get a good battery life. Therefore, you ought to disable all useless running processes. You can use either the inbuilt Task Manager or Process Explorer to get things done.
Stop Watching YouTube videos
YouTube is a popular broadcasting website, which uses flash player to play a video on the browser. But the truth is, Flash Player consumes lot of battery backup in a small span of time. So, not only YouTube, but also you should not watch online videos on your laptop.
Use Cooling Pad
Do not let your laptop be overheated. To reduce the overheating issue, you can use an affordable cooling pad. But, the problem is people do not use a cooling pad from the very first day because they think a brand new laptop should not have any overheating problem. However, the truth is you should use a cooling pad from the initial days because the battery problem does not occur in just one day.
There are more other checkpoints for a laptop user in order to get a better battery life. What are the essential steps you have taken to improve laptop battery backup?