Facebook at Work Pilot Marks Facebook's Entry into Business Social Networking Space
Mark Zuckerberg's Facebook has managed to take social media networking to an altogether different level. The only thing touted against it was that even with all features, Facebook still remained a personal social networking platform.
With Facebook and social media getting banned for access inside most companies or offices, search engines started getting flooded with queries like "How to access blocked Facebook website in office?" or "How to get alternative IP address to access Facebook from work?" For such people, there is some thrilling news. Facebook has entered the business social networking space in the form of "Facebook at Work" Pilot Programme. On 14th January'2015, Facebook company managed to unveil their new product "Facebook at Work" App for Android & iOS as well as a similar version that is accessible through the main website.
The objective is straight-forward: allow companies to use social media communication tools that their employees are already experts at! In other words, it allows businesses to create their own social network among their employees to connect as well as collaborate effectively. In social media language that uses shortcuts, one may even refer to this product as "FB@Work" or "Facebook @ Work".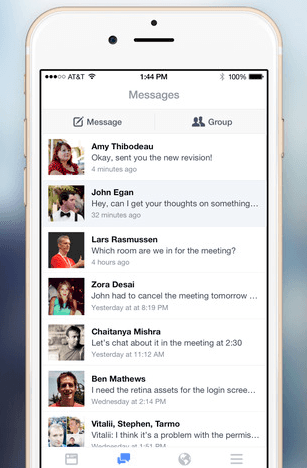 In this article, we shall understand the features of "Facebook At Work" App as well as its comparison against business social networking tools like Yammer, Slack, etc.
How to use Facebook at Work?
For this new Facebook product, companies can create separate account log-ins for their employees. Alternatively, the employees can get connected using their existing personal Facebook profiles for quick setup. Of course, any information shared on the business Facebook profile (or Facebook At Work account) won't be disclosed on the personal account. In fact, that information will be accessible only to the employees of the same company using this product. So, this product manages to keep the business place information confidential, safe and secure.
The best part is most employees will easily be able to start using this tool as statistics prove that Facebook is well-known to a large part of the working population. So, no need for any employee training to handle the new tool. A help tutorial is available on Facebook itself with potential FAQs for this product at: Facebook Help
Key Features
It shall include News Feed, Chat options (individual and group), Groups, etc. Along with this, you will also be able to invite anyone and everyone from your company office to events.
The content display will behave similarly as with personal Facebook accounts i.e. you will be able to see stuff that is shared publicly. However, your employer would probably have access to everything you do on this corporate Facebook account. So, be careful as the boss is watching over?
Comparison between Facebook At Work and Slack or Yammer
Slack and Yammer are well-established business social networking platforms that have caught the attention of several companies. With the entry of Facebook in this enterprise social network space, the existing tools will face stiff competition.
On the security front, Facebook might lack a bit due its reputation of tracking user data for the normal Facebook profiles. So, it won't be easy for all companies to trust Facebook At Work for better handling of privacy issues.
The thing in favor of Facebook is that it has been the most widely used social networking tool and a major percentage of the working population would have definitely used it at some point in time. Unlike Slack or Yammer, employees of any company would easily be able to embrace Facebook At Work for internal corporate communication due to previous familiarity.
How to access Facebook At Work pilot?
The pilot version of this product has been made available to few select partners. It will be available only for those who have a work account set up through their employer (company). Companies or employers can now apply for access to this FB@Work tool at:
Facebook At Work Sign-Up Page
For employers, download link of Facebook At Work for iOS is: Download Facebook At Work on Apple Store
The Android version of this app will soon be available at Google Play Store. You will find it pleasing to know that there won't be any Facebook ads displayed using this product. So, even though the pilot version is being offered for free to small group of partner companies, it is believed that paid subscription for Facebook At Work is going to be the future.
With rumours of LinkedIn also working on a similar product, exciting times lie ahead. For the time being, it will be interesting to see how companies react to this new Facebook product for businesses.