Tweet Filter Removes Clutter From Twitter Timeline By Blocking Specific Tweets
If you follow quite a large number of Twitter users, you might want to set up filters for specific Tweets or keywords. This is because there are some topics on which you have no interest and you don't want to read tweets that discuss about the same topic, eventually cluttering up your Twitter timeline.
Why Block or Filter ? Why Not Unfollow?
Because you are interested in the links, messages or tweets that the person or source posts otherwise.
Let's say you follow someone who tweets a lot of interesting links all day long. You enjoy following him but the same person also uses Foursquare and Paper.li every other hour, which is very distracting. You don't want to unfollow the source, it's just that you want to remove specific tweets from specific sources or keywords.
Then there are some more situations when you would want to block tweets in your Twitter timeline. Common examples are as follows:
1. You are fed up with the services people use to auto post to Twitter. Popular auto posting services include : Paper.li, Foursquare check ins.
2. You have a very good friend with whom you frequently interact but you are not interested when he starts using Twitter as a chat room.
3. You don't want to read blog updates on Twitter, there is always the RSS feed option and Google Reader. Hence it might be a good idea to block tweets that are posted from specific sources or auto posting services e.g Twitterfeed, Feedburner and other RSS To Twitter syndicating services.
TweetFilter: The Best Way to Filter Twitter Tweets
Some desktop Twitter clients (like Tweetdeck) offers a filter option where you can define the sources, keywords and set up custom filters. But if you are using the web version of Twitter, Tweetfilter is by far the best way to block tweets from appearing in your timeline and Twitter lists.
Tweetfilter is a browser extension which works with all web browsers. This includes Firefox, Google chrome, Opera, Safari as well as Internet Explorer.
You will need the Greasemonkey add-on to install the userscript in Firefox. Internet Explorer users can grab this bookmarklet and drop in their favorites bar. Google Chrome user's can install the bookmarklet from the userscript page, because Chrome supports userscripts natively.
Using Tweet Filter
Once the script is in place, you will see a lot of options in your Twitter account's right sidebar ( Note: The script works only with the newer version of Twitter.)
Start adding the keywords and sources which you want to block in the "Add to Filter" checkbox. The sources and keywords will appear right below the text box, so that you know the keywords that are blocked in your Twitter timeline. You can click through the "Filter" link and see which of the tweets were blocked, as shown below: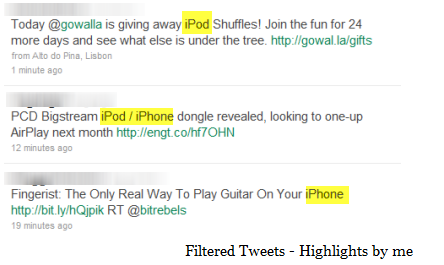 Apart from this, there are other useful options which are worth a look.
Hide the Top Bar On New Twitter: Just select the check box "hide the upper top bar in New Twitter" and the script will permanently remove Twitter bar whenever you log in.
Highlight Replies: Should you want to highlight the replies that were blocked by the custom filters, simply select the checkbox "highlight replies by me". This makes spotting your replies easily when your Twitter stream flows every second.
Filter retweets, media, Who to follow: You can further hide distracting elements e.g Retweets, who to follow and embedded media items by selecting the respective checkboxes.
Overall, this script is by far the most effective way to remove the extra clutter from Twitter's web UI. I tried Tweet Filter in Google Chrome and it worked just as fine. Do you use any other method to remove unnecessary tweets from Twitter timeline ? Share your ideas in the comments section.