Gifs.com Lets You Create Personalized GIF Images From A Video For Free
A picture is better than thousand words.
When I say the above statement, anybody who lives on the Internet will say, a video is better than thousand pictures. But creating, managing and transferring videos is tedious at times. So to capture short and sweet moments, we invented GIF images. GIFs are everywhere now. Any social networking site. Be it Twitter, Instagram, Reddit you name it.
Recommended: ezGIF – Best Place to edit GIF Images Online
Keeping sharing GIFs apart, when do we really want to create a GIF image? Most of the time, the answer to that question is while watching a video. We come across A funny expression of an actor , an epic fail attempt of jumping by an enthusiast etc in the middle of a video and we wish we could grab that particular scene from the video, make a GIF and share it with our friends.
Well, gifs.com does exactly that. It is a free web service using which you can create a GIF format image from a video on the fly. Okay, I know what you are thinking. Given that there are plenty of services on the web out there that allow us to create GIF images from videos, why should I use this? Well, there are many likeable things which are being offered by this service. One, it allows you to use videos from any site you can name along with an option to upload from your computer. You can drop URL from Facebook, Vine, Twitter, YouTube, Instagram or an existing GIF into this site and produce great looking memes out of it.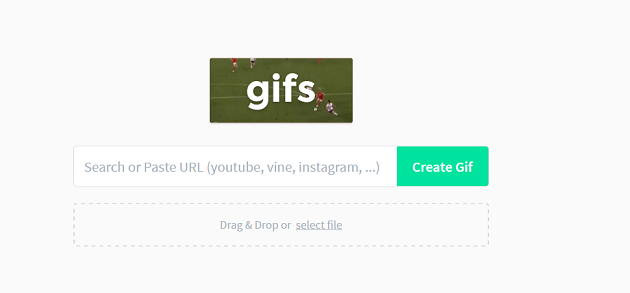 Second, the editing options. You have major photo editing options that you can apply on your GIF with just one click. You can crop, add a funny caption, paste a sticker (or upload_) easily. You can apply the visual effects like blur, hue, invert and saturation as well. All these things are further configurable. Which means when you pick starting and ending points to your GIF, you can apply any of the available effects at desired time intervals to make the result you own. You can also flip horizontally or vertically to make it funnier.
That's it! When you are done, just hit create GIF. Another great thing about this service is it's sharing options. You can link back to your site if you want to create some traffic which is a good thing. You can share your image on social networking sites like Facebook, Twitter, Reddit, Pinterest or Email which is basic as we know, but GIF.com also offers permanent ULR and embedded code to your image to share it directly to your friends or showing it to your visitors on your site. Adding to that, there is a direct download option as well to save your gif locally.
Third, its other unique features. You can manage your GIFs in your account and guess what? There is a live stream for created GIF images to browse. You can check all the images real time, pick the one your like and share it with your friends. Also, there is an online GIF player using which you can create GIF and use it to improve traffic by linking back to your URL.
All in all, gifs.com is a great tool when it comes to creating and sharing GIFs from a video. Do give it a try.