The Best iPhone Security Apps For Parents
Parenting is a pretty big responsibility and one that becomes tougher in the present times when you are dealing with a generation that's growing up amid smart devices and sophisticated gadgets. So to cope up with the changing times, you need to be technologically prepped up. If you aren't sure of how you can do that, then all you need is an iPhone security app for parents, which lets you monitor what your kids are up to. If that seems a wee bit snoopy, then you must understand that these iPhone security apps for parents are designed for protective purposes. So, by using one of these, you are in fact ensuring that your kids remain safe within a protective cocoon.
You can use these apps to check the kind of content that your children browse through or the people whom they communicate with. All of this can help prevent the horrible aftermaths of cyberbullying and other peer pressures that could hinder the overall growth of your kid. In fact, by getting a gist of what's going on in your kid's life, you can reassure yourself that your kid is on the right track. This becomes essential while bringing up millennials, as this particular generation is mostly glued to their gadgets and smart devices. So to help you do that, we've listed down some of the best iPhone security apps for parents, which enable better parental control.
Spyzie
You don't always have to install security apps on your kids' phone, in order to monitor what they are up to. In fact, it would be a pretty bad thing to do because millennials are extremely smart, and if they get a whiff of what you are up to, then this could rupture your bonding with them, forever.
So, if you are now wondering how you can monitor your kids without letting them have a clue of it, try Spyzie. As this app monitors the device by iCloud ID, it does not require you to install any application on your kids' phone. So, without even installing an app on your children's phone, Spyzie lets you keep track of their call records, WhatsApp messages and a lot more.
What Does Spyzie Do?
Monitors the device by iCloud ID.
Lets you track call records.
Lets you access text and WhatsApp messages.
Enables location tracking.
Monitor social media apps.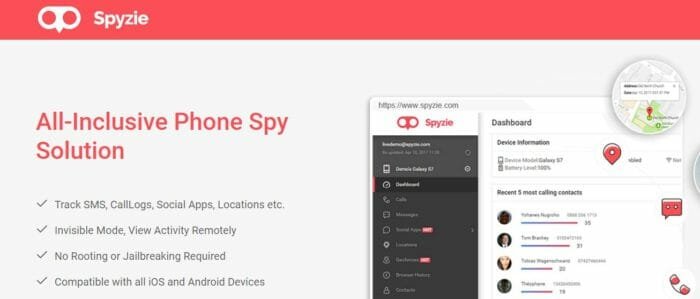 Spyzie has all the essential features that a parental control app should have.
Family Time
If you are a working parent or a single parent, then you are not going to have the luxury of time to configure specific settings on the Parental Control app. Also, leaving your kids unmonitored on social networks can cause more trouble than dealing with an army of aliens.
So, if you don't have much time to spend on the settings of a parental control app, then this one's for you. Family Time Application comes with several useful modes like bedtime, homework and other general things that kids use phones for. Now you are just a click away from choosing the most appropriate one, and that is definitely going to make things a lot more convenient and easier for you, especially if you are dealing with tech-savvy kids.
What does Family Time Do?
Helps track calls, text messages and chat logs.
Lets you track usage of every app.
Lets you block out certain apps.
Enables limiting screen time.
Stay connected with FamilyTime's awesome features that make parental monitoring easy and convenient.
Qustodio
If you have a large family, then you know how difficult it is to handle all your kids over the weekends, when they are right in front of you. Now imagine the amount of effort it would require to monitor their online lives, individually. Well, if that's got you worried, then try Qustodio, an iPhone parental control app that lets you monitor more than one child, effortlessly, and is ideal for lovers of discipline yearning for better control over their children.
With Qustodio, you need not worry about the time and effort required to monitor them individually. Qustodio makes this possible by offering a ton of options that lets parents block out harmful and dangerous content, including certain apps that may not be suitable for the age group that your kid belongs to. Besides imposing reasonable restrictions, you can also keep track of what your little devils have been doing on social media.
What does Qustodio do?
Lets you monitor more than one child.
Lets you block out harmful and unsuitable applications.
Enables you to keep track of your children and their social media activity.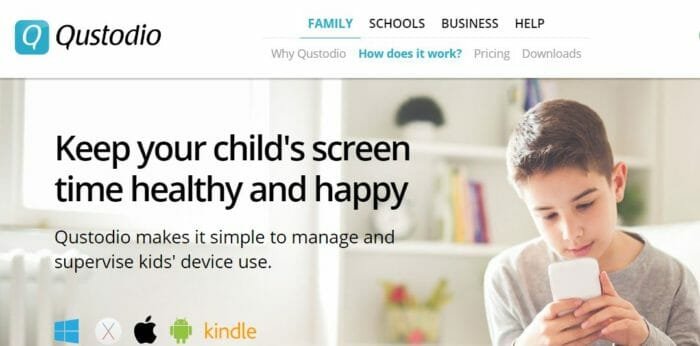 Qustodio is an easy-to-set-up parental controlling app that lets you keep your kids safe.
TeenSafe
According to statistics, 95 percent of the teenagers in the US are online, and at least 37 percent of them have been victims of cyberbullying at some point in time. This not only hampers the child's overall growth but also has a long-lasting impact on the child's psyche. As a matter of fact, this could lead to depression, trust issues and other psychological complications in the future.
So if one of your kids has been sulking most of the time, and isn't really opening up about what's wrong, then you've got to take control. So, before things get worse and out of control, it is recommended that you switch to TeenSafe, which is exclusively designed to help detect and prevent cyberbullying.
What does TeenSafe do?
Helps in preventing cyberbullying.
Lets you control your kids so that they don't use their phone, while they drive.
Lets you control your kids in a better manner and is ideal for parents bringing up teenagers.
Texting and driving causes around 25 percent of all road accidents, and Teensafe claims to help prevent this, especially if you have a restless teenager, to keep a watch on.
NetSanity
NetSanity is yet another iPhone parental control app that works great when it comes to blocking out inappropriate content on a host of Apple devices. In fact, this app lets you completely block certain apps, if you wish to. For instance, if you consider Instagram to be inappropriate, then you can easily go ahead and block it. Other features include activating the safe search, restricting camera actions, and much more. This iPhone application is a one-stop solution for parents having kids who use iPod, iPad or any other Apple device.
Lets you control all Apple devices.
Lets you block out inappropriate applications.
Enables restricting camera actions.
Lets you keep track of calls, messages and chat logs.

NetSanity is a one-stop solution for all your Apple devices.
NetNanny
NetNanny is one of the oldest and most credible iPhone security apps for parents concerned about the safety and well-being of their kids. This app helps you block out strangers and monitor who your kids are communicating with. However, if you have tech-savvy kids who know to the power of VPNs, then they could easily mask their traffic with it.
What does NetNanny do?
One of the oldest and most reliable parental control application.
Helps block out strangers.
Lets you monitor your kids in a better manner.
NetNanny brings you a host of features like none other.
Ourpact
Not letting your kids use smartphones and gadgets can hinder their overall growth and progress. So while you cannot avoid smart devices entirely, there are ways to ensure that your kids use it in the most productive manner, with apps like Ourpact. While this app lets you monitor one child with the free version, you may have to invest in the premium version of this iPhone parental control application, if you wish to use it to monitor more than one child.
What does Ourpact do?
Lets you monitor one child with the free version.
Helps block out undesirable content.
Lets you monitor the call logs, chat logs and text messages of your kids.
Lets you keep a tab on their social lives.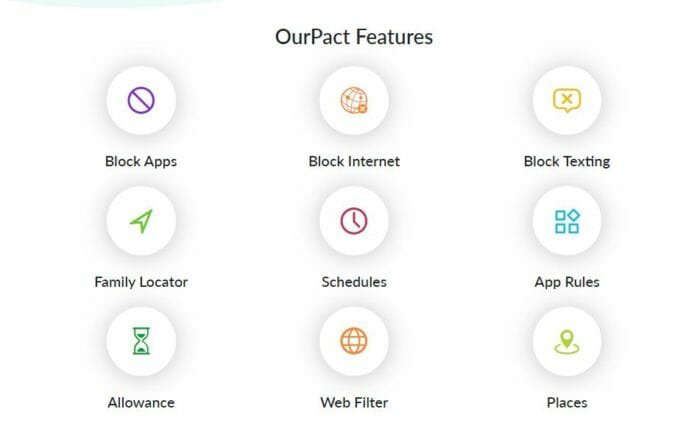 Explore the many features of OurPact parental controlling App.
Mobistealth
Mobistealth is the snoopiest app that we've come across, which sends all the photos from your kids' phone to your account. Although not the best thing to do, as a parent, you may actually need this sort of a surveillance application at some point in time. While we are not really sure of the real purpose of this app but it claims to be an iPhone parental monitoring application.
What does Mobistealth do?
Lets you access images on your child's phones.
Helps filter content.
Lets you check the call records, chat records and text messages of your kids.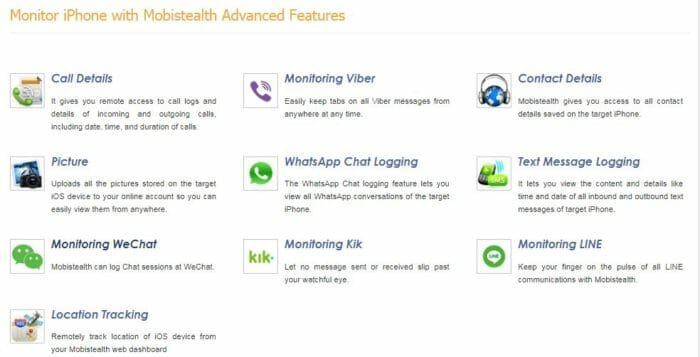 Mobistealth lets you monitor WhatsApp, Line, Kik, Viber, Call logs, Text messages and several other applications.
FamiSafe
Although FamiSafe isn't the best iPhone parental control application, nonetheless, it is quite a promising one. So, although this application may work for some, it isn't perfect yet, probably because it was released just a couple of years back.
What does FamiSafe do?
Effective App Blocker.
Helps filter out dangerous and harmful content.
Lets you control screen time.
Despite being a relatively new App, it is loaded with features such as geofencing, content filters and all the other basic stuff that you would want in a parental control app. However, we've ranked this one low because of the many glitches that it has.
For example, its web filtering works only on the Safari browser of the Apple devices and that isn't as effective as some of the other applications that even let you block out harmful content on social media. However, the makers of this app are yet to improve the effectiveness of its various features.
At times, while parenting kids, you've got to play the Cop and with the abovementioned iPhone parental control applications, it becomes a lot easier. These apps let you filter out potentially unsuitable content, track and block certain messages, and set a time restriction. In fact, these apps work great for parents concerned about their kids spending more time on their iPhones or iPads.
However, we'd like to conclude that no matter which iPhone Parental control app you choose, the easiest way to deal with kids is by being one of them. You cannot do this by trying to judge them or have one of those "talks" with them, but by subtly providing your inputs. Doing this makes you more approachable, but that doesn't mean you set them loose on the World Wide Web. With cybercriminals and scammers all over the internet, a sound parental control app is no longer an option, but a must-have.