Best Security Camera With 1080p Recording
No matter if you are looking for a security camera for your home or office or anywhere else, you should check a few things before buying it. The first and most important thing is the 1080p recording. If a security camera doesn't have a 1080p recording facility, it will be useless in many cases. Although there are countless number of CCTV cameras those, do not have such quality, and they work correctly, you should opt for the HD recording in 2020 when you need to protect a lot of expensive stuff. Here are some of the best security cameras with 1080p recording that you can buy in 2020.
Best Security Camera With 1080p Recording
1] Nest Cam IQ Outdoor – $399
Nest Cam IQ Outdoor is one of the best security cameras for home. No matter whether you often leave your kid or pet in your home, you can install this camera for smart notifications. This camera can send alerts to your mobile so that you can know who is standing in front of your main gate. The important thing is that it can differentiate between a human and a pet or anything else. The best thing is that you can record up to 1080p resolution with HDR. On the other hand, you can have the "Talk & Listen" facility included in this camera. This wireless security camera comes with 128-bit AES encryption, IP66 rating, 130-degree diagonal view, 850 nm infrared LEDs, etc. The package included everything you need to install and set up the camera in your home. Check the deal
2] Amcrest Security Camera – $109.99
This security camera has several variants, and they depend on the lens size. In this article, we have included the variant that comes with a 2.8mm lens with a 4K recording facility. It has some unique security features for the users so that they do not worry about anything. For example, you can get monition alerts on your mobile whenever someone walks by your front gate or wherever you have installed the camera. On the other hand, you can get an 8MP camera included in it that can record in very high resolution without missing out on any detail. It offers cloud backup so that you can store all the video footage and check them out whenever you want. It has a viewing angle of 112-degree and 16x digital zoom. Another handy feature is the in-built microphone. Talking about the water and dust protection, it offers an IP67 rating. Check the deal
3] Arlo Pro 2 – $361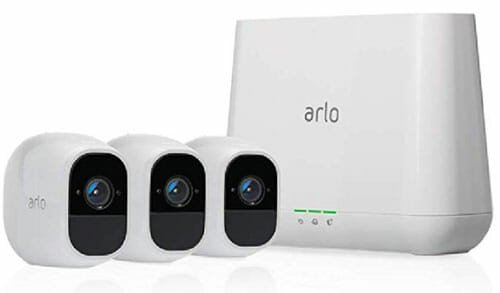 If the price looks expensive, you should know that you are going to get three security cameras for $361. It can record in 4K resolution without blurring anything because of HDR support. This wireless camera has a great viewing angle – to be specific, it is 180-degree, which is not available in most of the popular security cameras. You can recharge it with a detachable battery and store all the recordings in a microSD card. Apart from that, you can get a cloud backup subscription to keep the same data. If you are going to use it for a long time, it is recommended to go for the cloud backup instead of relying on microSD cards. This camera comes with 850 nm LEDs that can light up a 25-feet area without any problem. The handiest feature is that you can use it with some famous smart home hubs such as Alexa, Google Assistant, etc. For your information, if you think that you do not need three cameras, you can opt for one or two variants as well. Check the deal
4] Ring Indoor Cam – $59.99
Sometimes you may need an indoor security camera for any reason. For that, you can check out Ring Indoor Cam that is available at an affordable price. As it is an indoor camera, you might expect it to run with some voice assistants. For your information, you won't be disappointed as you can use it alongside Amazon Alexa without any issue. The video recording quality of this security camera is pretty good, and you won't miss out on anything while checking the footage. Also, it works smoothly with IFTTT, which will let you automate the recording efficiently. However, there are two major problems with this camera. First, you must have to buy a monthly subscription to keep running, and the price starts from $3/month. Second, it cannot record audio. If you can ignore these two drawbacks, you can find some great recordings. However, it offers night vision as well as motion detection notification on mobile. Check the deal
5] Ring Spotlight Cam – $199
As the name suggests, this security camera can light up a lot of area with in-built spotlights, and that is why it is priced higher than other regular security cameras. It can record 1080p video without any issue, and you can check the live feed on your mobile as well. Night vision is also included in the feature list so that you can keep getting everything in the night as you get in the daytime. It also included motion detection so that you get notification whenever someone passes your main gate. However, you can set different filters to get a random notification. For example, it is possible to set custom motion zones. On the other hand, it has a viewing angle of 140-degree, two-way audio with noise cancellation, etc. The only problem with this camera is that it is a wired camera that is supposed to provide the power supply. Other than that, you need a wireless connection in your home to set it up correctly. Check the deal
No matter which security camera you choose, you should check if the camera has night vision and motion detection or not.