How to Manage All Browsers from One Place on Windows
Do you have multiple web browsers on your Windows machine? Are you facing trouble to manage them all? Don't worry. Here is a solution.
Although, Microsoft has included Internet Explorer in Windows yet we do not rely on this browser to do our daily job. A vast majority of people use Google Chrome, Mozilla Firefox and other web browsers instead of Internet Explorer.
Most of the regular internet users use more than one browser. For an example, suppose, you are designing a website. Even though, there are plenty of websites to check your newly designed site but still you should check it on your own. At such moment, we must have different browsers installed on your PC. Hence, the problem begins.
Suppose, for some persuasive reasons, you have to delete all browsing history, cookies, cache and everything that a browser generally accumulates. This is where you will fall in serious predicament. You will have to employ some valuable time to open each browser at a time and wipe out their congregated data.
If you do not wish to dissipate your esteemed time on managing those data, here is a small Windows that should be considered. This diminutive software is known as Auslogics Browser Care. This is a free Windows software to conclude all your complication.
System Requirements for Auslogics Browser Care
It depends upon minimum requirements. You can install this software on Windows 10 as well as Windows XP. This enumerates how handy and flexible it is. On the other hand, you must have 10MB of free hard disk space and a minimum resolution of 1024×650 pixels.
How to use Auslogics Browser care to manage your browsers?
This is anyhow very straightforward. You do not need any major setup or anything to get started. At first, download Auslogics Browser Care to your PC and install it. After opening it, you will get a window that look as follows,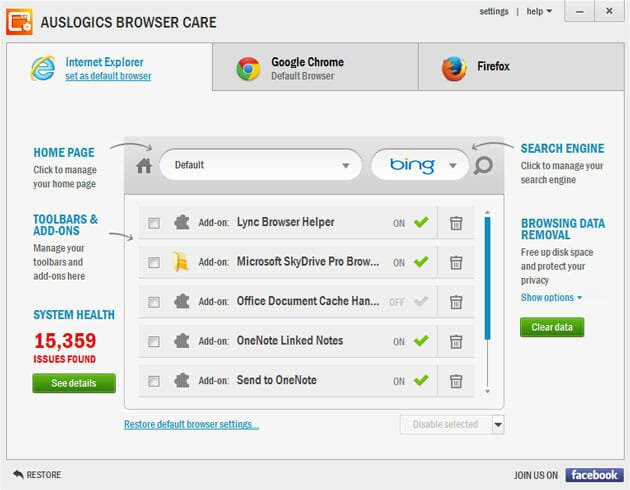 Now, you have three tabs. Each tab designates a different browser. As of now, you can have the support of Internet Explorer, Google Chrome and Mozilla Firefox. All the tabs have nearly same options. You can change home page, search engine etc. This is also possible to regulate installed add-ons/extensions and toolbars.
This is a commodious feature of Auslogics Browser Care that helps users to manage all add-ons of all browsers from one place. Generally, most of the consubstantial software do have this option. Or, there are plenty of standalone apps to remove redundant browser toolbars. But, this software does both of them.
If you want to delete any add-on, just select it from the list and click the "Delete" button. That's all. This is also possible to delete multiple toolbar at one.
To delete browsing history, cache, cookies etc. what are round up by a regular browser, just head to "BROWSING DATA REMOVAL", select what you want to delete and hit the "Clear Data" button.
That's it. This is as easy as said.
Bottom Line
Rather than navigating to the option of each browser, this is far better to utilize a software like Auslogics Browser Care. Before using it, you should note that it doesn't support any other browser besides Chrome, IE and Firefox. For instance, I am a Tor browser user but this software has not shown any option for Tor Browser.