Best Medical Apps for iPhone and iPad for Professionals and Doctors
If you have recently bought an iPhone or iPad and you want to install some medical apps, here are some of the best apps that are for professionals, doctors, and regular iOS users. You can use these iPhone apps as a medication reminder, medical history, etc.
Best Medical Apps for iPhone and iPad
Some of the following apps are free, and some of them are paid. However, you should check out this article to know which one is perfect for you.
1. Inbuilt Health app (Free)
The inbuilt Health app for iOS is nothing less than a champ. Everything that a standard user need is available in this Health app for iOS. The best part of this app is Apple is managing it for a long time, and it is equipped with almost everything you need. From daily activity tracker for night sleep – you can handle anything with the help of this inbuilt Health app. You can control your daily walk, daily medication, health report, etc. with this app. Another useful function of this free app is this is possible to synchronize your data with Apple Watch so that you can check your daily routine right from your wrist.
2. CareZone (Free)
CareZone is available for iPhone, iPad as well as Apple Watch. When you need a simple yet compact app that can let you create a daily journal of your health, medication, improvements, nutrition, etc. CareZone would help you a lot. You can track everything with the inbuilt Calendar, create notes of important improvements, doctor's advice, etc. The To-Do's section will remind you what you should and shouldn't do. The best thing is this is possible to store essential documents such as prescription, health report, etc. The camera access of CareZone would let you do this on the go. Another essential functionality is you can read news based on your medication so that you can know what is happening related to world health across the globe. In simple words, CareZone would make you more productive and organized. Talking about the compatibility, this is available for iOS 10.0 and later version.
3. MyChart (Free)
This is another excellent medical app for iOS that is available for iPhone, iPad and Apple Watch. Being a standard media app for iPhone, you can find almost all the necessary functionalities in this tool that tracks every health record of yours. You can enter daily, weekly, monthly as well as yearly health record in this app so that you can know when your health is good and bad and when you need a medication or not. From blood pressure, weight to walking information, you can include almost everything in this app. For medication information, it lets you include all the medication that you are taking so that you can keep in mind when you need to take a pill. You can upload fitness record, health record, etc. On the other hand, you can enter your bill and pay them accordingly. Not only just yours but also you can check your family members' health reports via this same app. MyChart app is available for iOS 9.0 and later version.
4. Pill & Med Reminder – Medisafe (Free, In-App Purchases)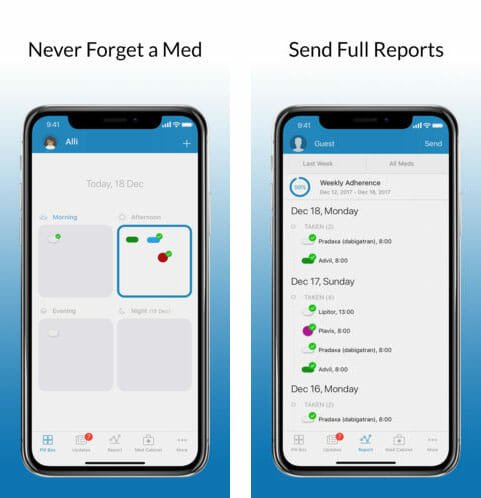 If you often forget to take pills at times, this is the app you need. Medisafe is a free iOS application, which is available for iPhone and Apple Watch. You can upload your health reports, check medications, nutrition, etc. with the help of this tool. The highlight of this free app is you can get reminder based on your selection so that you do not get any pill you should take. It has a comprehensive user interface, where you can find anything including the daily report, monthly report, etc. There is a report sharing feature included in this app that allows you to share your report with anyone to get any advice or anything like that. Although this is a free app, if you want to get more functionality and no advertisement, you can purchase it for $4.99 per month or $39.99 per year.
5. Epocrates (Free)
When you are not aware of a lot of medications, or you often check the details of a drug, you can use Epocrates, which is a free iOS application that helps you check different information. Although it doesn't allow you set a reminder or upload health report, it lets you show every single information about medication. You can check how you should take a pill, how many times you should take a pill, why should you take a pill, side effects, and so on. You can check out various news as well as research information with the help of Epocrates. On the other hand, you can identify any pill by imprint code or physical characteristics. Being a regular user, you can use this feature at any point. Talking about availability, you can install this app on iOS 9.0 or later version.
6. Doximity (Free)
Doximity is a simple media app for iPhone and iPad. This is quite different since it is more than just a medication reminder app for iOS. You can find colleagues, specialists, news, etc. based on various medications and health reports. Like Facebook, Doximity is a networking site for doctors and them, who want to get a medical app on their iOS device. Being said that, you can find a social newsfeed for medication in this app, showcase your accomplishments, etc. This is also possible to digitally sign a document. This is helpful when you are a physician, and you want to prescribe something to your patient. Talking about compatibility, this is available for iOS 9.0 and later version.
7. Medscape (Free)
Medscape is another standard medical app for iPhone and iPad. Like others, you can find drug information, identify pills, consult with professionals, check pill taking procedure, etc. Talking about the drug information, you can check when you should take a pill, reasons to take a pill, side effects, warning, price and many more. There are some other tools included in this app. For example, you can find Pull ID tool, image collector, find formulary information, medical calculator, etc. The user interface of Medscape is impressive, neat and clean. The drawback is it doesn't have a medication reminder included in it. Regarding compatibility, you can install Medscape on iOS 9.0 and later version.
8. 1mg
When you a medicine composition and all, there is the app you need. 1mg is a truly awesome application available for iOS devices that you can use to find medicine composition, alternative medicines and more others. You can also order medicines if that is unavailable in your locality. On the other hand, you can upload lab test reports to get verified. The best thing is you can check the price of a medicine so that you can ask the pharmacist if he/she is taking more money from you. Talking about the user interface, 1mg comes with a pretty good UI and you should not get problems while using it for the first time.
There are more other apps, but these are tested by millions of people around the globe and they turned out the best.