New WhatsApp Features You Might Have Missed
WhatsApp, the best instant messaging app, has been rolling out new functionalities now and then. If you are a beta tester, you might have already seen a lot of new options in the app. However, if you do not update the WhatsApp app frequently, you might miss out on some of the great features it has included in the app. Some of the useful new features are mentioned in the following list. You can check them out properly and try them on your mobile. It doesn't matter whether you have an Android or iOS mobile, you can certainly try them one by one.
WhatsApp Payment
A few weeks ago, WhatsApp introduced a new feature called Payment. It doesn't matter whether you live in the extreme north of India or South of India, you can certainly send payment to your contacts via WhatsApp. WhatsApp uses UPI or Unified Payment Interface to send the money from one bank account to another. Nowadays, most of the India banks have enabled this service, and WhatsApp is using it for their benefit. Also, this is fast and not much time consuming too. However, the setup may take a couple of moment. The best thing about this payment feature is you do not have to enter your bank account details to get started. You must have to register your WhatsApp number with your bank account. Otherwise, this is not possible to send payment via WhatsApp. Once you set up everything, you are good to go. The only setback of this feature is WhatsApp has made it invite-based. That means if someone with the Payment feature sends your invite, you would be able to access it. After getting an invitation, you can find a Payment option in the Settings.
Check Storage Usage by Contacts
Previously it was possible to check out the network usage only. That means it was possible to check how many messages you have received and sent, how much storage they are consuming and so on. However, that thing has got an update called Storage Usage. That means you can check storage usage by contacts and that is the advantage of having this functionality. Let's assume that you have a mobile with less storage and you want to delete some files so that you can free up some space. Now instead of deleting all the chats because you do not know which one is consuming more space, you can check each contact and know which one has been taking more space than others. To get started with this option, open Settings > Data and Storage usage > Storage Usage. Following that, you can find all your contacts with consumed storage.
Group Video and Voice Call
WhatsApp has proved itself to be a reliable VoIP calling option in India and thousands of people are using it to save money. In case you do not know WhatsApp allows you to make voice as well as video call without any additional cost (obviously you should have an internet connection). However, last year in October, WhatsApp has introduced a new feature called group video and voice call. This is quite good for many people since they do not have to keep using Google Hangouts or any other app like that. As WhatsApp is already installed on your mobile, you just have to update it. Once updated, you can make a voice or video call to a person. In order to add more other, you can find a plus sign right on your screen. That button will let you add more people to your existing video or voice call.
Delete Message
Previously it was impossible to delete a sent message, and hence many people have faced different problems over the years. However, now you can delete any sent message on WhatsApp without any trick or a third-party solution. WhatsApp has enabled an option that will remove any message you want. For example, you have sent a wrong photo to someone or a confidential document to someone, and you want to rectify it. All those things are possible on WhatsApp now. There are two options, e.g., DELETE FOR ME and DELETE FOR EVERYONE. If you use DELETE FOR ME, it will delete the message from your mobile only. However, if you use DELETE FOR EVERYONE, it will be deleted from your recipient's phone as well. It doesn't matter whether you have sent a document, picture, video, audio or text, you can certainly delete that with the help of this option. Also, no matter if you have sent the message in a group or one-to-one chat conversation. However, one thing you should keep in mind that if someone has already forwarded your message to someone else, you cannot delete that.
Share Live Location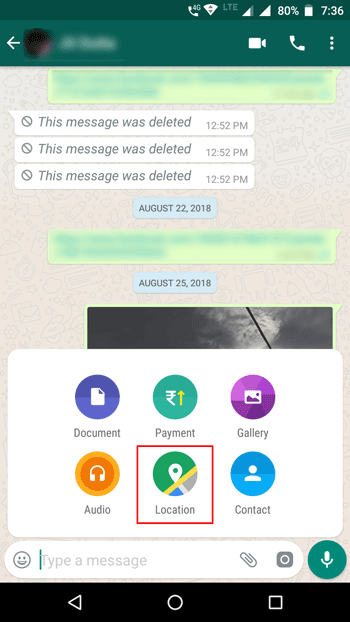 Let's assume that you are about to attend a meeting or you want to meet someone, but you are late. At such moments, if you want to share your location with your boss or someone else to let them know that you are near, you can check out the Live Location feature of WhatsApp, which is pretty easy to use and is available on Android as well as the iOS device. The best thing is you can decide how long you want to share your location with your recipient. For example, you can select 15 minutes, 1 hour or 8 hours. To access this feature, you need to open a chat conversation and click the attachment icon and select Location. Following that, you need to go through the screen options.
WhatsApp Status
At first, Instagram introduced it in their app, and now you can find the Status or Story feature in Facebook, WhatsApp, and many other apps. If you want to share something for a temporary basis, you can share via WhatsApp Status. It will last for 24 hours, and then it will be deleted automatically. To set up the Status privacy, you can follow these steps. First, switch from CHATS tab to the STATUS tab. Click the three-dotted button and select Status Privacy. Following that, you can select one of these three:
My Contact
My contacts except
Only share with
That's all! These are some of the new features introduced in WhatsApp. However, one thing you should remember that this is not for you if you often update your WhatsApp app. This list is for them, who do not update the app in months or even in years.