How to Find And Share Images From Social Media Sites Using Hashtags
If you are a tech savvy person or a social networking junkie, the term 'hashtag' needs no introduction. No post can be found on social networking sites without containing a hashtag. Especially a place like twitter, which has limitations for number of characters, hashtags let us express ourselves with less number of characters possible. Just to let you know, the primary usage of hashtags lies while searching for information as they are different in different situations. People started using them a lot, that now they help us know what topic is the talk of the town.
While searching content like images on social networking sites, hashtags help us many times. People upload lot of image content on sites like Twitter, Instagram everyday with relevant hashtags attached. Even though individually we can search picture content on those sites, there is no proper way to search on multiple sites. pischo does exactly that. Using this service, you can filter images from millions simply using hashtags and share them with your friends. pischo is very good at doing it, in a proper and genuine way. The great thing about this service is it allows you to search and combine results from multiple social networks unlike HashAlbum – Twitter, Instagram, Flickr, Tumblr and more. All you need to do is select a social network and enter a hashtag you want to search.
Wait, it isn't over yet. You can jumble them the way you want to with multiple sites and multiple hashtags. The makers are calling this feature as Mashup feature.This would help in retrieving required images and save lot of time.
For example
If you want to search for images related to a hashtag in Twitter, Instagram then you can select the duo and enter same hashtag. Or you can combine different search items on different sites and combine the results. picsho lets you enter 5 combinations per gallery. As an example, I've used #SamsungGalaxyS7 as a key and searched Twitter and Instagram. When you are done selecting your sites and entering hashtags, just press "Create Your Picsho" button and wait for the magic to happen. The service would search images matching your hashtags on appropriate sites and displays the results at one place. Among the displayed results, you can select the images you want to keep in your Gallery and deselect which you think aren't appropriate – which is another great feature. The results are below-
Pretty great, right?
When you are done selecting, select a category which your gallery falls into like Events, Animals, Art, Technology etc and enter a title for your gallery then click save. Picsho generates a permanent link for your gallery which you can share with your friends and colleagues. You can use this service as a guest, but it is better to create a login to manage all your galleries.
Not only that, you can perform operations on the existing galleries too to avoid the pain of actually creating it – you can view the existing galleries by category or you can search for a gallery by entering relevant term in the search tab. Picsho displays existing galleries matching to that query. You can view them, favorite them (if you are signed in), comment on them or even share/embed them by using the link.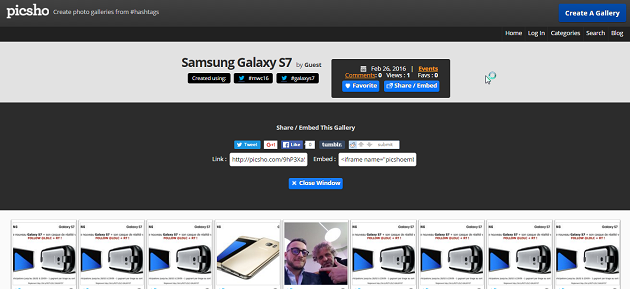 You can also have a custom url for your account with name of you or your brand. If your gallery gets certain number of visits, picsho lets you create one for free, but if you are interested you can always get custom url and many more additional features for your account by upgrading.
All in all, picsho is not only offering searching capability in various social networking sites, but also creating a better way to share them and mange them. If you are looking for a searching solution of images on social sites, picsho would help you for sure.