Prevent Phishing Attack Using Google's Password Alert Tool
Phishing is a commonly utilized maneuver amongst attackers to swipe someone's online credentials like password, credit card number, bank account details and more others. The majority of people do not fully grasp nearly anything in regards to this attack and hence, attackers can easily ensnare common people to gain access to web properties.
Google, the web giant has always been assisting users to counteract third party people from distinct attacks. This is one of the companies, which has 2-step verification to make others impervious for getting access over others' email address or Google account. And now, here is one more Google Chrome extension that is introduced by Google security team. You can find this Chrome extension on Chrome Web Store and this is generally known as Password Alert.
This security extension intends to make Google account more secure. Besides Google account, this can help to make any other account less risky.
How Does Google Password Alert Tool work?
The procedure through which Google Password Alert Tool functions to make accounts secure is really simple to catch on. This extension prevents Chrome users to enter exactly the same password on any other site, what they are currently using in Google account. That merely implies if you are using example as your Google account password, you simply can't use the same password in any other account apart from accounts.google.com.
Whenever, you will go to utilize the same password on any other website, you will get a stern warning. The warning message looks as follows,
This is certainly probable to ignore the alert and proceed with your own same password, but this will not be good for you. This is how Google's Password Alert tool/extension works.
Advantage Of Using Google's Password Alert Extension
There are plenty of positive aspects of using this Chrome extension. In fact, the standard of the main benefit worth  much more compared to the quantity.
Now a days, the majority of people do the job on the internet and this is actually the perfect Chrome extension for them, who are security concerned.
When we need to create an account (no Google), we often use the same password everywhere. This is an open door for attackers to steal your property. This tool shows warning. Hence, users can invariably remember that they have to use a different password.
There a large number of websites, where you can create account and log in with your Google/Facebook account. At the same time, most of the people create account using Gmail ID over Yahoo or Outlook. Those websites send a temporary email to your Google account if you forget your password. If you are using the same password everywhere, this would be really easy to open up your Gmail account and change the password to get access over your accounts. However, if you use different passwords, you can at least save some accounts.
Disadvantage Of Using Google's Password Alert Extension
Everything has a positive side as well as a negative side. Therefore, this extremely impressive Chrome extension also contains some disadvantages.
The very first thing is this is a CHROME extension. That means, Mozilla Firefox users cannot get help by this extension at any cost until or unless Google releases it for them. Although, almost half of the internet users are using Google Chrome across the globe, yet, there are some avid Firefox users, who will not able to get this extension in their browser.
There are some people, who have multiple Gmail accounts. However, this extension works only with single Chrome account at a time. That means, if you have two Gmail accounts called A & B and you have signed in to Chrome using A, this extension will not show any warning if you use the password of B.
It always runs in the background and hence, more memory will be consumed concurrently.
How Does Password Alert Extension Know Your Password?
This extension stores a thumbnail of your Gmail password to local storage to check in future. According to Google, it doesn't send the password to anywhere and it doesn't use any key logger.
How To Set Up And Use Google's Password Alert Extension?
The set up is not so complicated. Just 30 seconds set up can help you to prevent phishing attacks right away. To get started with this Chrome extension, at first install it. You can find Password Alert extension at here. After installing this extension, you will get a notification like this,
Just click on Sign in and log on to Chrome with Gmail account. After that, you will get the following success message,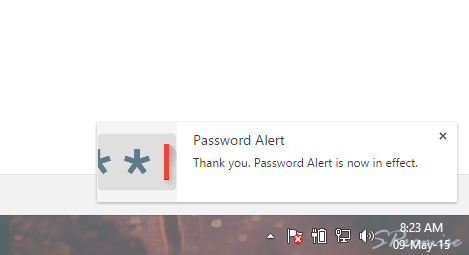 Now, whenever, you will enter the same password on any other site except accounts.google.com to create any account, you will be redirected to a different page, which looks like the subsequent page,
You can either reset your password or ignore this warning to go ahead.
That's all! This is as simple as said. Hope this security extension would help you a lot.
You can find more about Google Password Alert Tool at here.
Security Loophole Of Password Alert Tool
This phishing prevention Chrome extension is not as good as it should be, according to some security professionals. In fact, just after unveiling this extension, some of the security researchers have already cracked it. They have successfully bypassed the warning. You can get a glimpse here,
But, it seems now Google have updated the extension with new patch and the latest version (V 1.6) seems vulnerable free.
As of now, this Password Alert extension has no such alternatives. Even though, there are some password manager extensions called Lastpass, Keeper etc. but they do not have any feature similar to this extension. Therefore, this is a totally new initiative.