Best Browsers For Android And iOS For Private Browsing
Nowadays only two platforms are dominating the whole mobile world, and they are Android and iOS. No matter whether you have an Android or iOS mobile, you can certainly find tons of apps in the respective app store. However, when it comes to private browsing, many popular browsers fail to provide what users need. If you need a browser for private browsing, you can check out the following list.
Different websites use different trackers to track visitor statistics. Browsers may not be able to detect them all the times, and that is the reason, why people get unnecessary advertisements all the times. Though browsers have Incognito Mode or Private Mode, that might not be helpful all the times. Therefore, you can find this following list quite beneficial.
Best Browsers For Android And iOS For Private Browsing
1] Firefox Focus
Mozilla is a top-rated company, which built the Firefox browser and it is perfect in terms of browsing the internet. However, if you want to get a better solution and you trust this company, you should check out Firefox Focus browser. This browser is mainly built for providing the best and most secure browsing experience to the users. No matter which tracker a website is using, it can detect and block that according to your requirements. In other words, you can browse all the websites, but none of them will be able to track you. Talking about compatibility, you can download it for Android as well as iOS. However, you should have Android 5.0 or later version and iOS 11.0 or later version. The good news is you can download it for the iPhone as well as iPad.
2] DuckDuckGo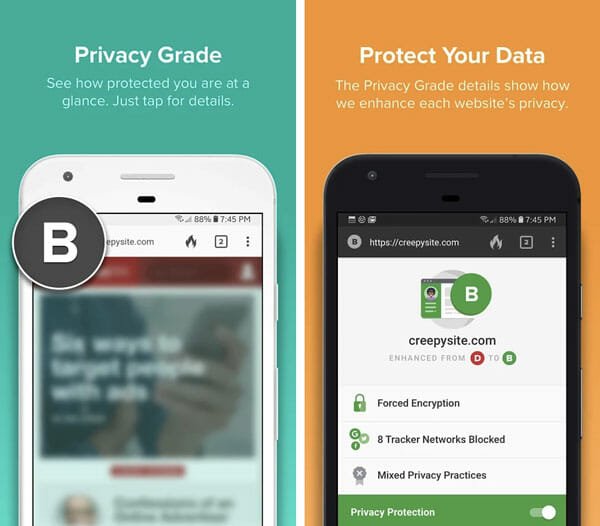 DuckDuckGo is very popular among them, who do not like Google search engine. As a search engine, it has gained a lot of popularity, and many people use it as a Google search engine alternative since it provides quite a similar result, but it doesn't track you as Google does. That is the main reason, why countless tech-savvy people have already opted for this search engine. The same company has built this awesome privacy oriented web browser for iOS as well as Android. It doesn't matter you have Android mobile or tablet or iPhone or iPad; you can certainly use this browser in your mobile or tablet.
Talking about the available functionalities, you can get almost everything what a regular browser provides. However, you should see some additional options so that you can manage everything related to your digital security. As usual, you can get rid of advertisement related trackers in this browser. Apart from that, your search is completely encrypted and that is why your ISP cannot see what pages you are opening in the browser.
Regarding compatibility, you can download DuckDuckGo browser for Android 5.0 or later version. If you have an iOS device, make sure it is running iOS 10.0 or later version.
3] Red Onion
If you are concerned for your online security, you might have heard of Tor network and Tor browser. Tor browser is not a regular browser as it uses the Tor network so that any person can be anonymous while browsing the dark web. Tor doesn't require an introduction since it is a world-class network for browsing the dark web without being detected.
Although the official Tor browser is not available for Android or iOS, you can download Red Onion, which uses the Tor network to provide security and encrypt everything from top to bottom. Red Onion browser is available or iOS only and you should have iOS 7.0 or later version to download it. You can browse every website or even stream videos on YouTube, but everything will be encrypted and secured by Tor network. Download
4] InBrowser
InBrowser is pretty old in terms of look or interface. However, it works perfectly for Android as well as iOS devices. In one hand, it helps you block all the trackers. No matter whether a website is using Analytics, or advertisement related trackers, you can prevent everything from tracking one. On the other hand, it uses the Tor network. That means no matter which website you open, that won't find your real IP address.
It is not only a private browser, but also it is a data saver. As the main priority of this browser is to provide top-notch security, it offers some options to clear the browser cache, cookies, browsing history etc. on exit. There are some options to delete them automatically as well as manually.
InBrowser is available for Android and iOS. iPhone and iPad users must have iOS 9.0 or later version, and Android users should have Android 5.0 or later version.
5] Ghostery Privacy Browser
Many people use Ghostery extension in Chrome to block trackers and all. However, if you are satisfied with those minimal options and you want to get a fully functional browser so that you can improve your online privacy, Ghostery Privacy Browser can be helpful for you.
Apart from having all the essential options to prevent trackers from tracking you, you can find an elegant user interface. While browsing a website, you will get an option to allow or block particular tracker so that you can know everything about the site. As mentioned earlier, the UI is pretty good and much better than some of the aforementioned browsers.
This particular browser is available for Android as well as iOS. You must have Android 4.1 or later version and iOS 11.0 or later version. Good news is you can download it for the iPhone as well as iPad.