How to Select the Best Laptop, Mobile, MP3 Player, Pen Drive and SSD
Just a decade back, when there were only few couple of mobiles, it was the easiest task to select a mobile out of ten or twenty. The scenario was exactly identical for other electronic gadgets.
However, the whole thing has been changed in past couple of years. Now, you just have to cogitate a price and hundreds of gadgets will come up. This precise matter is as good as bad. The favorable side is you can choose the perfect gadget. The drawback of this thing is you will be spoiled for choosing the perfect gadget.
There are some indispensable points what you should keep in mind before purchasing a mobile, laptop or any electronic gadget that is going to be a part of your daily lifestyle. Nevertheless, the problem begins when you need to select an affordable gadget that fits your price range.
How to select best laptop, mobile or any electronic gadget?
There are hundreds of websites where the reviews are being published of almost all mobiles, laptops etc. However, the harsh truth is, most of them are a mirror of another source. Therefore, it becomes very difficult to identify the original review. On the other hand, some well-known websites publish paid review. Hence, this is confirmed that they will publish only positive sides of any product.
This is where a visual chat steps in. Product Chat is a visually optimized product comparison chart that lets users find the best gadget for you. Product Chat can assist you to buy Smartphone, Laptop, MP3 Player, SSD and Pen Drive. You do not have to rely on any another third party websites for the review.
This interactive product comparison chart indexes all types of laptops, mobiles, SSD, Pen Drive and so on. Let's take a deep look into Product Chart.
The secondary page of Product Chat is divided into mainly two parts. You can select the configuration of your next laptop or mobile on the left side of your browser. The visual will be changed immediately as per your settings on the right side.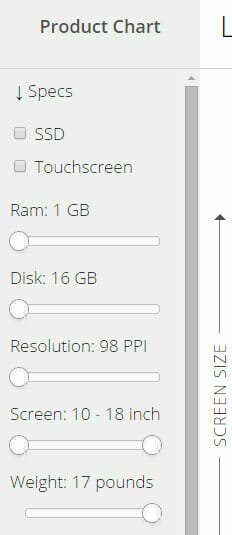 If you choose Laptop, you can select RAM, HDD, Resolution, Screen Size, Weight, Brand, CPU etc. This is also possible to know more about any specific product.
If you want to select the best mobile, you can enter Memory, RAM, Resolution, Screen Size, Price, Brand and so forth.
All these things are also applicable for other electronic gadgets such as SSD, MP3 player etc. The most prodigious thing is you can check the exact configuration of any gadget after selecting anyone. On the other hand, you will get online shopping site links on the same page to buy that.
Endnote
In this competitive market, this is very difficult to find out the best laptop or mobile. Previously, you had to select the mobile. Now, you have to select the price. In addition, now, mobiles are available at very low price (~$60) as well as very high price ($6000 – Tonino Lamborghini).
Nowadays, you must know the usage of your laptop or mobile. For example, whether you want to sue your laptop for watching movie or internet or official purposes or anything else. If you do not know this, you cannot buy the perfect gadget.