Tips to use Clean Master Mobile Speed Booster Application or Smartphone Optimizer Tool
If you have been a regular smartphone user, at some point you would have experienced problems like phone battery draining very quickly, games not playing smoothly, apps not opening up quickly, inability to click new photos due to lack of memory space, etc. Now, there have been several popular smartphone optimizer apps or cleaner tools designed by Android and iOS developers. However, more often than not these apps fail to work efficiently beyond a point or provide limited mobile performance optimization benefits. This is where Clean Master mobile phone optimizer tool scores heavily and has been an instant hit among mobile phone users.
This app is an apt solution for all your queries like "How to extend phone battery life?" or "How to instantly free storage space on smartphone?" or "How to prevent mobile phone from overheating?" In this article, we shall understand the features of Clean Master Android application and different ways it can prove useful to us with regards to security, performance enhancer, speed booster, etc.
You can check out the website for Clean Master tool at: Clean Master cleaner, optimizer and security app
Clean Master Application Features
The app is efficient at analyzing your phone's storage space, deleting cache and safely removing the junk files that unnecessarily occupy lot of space. It will serve as a device cooler by finding and getting rid of those apps that cause overheating of your smartphone.
It even helps to boost your mobile phone memory by killing buggy apps that slow down your device by occupying space. The 1-Tap boost and game boost features of Clean Master make sure that you can easily free up memory space and boost apps, games, etc. from the home screen itself. All this leads to an improved performance of your smart device.
It is also an ideal app manager that enables backing up useful apps for your phone and ensures easy uninstallation of unwanted apps and bloatware. This Android cleaner tool even suggests useful apps based on our interests. As per the latest update to this app, there has been an addition of 'App Boost Box' function in the App Manager that boosts your apps by almost 32%.
The security feature of this app makes it act like an antivirus that provides protection against viruses, adware, spyware, trojans, vulnerabilities, etc. by regularly scanning the system along with pre-installed and user-installed apps. In fact, this tool provides enhanced privacy protection through optimized browsing history detection.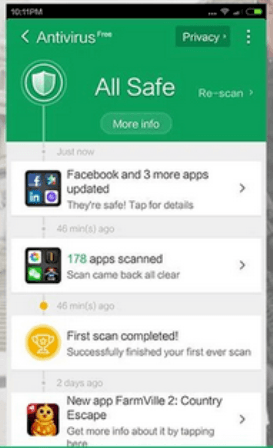 The latest version Clean Master 5.0 provides gesture support for a smooth and user-friendly experience. To summarize, this optimizer & speed booster tool will improve your smartphone's performance by cleaning (getting rid of) junk files, optimizing device memory space as well as providing total protection against malware, viruses, trojans, etc.
The above discussed features clearly show why Clean Master speed booster application is one of the highest rated apps. As far as I am concerned, it was easily one of the best mobile optimizer apps of 2014. Please share your views about this amazing Android app that can be downloaded from Google Play Store at: Free installation of Clean Master for Android