Top Laptop Insurance Providers in UK Offering Best Insurance Cover for Laptops
Even though tablets, phablets and smartphones have come up with new innovations, laptops have managed to hold their own. They have proved to be an ideal replacement for desktop PCs and their usage hasn't decreased considerably even with other smaller devices coming in. In fact, the worst nightmare for a tech-savvy person would be to live without a laptop for few days. This is not plain pessimism, but a practical thought considering the dangers lurking on every laptop that is in use.
A laptop is portable and hence it is prone to get stolen or being misplaced while travelling. Additionally, there is always the possibility of some accidental damage to your laptop or even worse: a major breakdown or laptop crash. In such cases, you would not only have to live without your laptop for few days, but also bear any repair / damage costs which could burn a hole in your pocket. It is during such times that you feel the need to have a good laptop insurance plan that covers it for theft, accidental damage, breakdown, data loss, etc. Choosing the best laptop insurance deal involves considering insurance coverage areas as well as price (getting a cheap laptop insurance quote).
In this article, we shall go through some of the best laptop insurance companies in UK that offer significant laptop insurance plans for your beloved laptop. This will help you to carry out appropriate comparison of laptop insurance plans offered by UK insurance companies.
Gadget Cover
This company offers Gadget Cover Laptop Insurance or Gadget Cover Multi Gadget Insurance that could suffice your insurance requirement. These plans offer affordable insurance cover for theft, accidental damage, breakdown as well as loss.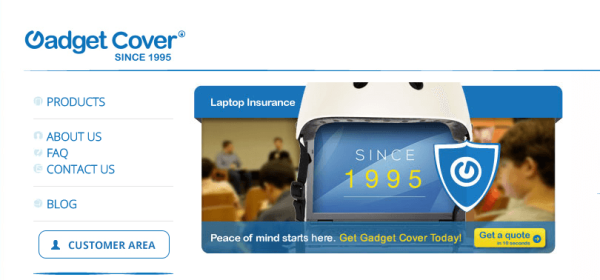 This company allows instant cover for free during the first month along with unlimited laptop insurance claims. You can get the benefits from this insurance provider if your laptop is not more than 6 months old. So, it is better to opt for such insurance plans as soon as you buy a new laptop gadget. The monthly Gadget Cover laptop insurance plans start at £1.45. You are not bound by any contract and can easily cancel the insurance service as and when you like. Though with several additional features like online data back-up, family cover, no-claims bonus, etc., you would find it hard to convince yourself to cancel any Gadget Cover Insurance plan.
The Gadget Cover Multi Gadget Insurance plans start at £2.98 on a monthly basis. The best part with multi-gadget insurance policies is that you can get insurance cover for several electronic gadgets together.
Trusted Insurances
This company offers Trusted Insurances Laptop Insurance, Multi Gadget Insurance, Computer Insurance as well as Family Gadget Insurance plans. It has gained in popularity by offering instant gadget insurance quotes on their website.
It provides affordable insurance cover against accidental damage, malicious damage, liquid damage, breakdown, theft and loss. The Business Gadget insurance plan offered by this company for commercial use starts from as low as £1.49 per month, whereas the laptop insurance plan starts from £2.49 per month. They even offer 14-day money back guarantee. Trusted Insurances Mobile Insurance plans have also been quite a hit with the masses in UK.
Protect Your Bubble
This company offers variety of insurance plans like Protect your bubble laptop insurance cover, multi gadget insurance cover as well as business gadget insurance cover (for commercial use). The cheapest monthly Protect your bubble laptop insurance plan starts at £2.49, whereas the other two plans start at £3.94 per month.
Just like the previous two UK insurance providers, this company also covers your laptop against theft, different types of damage, breakdown and loss. It offers two replacements per year and allows online claim submissions. In fact, when you purchase the gadget insurance plan from them, you get all-in-1 Snap Secure App free to use for 1 year.
Apart from the 3 gadget insurance providers discussed above, there are many more popular laptop insurance providers in UK like i-Digital, Gadgetbuddy.com, Endsleigh, Insurance 2 go, Switched On Insurance, etc. One needs to compare the various insurance policies offered by them and take a call as per their need. But, one thing is for sure, a laptop insurance plan with save you loads of money in the long run!