List of Video to Audio Converter Tools and Services
I came up with this post while figuring out a problem of mine. I had to download some mp3 files of some songs. I tried to do the search the web with as many as 25 keyword combinations. But none showed the proper search results to help me download the audio files. I went to all mp3 listing sites I could figure out. But they also failed. Then I visited the well-known YouTube & found a  video for that song. I downloaded it but I needed the audio extracted from it. And I needed a video to audio converter tool or service. So here are the following ways that proved useful while converting video files to audio files.
Video to Audio Converter – VLC Media Player (v0.8.6)
Yes its true. We wont be needing a dedicated software for this, we will be using a very common program called VLC Media Player as a video to audio converter.
1. Go to File > Open file(Ctrl+O) and now browse to a file that you want to open. After the file opens stop the playback.
2. Now go to File > Wizard(Ctrl+W). Click Wizard.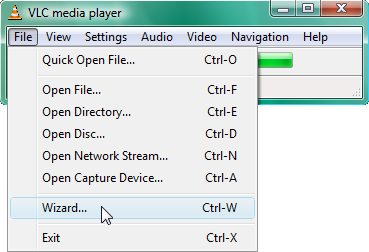 3. Clicking the Wizard, Streaming/Transcoding Wizard will open.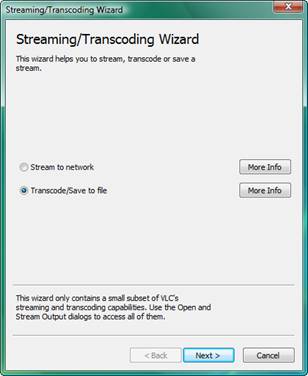 4. Choose Transcode/Save to file option and hit Next.
5. Now you can select from an Existing Playlist item or Select a stream. Now if you want to extract certain part of the stream follow the image for Advanced options.

6. Now check the Transcode Audio in the Audio segment and do the selected settings as shown in the image. Leave the Video segment unchecked. Hit Next now.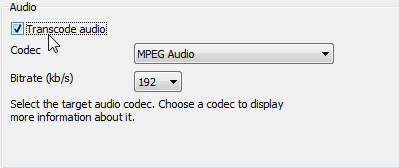 7. Now in this window do the following settings. I've selected MPEG 1 format.

8. In the next step you will be asked for the location & name of the resulting mp3 file. Make your choices needed.

9. Once you are done with locating & naming it hit Finish. The extraction will initiate.


10. One last step to remember, don't forget to listen to it once the extraction is finished.
If you are using updated versions(like v1.0) for VLC then you might do the same trick following this tutorial from the How-to Geek.
Some dedicated softwares to convert video files to audio files
Free Video To Audio Converter
This is a very easy video to audio converter tool to do your stuff which has following features :
1. This has an interface that is self-explanatory.
2. You can converts multiple videos at a time.
3. It has a cool tagging feature that lets you put tags like artists, album etc for the output audio files.
4. No need to worry about mp3 configurations, there are already some preset that works fine.
5. You can also assign the start & end positions of the extraction visually, which gives you more control.
6. The best part, its totally free.
You can find more about this software here.
Shine Video to Audio Converter
1. Support almost all popular extensions like AVI, WMV, ASF, MPG and MPEG. You can convert them to MP3, RM, WAV, WMA and OGG format.
2. Supports ID3 editor which lets you add tags on the output audio files.
3. Support WMA 9.
4. Though you download a trial this is a paid software.
You can find more about this software here.
Video to Audio Converter Tools to use if you are using Linux
1. SoX – Acronym stands for Sound eXchange. The most versatile tool for sound editing for LINUX users with endless opportunities.
2. WinFF – It also embeds other features too.
3. Handbrake – Multi-platform video to audio converter tool.
And finally some online video to audio converter tools…
1. You Convert It : Pretty neat tool. You can convert 5 video files at a time. The extracted audio files will be sent to your email address.
2. Media Convert : Also a versatile tool that also lets you convert video URLs. This also lets to assign the start & end position of the extract.
3. Follow our article on How to Download and Extract Audio from You tube Videos using a mozilla addon.
I'm quite sure that there are lots of tools out there, but this proved to be useful for me. Well I'm hoping you can share the video to audio converter tools that you have ever encountered or use frequently.
Related : Download any video on the web with extensions of your choice.