Best Calendar Apps for Windows and Android
The calendar helps you organise your schedules in a great way. However, you should use the correct calendar app for that. In this article, you are about to find some of the best calendar apps for Windows and Android so that you can always take care of your busy schedule on mobile as well as a computer. All the calendar apps are readily available on most of the Android versions, and you can download these apps on Windows 10 mainly. Although you can download these calendar apps for free, you might need to spend few dollars to unlock all the functionalities of these apps.
Best Calendar Apps for Windows
1] Inbuilt Calendar app for Windows 10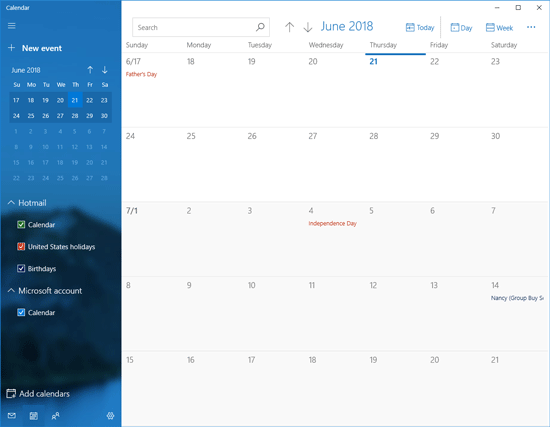 This is one of the best calendar apps available for Windows 10 computer only. However, if you are using Windows 7 or Windows 8/8.1, you can still try the web version of this calendar app. The user interface of this calendar app is neat and clean, and you should not find any problem while trying this app. You can synchronize all the appointments by signing in with a Microsoft email ID. However, that is not necessary if you do not want the synchronization process. You can save holidays, birthdays, and more others in this calendar app for Windows.
2] One Calendar
One Calendar is yet another awesome calendar app available for Windows 10 only. To be more specific, you can download this app on Windows 10 version 10240.0 or later version. This is possible to download it to x86 as well as x64 architecture. The user interface of this calendar app is pretty cool, and you can use various colours to manage different type of appointments, schedules, and so forth. You can also sign into this app with a valid account. However, there is email limitation while creating an account with this app.
3] VueMinder
VueMinder is another handy calendar app available for Windows XP and later version including Windows 10, 8, 7, and Vista. Although it looks pretty cluttered, it is quite good regarding features. This is very easy to get the month/date and assign all the appointments accordingly in this app. You can also find a to-do list option that would let you create tasks and finish them on time. You can create notes as well that will help you remember important things all the time. The best thing is you can link between events, notes, contacts, tasks, etc.
4] Hope Calendar
Hope Calendar is available for Windows 10 only, and you can download it on a 32-bit machine as well as the 64-bit machine. It has a very elegant user interface with support for Google Calendar, Outlook, Yahoo, Exchange, Office 3656, as well as iCloud. Flexible month, week, and agenda views will be offered, and hence you can manage your tasks with ease. You can hide your appointments and check them whenever needed. The free version comes with advertisements. However, if you want to use the ad-free edition, you can purchase it for $2.49 only.
5] Calendar and Holidays
Calendar and Holidays app is available for Windows 8.1 and Windows 10, and it has support for x64 as well as x86 architecture. It offers almost ten different styles, and hence you would find a better user interface based on your choice. The overall UI looks cool, and you should not get any issue while trying out this app. This is a very lightweight application, which offers you to get a month, week, days etc. so that you can assign task based on that.
Best Calendar Apps for Android
1] Google Calendar
Most of the phones those are using stock Android, have Google Calendar as an inbuilt application. It doesn't matter how or what you want to compare of Google Calendar, it will top the list every time. From managing appointments to enter a task, everything is buttery smoother with Google Calendar. Although the download page doesn't include any compatibility, you can download its app on Android 4.1 or later version. It can gather information from Google Keep, Gmail, and so on. For example, you can get flight information, restaurant reservation and more others in Google Calendar.
2] aCalendar
aCalendar is yet another great calendar app for Android, which is available for Android 4.1 or later version. The user interface of aCalednar is top-notch, and you cannot find any clutter. Although some people have claimed to have a little bit of clutter, you may not find it after the last update. Talking about features, you can find all the essential options such as task manager, reminder setup and more others. You can find up to 48 different colours so that you can categorize different tasks quickly. The best thing is you can find Google Calendar support as well.
3] Cal – Google Calendar + Widget
Cal is useful when you want to get a widget alongside the calendar app. For example, you can want to quickly check the next appointments right from your home screen. That is possible with Cal app since it offers a widget that you can place almost anywhere. It also offers real-time synchronization, work/life balance, voice entry, predictive text, focus finding, and more others. The Task Tracker option will let you find the task that you can leave behind and finish them accordingly. You can also set up reminders to keep things in mind and do them on time. Talking about availability, you can download Cal on Android 4.0 or later version.
4] DigiCal Calendar Agenda
DigiCal Calendar Agenda seems pretty good when you need a lot of options to manage your appointments. The best thing about this app is you can find a dark mode or theme that will help you use this app even in the low light area. You can include almost anything in the schedule section. From a simple thing like dinner with friends to important thing like business presentation creation, you can assign any task in this app. This is meaningless to mention that you can get a reminder as well so that you can keep everything in mind with any problem. This fantastic app is available for Android 4.1 or later version.