Best Cases For MacBook To Protect From Dust And Water
You can pick any MacBook, and you need to pay a minimum of $1000 to purchase it. No matter whether you have a brand-new MacBook or an old one, you should apply a case to protect your device from dust, water, and other liquids or foods. Keyboard damage is a prevalent problem with laptop users if they have kids at home. Even if you do not have any kid, but you often travel, you should install a case or cover for protection. Here is a list of best cases for MacBook that you can buy today.
There are mainly three types of cases for MacBook – Waterproof, Soft, and Hard. We have all of them in the following list.
Best Cases For MacBook Pro And Air
1] Inateck – $11.49
Inateck is a soft case for MacBook that helps you carry your laptop whenever you want. It is more like a bag than a case. Regarding compatibility, you can buy it for any MacBook as it is available from 13-inch to 15.4 inches. There are three colors of this MacBook cover – Black, Grey, and Pink. If a MacBook launched between 2016-2019, you could purchase it without any issue. The material quality is not bad, and you can use it roughly. Check the deal
2] Rinbers 2in1 Bundle – $14.99
It is a mixture of soft and hard cases together, and it is not a bag like the first one. Instead, you need to apply it directly to your laptop. The only problem is the color. If pink is not your favorite color, you might not like it at all. However, the good news is that you can find a keyboard cover along with the MacBook case. You can purchase it for MacBook Air 13-inch A1369 and A1466. Check the deal
3] UESWILL Crystal – $16.99
It looks like a hard case, but it is more like a rubber case for your MacBook. It doesn't carry any color because of the transparency so that you can get the same vivid Apple logo on the backside. This case is available for the 2016-2019 MacBook Pro as well as the 2016-2019 MacBook Pro with Touch Bar models. If you have a MacBook Air or MacBook Pro with CD-ROM, you should not purchase it. Check the deal
4] MOSISO MacBook Air 13 inch Case – $17.99
If you are looking for a leather cover, which is hard enough to protect your laptop from accidental damages, you should check out this case. It is compatible with MacBook Air 13-inch A1466, and A1369. It covers the whole MacBook, including the front side, backside, near the palms, etc. Also, you can find a magnetic strap to keep the lid closed all the time. As it is made of leather, the manufacturer has kept the brown color. The same cover is available in other colors as well. Check the deal
5] Top Case Rubberized Hard Case – $28.99
If you have a MacBook Pro 13-inch model with Retina display and it was released between 2012-2015, you can purchase this rubberized hard case. There are several colors available for this case, and the purple one looks excellent. The best thing about this case is that you can get four more stuff – a sleeve bag, keyboard cover, screen protector, and skin for the mouse. Before purchasing this case, make sure that your laptop comes within the A1425 and A1502 series. The case is good enough in terms of shock protection, dust, etc. Check the deal
6] Runetz Hard Sleeve – $21.95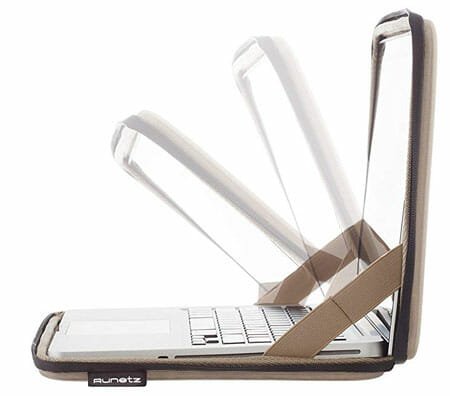 If you travel frequently and you do not want to use a separate sleeve for your laptop, you should check out this case. It is a 2-in-1 cover that should be compatible with MacBook Pro 15-inch A1990, A1707, etc. series. In other words, this case fits your laptop, and you need to use the zip to prevent dust and water while travelling. The fitting is good enough for a 15-inch MacBook Pro, and you should not have any problem using it for a long time. The only drawback is that it doesn't have protection near the palms. Check the deal
7] NexCase – $26.99
It is one of the best MacBook cases that you can find today. It has multi-layer protection so that you can prevent accidental tears effortlessly. You can apply the case on the front and backside of your laptop. NexCase is available in four different colors – Black, Black & Blue, Black & Green, and Black & Red. Regarding the compatibility, you should have a MacBook Air 13-inch model of A1466 and A1369 series. In other words, if you purchased your laptop from 2010-2017, you could buy this case also. Check the deal
8] SUPCASE Unicorn Beetle Series – $29.99
It is another hard case for the MacBook, which is made of rubber. However, the case is strong enough to protect small accidental drops as well. It looks very fancy from the outside, and protection is top-notch from the inside. This case is compatible with the latest MacBook Pro – released after 2016. In simple terms, if your MacBook Pro has Retina display and no Touch Bar, you can purchase this case for protection. Check the deal
Before purchasing a case for your MacBook, you should verify the compatibility. Also, if you need to know whether you want a soft case or a hard case. If you need a hard case, the last two cases are the best in the market in terms of build quality, materials, longevity, etc.