Best Mac Apps for Freelancers and YouTubers
Undoubtedly, Mac is one of the best operating systems out there, which is being used by millions of people from across the globe. It doesn't matter whether you want to use it for business, school, or anything else, you can definitely try Mac without any problem. If you are a freelancer or YouTuber or you do anything on the internet, do check out these apps those will let you do various things faster. You can communicate with other team members, take notes, and so do with the help of these tools. Most of the tools available for free. However, you might need to opt for a paid subscription to take full advantage of those tools.
Best Mac Apps for Freelancers and YouTubers
1] Slack
It doesn't matter whether you have a one-man business or you have one hundred people in your business, this is really important to have contact with all the people so that you can know what is actually going on in your company. Communication is an important thing in any business. When you have an internet based company, this is quite easy to communicate with all the people you have in your team. Slack has made than easier. Slack is one of the best communication apps that helps you connect with team members whenever possible. It doesn't matter whether you have a Windows computer or MacBook or Android or iOS, you can certainly connect with all the people within moments. You can create chat board and invite team members so that they can start the conversation. The Slack app for Mac looks pretty cool, neat and clean. Therefore, you should not have any problem while using it for the first or longer time. It comes with all the features what the web version has. For example, you can integrate various apps/services, send attachments, browse various channels, switch from one chat board to another and more others.
2] Evernote
It doesn't matter what you do. If you manage your whole business alone, you should utilize a note taking app so that you can keep everything in mind. Evernote can help you do that. Evernote is a simple note taking app available for multiple platforms including Mac, Windows, Android, iOS, Web etc. The best thing about Evernote is you can synchronize notes across multiple devices. More specifically, you can synchronize notes up to two devices if you have the free account. Paid account holders can synchronize notes across more than two devices. Talking about the user interface, the UI looks pretty cool and you should understand all the features right from the beginning. The best thing about this tool is you can set reminders and it will remind you for anything. You can create lists, write scripts, articles, and more others. Another thing is you can create various labels so that you can manage all the notes based on preferences. One more essential feature about this tool is you can share a particular notebook with friends or team members so that you can work together.
3] Photoshop
If you are a blog writer, who often needs to create photographs, Photoshop sound pretty good since it can fulfil all your demands without any problem. By spending a small amount of money, Photoshop can do all the jobs you can imagine. From basic photo editing to advanced mockup creation, everything is possible with the help of Photoshop app. You can do all the tasks and save your work in the cloud storage and that is the best thing about this tool since it enables you working together from a remote location. There is no doubt that Photoshop is the best photo editing tool out there, which is being used by millions of people from across the globe. The latest version of Photoshop aka Photoshop CC comes with some more features and advanced options than the older Photoshop CS6.
4] Final Cut Pro X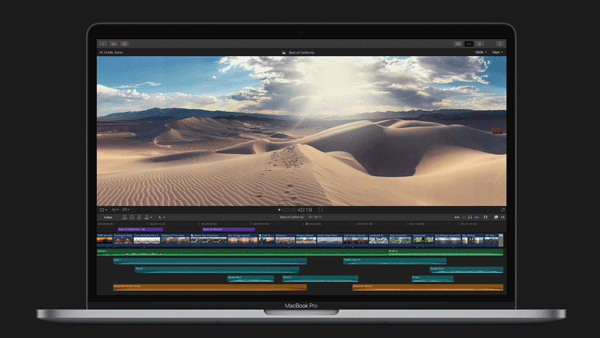 If you are a YouTuber and you have a MacBook to create your content, Final Cut Pro is probably the best thing you can make use of. Although there is a long debate between Final Cut Pro and Premiere Pro, MacBook users often choose Final Cut Pro over Premiere Pro. This is a paid tool and it helps you create beautiful videos. However, you should have proper knowledge but you can start anyday. Before purchasing this tool, you can download the trial version, which is compatible for the latest version of Mac and you can use it for 30 days without any problem. The user interface of Final Cut Pro has no clutter and that is the reason, why people prefer this tool over anything else.
5] Setapp
Setapp is a unique tool that provides almost 199 tools. If you use a lot of tools like CleanMymac, iStat Menus, Flume, Xmind, Unibox etc. but you think the pricing of those tools is pretty high, you can opt for Setapp. You need to pay a small amount of money to purchase Setapp subscription and hence, you will get all those apps mentioned earlier. To be more specific, you will get almost 199 apps related to entertainment, education, computer management, and so on. The price of this tool is not that high and this is very much affordable. You need to pay only $9.99 per month to get all the 199 apps on your Mac computer. You can create an account with Facebook or Google account and that is how easy it is to get started with Setapp.
6] Spotify
Do you like to listen to songs while working? There are many people, who love to listen to songs while writing a piece of script or article and if you are one of them, you can try using Spotify, which is one of the best music libraries out there that is being used by millions of people from across the globe. It has gained so much popularity because of cross-platform availability, pricing, and music collection. No matter whether you like Rock, Jazz, Instrumental or anything else, you can certainly opt for Spotify, which will help you listen to your favorite songs. You can either keep using the free version, which has limited features or you can opt for the PREMIUM edition to unlock all the possible options.
That's all! These are some of the best Mac app for freelancers, and YouTubers. Another important app is Microsoft Word. However, not many Mac users use Microsoft Word on MacBook since they have other native apps.