Best Online Flowchart Makers
It doesn't matter whether you are learning programming or doing any business work, a flowchart is an important thing you should use to simplify a complicated work. Flowchart helps you process a work step by step, and you can define every step so that it gets done within moments. There are tons of free software available for Windows and Mac those can create a flowchart with ease. However, if you often want to use web apps, do check out these best free online flowchart makers that you can use from any device including your mobile. Some of the tools require an account, but most of them do not need to create an account. Therefore, you can quickly switch to those websites and start creating your flowchart.
Best Online Flowchart Makers
1] Lucidchart
Lucidchart is one of the best flowchart makers out there, which is being used by thousands of people from across the world. It doesn't matter what is your purpose to make a flowchart; it will fulfil your demand without any problem.
A lot of shapes are available in this tool, and hence, you can make an attractive flowchart with the help of Lucidchart app. This is possible to utilize various fonts, notes, and so on.
On the other hand, you can also insert images into your flowchart, which will make your flowchart more professional. If you are working as a team, you can also invite your team members to use this app and work together on the same flowchart from being in a remote location.
To save the created flowchart, you can use the PRINT option, which will let you save the flowchart in PDF. On the other hand, you can share the flowchart with anybody over social networking site as well as email.
The best thing is you can publish a flowchart online and therefore; your colleges will check that online. You can use the free version, where you can create up to 3 flowcharts at a time. However, if you can opt for the PRO version, there will be no limit.
2] Draw.io
If you do not like Lucidchart and you need a simpler user interface, Draw.io may solve your problem within moments. This is a free online flowchart maker available to use from any device. For creating a diagram, you can make use of this free tool.
The best thing is you can save your flowchart in Google Drive, OneDrive as well as a local computer. Another essential feature is you can import flowchart from other tools such as Gliffy, VSSX, VSDX, Lucidchart and so on.
This is possible to choose different categories, and hence, you will get different diagrams based on the selection. Following that, you can create as per your need. All the common shapes are available to use with this tool. You should know that you can also insert image, link, etc. in any shape or the diagram.
The user interface of Draw.io is neat and clean and therefore, you should not have any problem while using this app. It provides a lot of options regarding saving the created diagram. For example, you can save the flowchart in various formats including PNG, JPEG, SVG, PDF, VSDX, HTML, XML, etc.
Another important thing is you can publish the diagram online so that you can share the link with anyone and anyone can view your flowchart without any download or sign up.
3] Microsoft Visio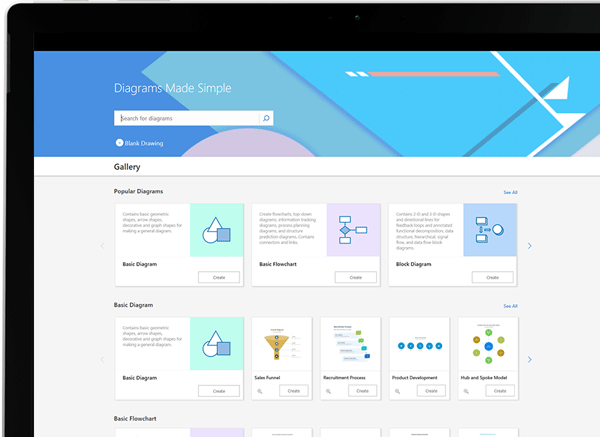 When you need tons of features alongside top-notch security, Microsoft Visio would be the choice without thinking twice.
As this is a Microsoft product, you wouldn't get any issue like lagging or so. The most important thing is you can work with friends or other work members since almost all Microsoft online products allow you to do so.
However, Microsoft Visio is not free. You need to purchase it for $5/user/month or $15/user/month. In the second scenario, you will get Visio as desktop application. Otherwise, you can use that online by spending $5/user/month.
As usual, you will get a lot of templates in both of the editions. From creating flowchart to timeline, everything is possible with the help of Microsoft Visio. It comes with a lot of o shapes, and you can insert image, clipart and more others in your flowchart. Another important option is you can integrate Microsoft Visio with Microsoft Excel, SQL Server, SQL Azure, and SharePoint and therefore, you can work alongside those apps or services.
Although you can work as a team on the same flowchart real-time collaboration is not available in this service, and that is because of getting rid of any kind of conflict between two members.
You can share the flowchart with friends or anybody over various social networking site as well as email. Otherwise, it will be saved in your OneDrive storage at free of cost.
4] Creately
If you are trying to create a flowchart for the first time in your life, Creately can help you organize everything within moments. From creating a mind-map to network diagrams to interactive sitemaps to organizational charts, you can create everything with the help of Creately. All kind of templates are available in this online flowchart maker.
One important thing you should know about this tool is you need to allow Flash Player to run in the background. Otherwise, Creately won't work at all. After choosing a template, you will get quite same user interface as others. Being said that, you can insert various shapes, clipart, arrows, balloons, and more.
Although, you do not have to create any account to create a flowchart with the help of Creately. However, if you want to save the diagram in your local computer, you must have to create an account with this service.
Talking about price, you will get three different plans e.g. FREE, PERSONAL, and TEAM PLANS. The FREE edition will let you create up to five public diagrams and add up to three collaborators. On the other hand, the PERSONAL plan costs around $5/month and it doesn't have any limitation on the number of diagram you can make. However, you can add up to 5 collaborators at a time.