To Give A Professional Touch to Your Photo, You Need These Apps for iOS
There is no doubt that iOS is a very stable mobile platform and the App Store has enriched it dramatically. If you are a graphic designer, who has an iPad or iPhone and you want to get a photo editing app for your mobile, do check out the following list. Although there are many photo editing apps for iPhone or iPad, you should check out the features first. Otherwise, you will end up wasting your time while editing an image.
Best Photo Editing Apps for iOS
1] Snapseed
Snapseed is one of the best photo editing apps for iOS that you can download for iPhone as well as iPad. It doesn't matter whether you want to do basic editing or make double exposure photo or remove the background of an image, everything is possible with the help of this simple photo editing app for iPhone. This is completely free and you will get tons of features including healing, color/brightness/contrast adjustment, focus length selector, and more others. Apart from that, it comes with so many attractive effects so that you can turn your photo to a professional one. It takes hardly one minute to understand all the features. Being said that, you can expect a neat and clean user interface from this app and everything is well-managed. Talking about compatibility, you need iOS 9.0 or later version.
2] Adobe Lightroom CC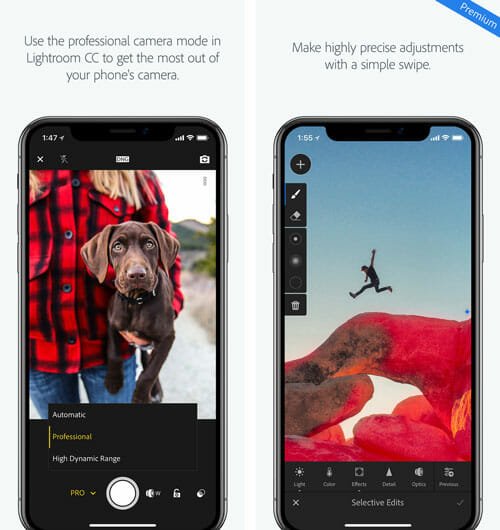 For PC and Mac, the Adobe Photoshop does a wonderful job when you need advanced editing. On the other hand, the Lightroom can help you edit images from basic to advanced. If you are using a mobile and you want to do the same, you can simply head over to Adobe Lightroom CC, which is a professional image editor for iOS. The drawback is you cannot download it for iPad. Otherwise, if you have an iOS 11.0 or later version running iPhone, you can install this awesome photo editing app. This is meaningless to mention that it comes with all the essential features. Having said that, you can adjust brightness/contrast, add various effects and more others. The best thing is if you want to do color grading, Lightroom CC is probably the best tool you can get.
3] VSCO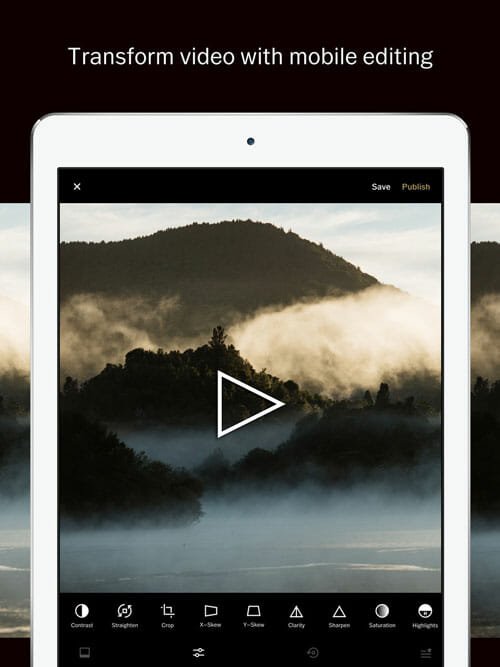 If you are happy with the Snapseed or Lightroom CC, you may not need VSCO. However, if you want all the features of those two tools into one and you are ready pay a little amount of money every year, VSCO is probably the best choice for you. This photo editing application for iOS comes with huge number of features those can let you convert your raw image into a professionally editing photo within moments. Although you might need a couple of minutes to find and understand all the functionalities, you can do wonder once you have understood all of them and their workflow. When you will use the trial version, you might not get a good number of effects and options. Once you opt for the premium version, you will find tons of new options, presets, effects, etc. The premium version costs around $19.99/year. Talking about availability, you need iOS 10.0 or later version. The best thing is you can download for iPhone as well as iPad.
4] Enlight
If you want to create a double-exposure photo or convert your photo into painting etc. Enlight is probably the best application for you. If you know the steps, you can do all these things within moments using your phone. The user interface is full of preset effects those you can use whenever you want. Apart from all those editings, this is possible to do basic editing such as crop, cut, copy, brightness adjustment and so on. You can write text and insert image into that. The user interface of Enlight is really good and you should not have any problem while using it for a long time. Regarding compatibility, you need to have iOS 10.0 or later version. The good news is you can download this app for iPhone as well as iPad. However, this app is not free and you need to spend $3.99 to purchase it.
5] Afterlight 2
Afterlight 2 is more than a basic photo editing tool for iOS. Being said that, you can get several handy options to make double exposure photo, dust textures, selective color option, color shift option and more others. It comes with artwork and text option that will let you write text in your image and turn that into something else. Apart from these options, you can find selective saturation, tone, curves, frames, filters and so many other things. If you are wondering about the user interface, you should know that you won't get any bug or any other problem related to the UI. All the options are well-documented. Therefore, if you know basic editing terms, it won't be a time consuming task for you to find something in this app. If you want to install this app, you should have iOS 9.0 or later version. However, the good thing is you can download Afterlight 2 for iPhone as well as iPad.
There are more other photo editing apps for iOS or iPhone or iPad. However, the editing process and techniques have been changed in recent years. Keeping that in mind, these tools have been upgraded by the respective developers and they can let you do all the latest kind of editing without any flaw.