Best Sites To Find Rhyming Words – Online Rhyming Dictionary
Not all people have an excellent knowledge of words. Some people cannot even remember a synonym for a word. If you have any such problems, but you want to write essays with great words, you should know how to find a rhyming word. Rhyming words attract readers a lot. Here are the best sites to find rhyming words online. All these websites are available for free, and you do not need to create an account with them to utilize these tools.
Best Sites To Find Rhyming Words
1] RhymingZone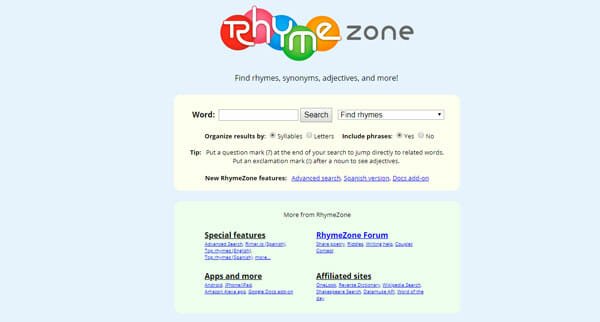 RhymingZone is one of the best places where you can find rhyming words very easily. No account is required, and that is why it takes minimum time to provide result. No matter if you want to find rhyming words for you or your kid, you can certainly do that with the help of this fine tool. You can find rhyming words, near rhyming words, synonyms, and many other things on this site. After visiting the site, you need to enter the word to find a match. That's everything you need to do. Following that, you can choose a word according to your needs.
2] Rhymer
This is a basic online rhyming dictionary. In other words, this is a convenient online rhyming dictionary for kids. As a user, you need to head over to the website, enter your word, choose a filter, and click on the Rhyme button. After that, you can find some rhyming words on your screen. It is possible to find the one-syllable word, two-syllable words, three-syllable words, and so on. The number of rhyming words will be decreased as you increase the number of syllables. Otherwise, this dictionary works perfectly. Visit website
3] RhymeBrain
RhymeBrain can be known as a proper dictionary since it shows the countless number of words against your search query. The website does not look fancy, but the result will amaze you for sure. You can find rhyming words, alternative words, and others. The number of words is much higher than other tools. That's why RhymeBrain is so popular. The best thing is that it has an option called 'Songwriting Helper.' It works quite differently and helps songwriters to find a matching word quickly.
4] Rhymes
Rhymes website looks good, but the number of options is minimal, and so is the offered words. It shows some non-matched words for some query. Other than that, it works pretty fast and well. No matter if you want to find one, two, or three-syllable words, you can certainly do that with the help of this online dictionary. The highlight of this tool is the translation. In other words, you can translate your word in other language and find rhyming words instantly. Another useful option is 'Word Cloud' that lets you create an image with the synonyms of your search query.
5] Prime Rhyme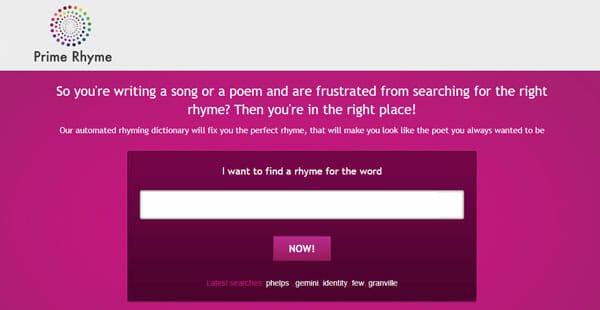 Prime Rhyme is another awesome online rhyming dictionary that can be used by any person being eight or eighty years old. It doesn't offer any settings or filter to find matching words. However, the result is quite prominent. Therefore, you should not feel the lack of additional filters while using this online dictionary app. It is possible to find one-syllable words, two-syllable words, and three-syllable words. However, you would not get the three-syllable words for all search queries. It appears in very rare cases.
6] Poetry 4 Kids
As the name suggests, this is one of the best online rhyming dictionary sites for kids. This website can help your kid write the first rhyme with some rhyming words. Although the result is very minimal, chances are you might find the desired word very quickly. It doesn't come with a lot of options so that any kid can use. However, if you want to get some specific result, you can use the only two option it provides, i.e., Most common words first and Shorter words first. Talking about the result, you can find two-syllable words, three-syllable words, and even four-syllable words on this website. Visit website
7] WikiRhymer
If you are very picky and conscious about your rhymes, and you want to get a huge list of words to choose only one, WikiRhymer is probably the best option for you. It shows a good amount of words based on your search query. It has some filters called Pure Rhymes, End Rhymes, Near Rhymes, Mosaic Rhymes, and Near End Rhymes. The different result appears if you select a different option. By default, this web tool is available for free. However, if you want to unlock all the words, you have to purchase a paid account, which costs around $14/year.
8] Double Rhyme
Double Rhyme is yet another useful online rhyming dictionary to find rhyming words. The best thing about this tool is that you can search for words in almost any language. No matter whether it is English, Spanish, or anything else, you can certainly choose the language to find a rhyming word for your project. It has a mobile app as well. You can download the app on Android 4.0.3 or later version and iOS 10.0 or later version. No matter which form of this website you use, you must have a valid internet connection.
9] B-Rhymes
If you need a simple tool to find rhyming words online, you should check out B-Rhymes websites. This is pretty neat and clean. No option is required to find any matching words. You need to visit the website, enter your word in the empty box, and hit the 'Go' button. Following that, you can find all the rhyming words on your screen. Two good things are it shows the pronunciation and definition of the matching word. Sometimes we want to know the meaning of a word. Instead of using Google Translate or any other tool, you can simply click the corresponding button, and find the meaning directly. Although it redirects you to another website, there is no manual work needs to be done.
10] Reimemaschine
Reimemaschine works perfectly when you enter any word. Like other standard tools, it lets you filter the search result with proper options. For example, you can choose End Rhymes, Last-syllable Rhymes, Double Rhymes, Triple Rhymes, and so on. However, if you do not choose any option while searching for a rhyming word, it shows everything. Although the website doesn't look modern, it offers all the options a user might need.
Final Word
Many times you may not think of a word while writing a poem or song. At such times, these aforementioned rhyming dictionaries can help you a lot. All of them are free to use. Therefore, this is suggested to give all of them a try and decide which one works best for you.