Best Space Games for Android and iOS of 2018
If you love to play space games, here is a great list for you where you can find best space games for Android and iOS those are popular in 2018. Although there are different categories like puzzle, racing, etc. many people love to play space games on their mobile. Therefore, if you are one of them, you can try out these games those are popular and quite easy to play.
Best Space Games for Android and iOS
VEGA Conflict
VEGA Conflict is a strategic game for Android that has a lot of potentials to be more popular than the current situation. As per the developers, you should have a big screen to enjoy this game. However, that doesn't mean you cannot play it on a 4.5-inch screen mobile. Talking about compatibility, you can run this app on Android 4.2 and later version. Although this is quite big in size, you can find it worthy after opening it on your mobile. You can find real-time PvP, game events, crafting, etc. This is also possible to customize your war and battle anywhere. This is the advantage of playing VEGA Conflict. Download
Space STG 3
This is another excellent space game for Android, which is available for Android 3.0 and later version. Although the graphics is not as good as the first one, it is terrible either. Talking about functions, you can create a war zone, building, crafts, etc. On the other hand, as this is a multiplayer game, you can play with any friend over the web. You can make further development so that it can enhance your gaming experience. Apart from that, there is achievements, leaderboard, quest, etc. You can create your building, ship, defense, and even technology to execute an attack. Download
Galaxy Reavers
Galaxy Reavers is not yet another space game for Android. This is probably the best one on this list. The user interface is so charming that you might want to spend one more hour to play this game. However, first thing first. You can download this game on Android 4.0 and later version of Android. Talking about the features, you can get combat mode, survival mode, etc. In terms of customization, you can find eight different warships so that you can opt for the one that you like. Apart from warships, you can customize almost anything in this game. As it has a 3D effect, it would work much better than any other game.
Solar Walk
Solar Walk is more than just a game. This is an education Android application, which lets you teach everything about the solar system. You can get 3D emulators, which is much realistic, and they come with the real-time position. Hence, you can learn more about the solar system on your mobile than your physical book. You can find photo taken from various reliable sources including NASA. On the other hand, you can see information about size, mass, orbital velocity, exploratory missions, etc. about any planet and moon. Talking about the compatibility, you can download Solar Walk on Android 4.1 and later version. Although this is completely free app for Android.
Space Racing 3D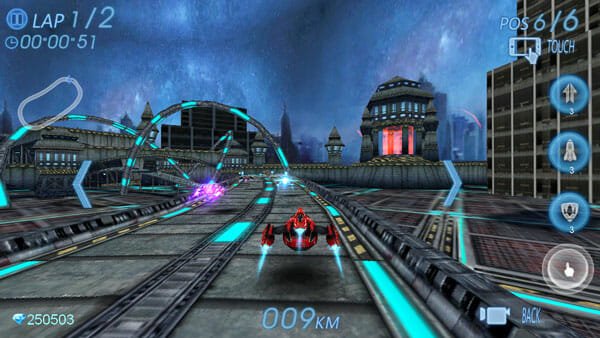 As the name defines, Space Racing is a racing game, but it comes with a space environment. Being said that, you can find an awesome user interface with more than forty race tracks, and three different racing modes including career, chase, and survival. You get a basic aircraft at the beginning. However, this is possible to customize and upgrade it, which unlocks six different aircraft. It offers 3D graphics, which enables you to get better UI and user experience. Although this game is available for Android 2.3 and later version, you cannot get all the functions for free. Bing said that you need to purchase some of the aircrafts and unlock all the features by paying minimum $1. Download
Hades' Star
Hades' Star is a strategy space game for Android, where you can find a shared galaxy for all the users. You need to create an ambassadorial relation with another player and decree your terms for military, mining and trade cooperation. This is also possible to shape your combat, mining and craft ships or customize them with powerful modules those are available in this game. Sometimes those modules are free. But, most of the times, you need to purchase them from the store. Talking about the availability, you can download this game on Android 4.1 and later version.
Galaxy on Fire 2
Galaxy on Fire 2 is a space game for iOS, which is available for almost all the iOS devices running iOS 5.1.1 and later version. This is very big but it offers almost everything what a gamer needs. Like the statement, this is a 3D space combat simulator, which provides an excellent user interface, unlimited customization options, latest aircraft, new weapons, etc. You can meet a new character every day and that is the mystery of this game.
Strike Wing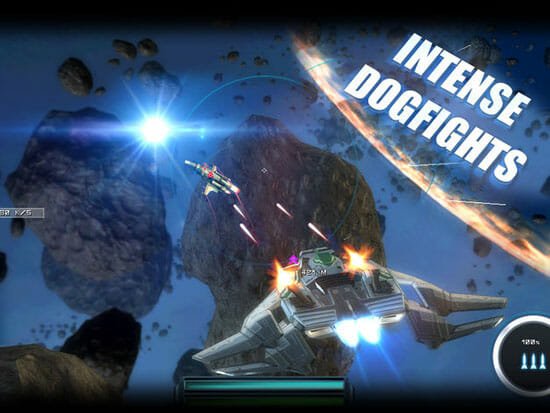 Although Strike Wing is a paid iOS game, you can purchase it at a very low price, which is only $2.99. The graphics of this game makes it even more popular. This is a shooter game, where you get a spaceship, and you need to complete the mission. Although it doesn't offer a lot of options to customize everything including weapon, aircraft, etc. you can find highly personalized aircraft in this game. It has a Challenge Mode, which lets you challenge other players. You can test your skill with this mode. Regarding compatibility, you can download Strike Wing on iOS 6.0 and later version.