Best Travel Apps for Mac
It doesn't matter what you do, but I am sure that you love to travel. Every two out of three people love to travel. It doesn't matter which track you use to travel; you should always have some tools so that they can help you in a difficult situation. While traveling, you might find problems related to health, location, restaurants, and so on. Therefore, check out these travel apps for Mac those will help you in different situations. As Mac is a very stable operating system and MacBook provides a comparatively longer battery life, many people prefer to use Mac while traveling. If you are one of them and use MacBook or macOS, you can check out these travel apps for Mac.
Best Travel Apps for Mac
1] Apple Maps
When you are traveling to an unknown location, you should where are the best hotels, restaurants, ATMs, or best tourist spots. For that, you can obviously use Google Maps. However, on Mac, you can find an inbuilt software called Apple Maps. Apple has included in this free app in almost all the Mac computers. With the help of this tool, you would be able to find almost anything you need. From hotels to ATM, you will see everything on the map. On the other hand, the Siri can also use the Apple Maps on the go. Therefore, you can use Siri to ask questions about Apple Maps, and you can find different results on your screen related to this.
2] Google Earth
Google Maps mainly helps you go from one place to another. However, if you want to see some monuments or tourist places with a better view, you can opt for Google Earth. Google Earth is a free app from Google, and this is available for macOS 10.8 or later version. With the help of this tool, you can virtually visit almost any place in the world. From getting street view to useful pictures, you can find everything in Google Earth app for Mac. You can search for any location like Eiffel Tower or so. Hence, you will get all the information from trusted sources. On the other hand, you can enjoy 3D views as well.
3] Universal Translator
Universal Translator is a free app available for Mac OS X. As the name suggests, this is a language translator app for macOS. [For example] It becomes quite difficult for an Englishman when he visits Spain or any other region where locals do not speak English. If you know you are going to confront such issues, you can install Universal Translator app on your Mac computer and translate from your language to local language. It does support a lot of languages including English, French, Spanish, Italian, German, Chinese (Simplified), Chinese (Traditional), Russian, Japanese, Korean, Afrikaans, Albanian, Arabic, Belarusian, Bulgarian, Catalan and more others. As it has a Google Translate integration, you can find quite accurate translations on the go. The user interface of this tool is pretty good, and you should find two windows panel in this app. One is for entering the source language and the second window will show the translated phrase. In between, you can choose the language from your knowledge.
4] Flightradar24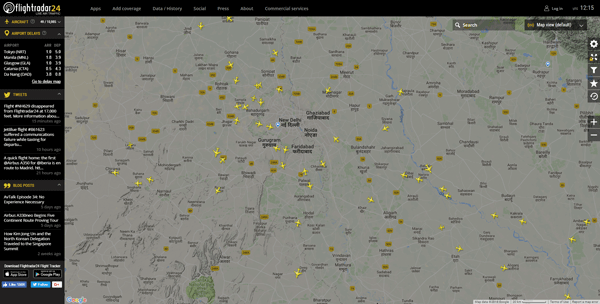 When you are traveling by flight, you should know the live details of your flight. Flightradar24 is such a web tool that helps you know which flight is where in real-time. It doesn't matter where you are, but if you have an internet connection, you can open up the Flightradar24 website and check the live details of an ongoing flight. You can find the source airport, destination airport, flight type, group speed, calibrated altitude, current latitude and longitude, and so on. It displays information of flights those are fitted with ADS-B transponder. You can also use their iOS app, which is available for iOS 8.2 or later version.
5] Convert It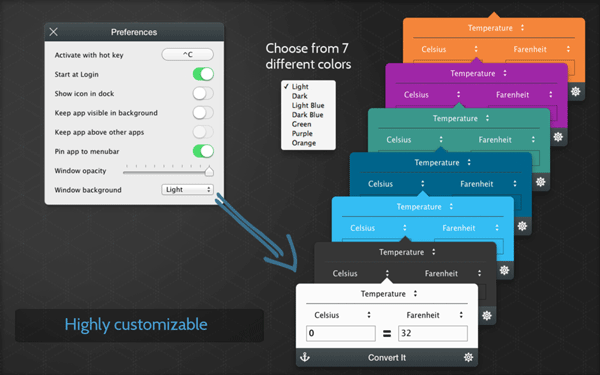 When you are traveling abroad, you should have full knowledge about the currency of that region. Otherwise, you may get into trouble while buying something. Different country has different currency, and you should know the currency conversion. Obviously, you can use Google to know the converted rate. However, if you are using Mac, you can use this Convert its app, which free and very tiny and you can convert different things using this tool. You can convert angle, area, byte, current, currency, energy, force, illumination, length, mass, magnitude, temperature, torque and so on. The best thing about this tool is you can find the Convert It icon in your top navigation bar. Whenever you need to convert something, you can just click on that icon, select what you want to convert and enter the values to make the conversion.
6] Bellhop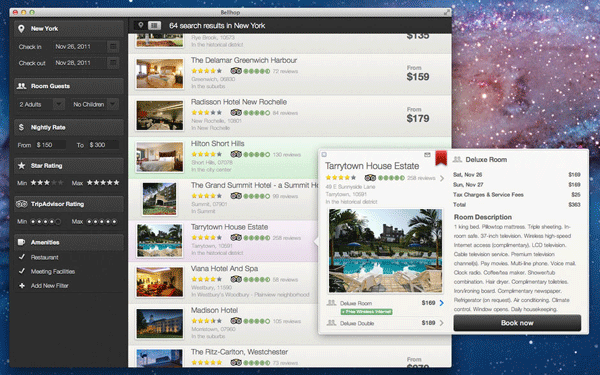 Let's assume that you have a tight budget for a tour, but you do not want to get a bad experience in any way. There is a high chance of getting comparatively different experience when you choose the wrong hotel. Bellhop will let you find the best hotel while traveling. It doesn't matter whether you want to go to Paris or Barcelona, or Madrid, you can find some good deals on this app. As this is a desktop application, there is no point of lag. You can enter check-in & out dates, guest details, different filters like restaurants, meeting facilities, rate and more. Based on your filters, it will show all the hotels. The best thing is you can check out the TripAdvisor rating, which is quite trustworthy since different people give those ratings.
7] Weather Dock
When you are traveling, you should know the weather forecast. Otherwise, you may end up ruining your day. There are many ways to check the weather forecast in this busy world. One of them is using the Weather Dock app that is available for Mac OS X. It can show you current conditions and the 7-day weather forecast, detailed 3-day two hourly forecast, imperial or metric units and more. The details get updated in every sixty minutes, and therefore, there is a very low chance of getting wrong information via this app. This is possible to choose multiple locations at a time and check the forecasts simultaneously. The UI of Weather Dock is pretty good, and you can find all the options open and on your screen.