Best Truecaller Features You Should Start Using
Nowadays, the number of spam calls has been increased dramatically. It doesn't matter which service provider you use, you will still get a lot of spam call regarding online deals, and exciting (but fake) offers and so on. Truecaller is one of the best apps that can let you detect spam calls on your mobile. You do not have to do anything except turning on the internet connection. However, this Truecaller app has more than just spam call detection filter. To experience all the useful features, you should check out this list. Here is everything you need to know about this app that is available for Android as well as iOS.
Call Recording
There are tons of Android apps those can record calls fluently. However, if you are using Truecaller, you can get this feature without installing another third-party app except for Truecaller. Recently the company has rolled out this feature so that users can record their calls. There are many times when you want to record calls. For example, you are in a busy business, and you need to record calls so that you can analyze them later. At such a moment, you can use this functionality with ease. To get started with this feature, you need to enable the Call Recording option from Settings. Following that, you would get a button after answering the call to record it accordingly.
Call & SMS Block
There are many Android mobiles those can block contacts if someone is disturbing you. However, if you do not have that functionality in your mobile and you want to block call and SMS, you can do that with the help of Truecaller. Truecaller does that without any lag. You can block as many contacts as you want. After blocking, you won't find their SMS or call. Although your call log and SMS log will show you all the details, you do not have to worry about them. To block any contact, just open the app and find the contact. Following that, tap on the Block button. That's all! This is all you have to do.
Who Viewed My Profile
If you have used LinkedIn, you might have noticed that there is a feature that helps you find who have visited your profile in recent days. The same thing is available on Truecaller as well. Being said that, you can find all the contacts those have viewed your profile on Truecaller. It doesn't matter whether one contact has seen your profile or two hundred, you can find all of them in this section. However, this feature is not available in the free version of Truecaller. For getting this, you need to opt for the PREMIUM version, which is affordable and you can get a monthly subscription as well.
Change Theme
Not only just features but also Truecaller is rich regarding appearance. Truecaller lets you customize the app so that you can get the best view out of it. There is no doubt that Truecaller is not lagging behind any other similar app. Keeping things aside, you can find an option called Appearance in the Settings menu. You should open it to change the theme. You can find six different themes including Normal, Dark, Coffee, Royal, Pitch Black and Light Gray. Once you select a theme, it will effect immediately.
Backup to Google Drive
Let's assume that you are changing the mobile but you have a lot of blocked contacts and this is quite a time-consuming task to block them again on a new mobile. At such moment, you can try using this Backup function that will let you backup everything and restore them when you install it another mobile. To be more specific, you can backup contacts, call log and block list. As mentioned earlier, you can keep the backup in Google Drive only. To set things up, open the Backup option in the Settings and enable the backup. Following that, you need to select a Google account. Therefore, you can change backup frequency, and all.
Send or Request Money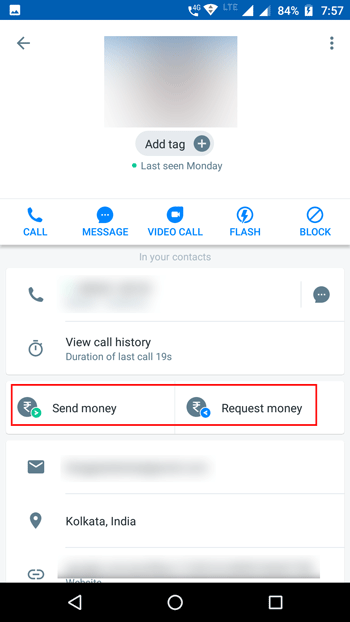 Like WhatsApp and some other popular instant messaging apps, you can now send or receive money through Truecaller app. It uses the traditional UPI facility to operate everything. However, before sending or receiving money, you have to set up your bank account with Truecaller. For that, you must have to register your Truecaller mobile number with a bank account. If you have that thing done, you can set up the payment facility within moments. To send money, you need to open the contact in Truecaller and then, tap on the Send money button.
Video Call
Like WhatsApp, you can get video call option in Truecaller. However, it doesn't have the direct facility, and instead, you must have Google Duo. Google Duo is a comparatively newer video call application, and if you have that, you can connect with anyone through the Truecaller app. However, you should have included your email ID in Truecaller app.
If you have recently installed Truecaller, you can try out these simple tips and tricks. They will let you use this app in a better way.