Best Virtual Reality (VR) Apps For Android
In these present days, virtual reality has become a substantial thing irrespective of the business industry. No matter whether you want to experience something different while watching a movie or playing games, you can make use of virtual reality. If you have an Android mobile and a VR headset, you should check out this article since here are some of the best virtual reality (VR) apps for Android.
Best Virtual Reality (VR) Apps For Android
1] Cardboard
If you have a Google Cardboard headset, you should install this application since it will let you set that up correctly. Google made two VR apps for Android users, and this is one of them. It is straightforward to use, and there is nothing complicated to spend time to understand anything. You need Android 4.4 or later version to download this application on your Android mobile. Download
2] Netflix VR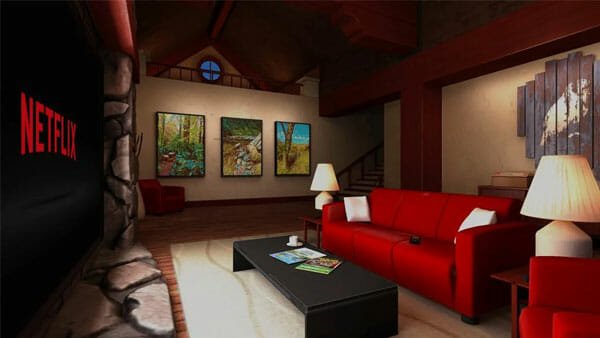 Netflix VR is probably the most elegant app you can have on your Android mobile since it lets you watch your favourite Netflix shows from a different angle. If you want to get a theatre-like user experience at your home, you should give this app a try. This is meaningless to mention that you need a valid Netflix subscription to watch a show or movie. On the other hand, you need Android 7.0 or later version to download this application. Download
3] Google Arts & Culture
If you love to go to a museum to check out some fine arts, this application can help you get the experience from being in your dining hall. Google Arts & Culture is one of the best solutions for those who want to go to an art gallery but cannot do that due to some reasons. They have partnered with more than 1.2k cultural houses in seventy different countries so that you can watch the arts from home. The user experience is pretty good, and it gets better if you have a proper VR headset. This app is compatible with Android 5.0 or later version. Download
4] YouTube
Who doesn't know about YouTube? This is the biggest video broadcasting website out there which is being used by millions of people from across the globe. But, do you know that you can use YouTube with a VR headset? YouTube has enabled an option to get a different watching experience if you have such a headset. The regular YouTube app does that job but make sure that you have the latest version of YouTube. If so, you can connect your phone with a VR headset, and use the corresponding option to start getting a different user experience. Download
5] Daydream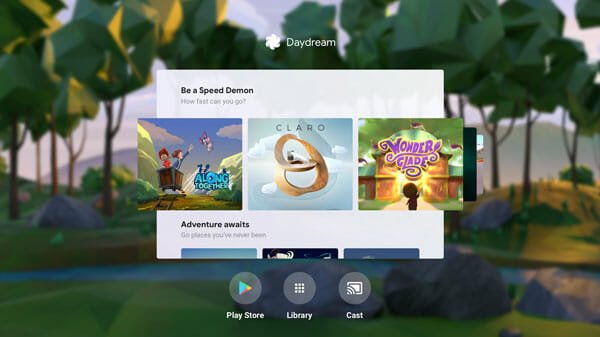 As mentioned, Google has two official virtual reality apps. The first one is Google Cardboard and the second one is Daydream. This is an upgraded version of Cardboard as it lets you find VR enabled content quickly. You can see videos, use VR-supported apps, and so on. However, you must have a Google Daydream capable Android smartphone such as Google Pixel 2 and later version, Samsung Galaxy S8 and later version, the Galaxy Note 8 and later version, LG V30, etc. If you are ready to install this app, make sure that you have Android 7.0 or later version. Download
6] Fulldive VR
If you want to get the complete VR experience from one app, you should try out Fulldive VR on your Android mobile. It lets you watch VR-supported videos as well as view online content via an in-built browser. It comes with a VR cable video player so that you can play all the videos to get the VR experience. For example, you can stream all YouTube videos, including 360 content, use the camera to capture photos, etc. It offers a photo gallery so that you can store and view your images in VR. Fulldive VR is a great app, and it is compatible with Android 7.0 or later version. Download
7] Google Street View
Many people want to visit the Eiffel Tower at one moment and walk on the Great Wall of China in the next moment. Unless you know the so-called 'teleport', that is not possible physically. However, you can install Google Street View app on your Android mobile so that you can experience 50% of them from being in your home. This application lets you walk on a busy New York road as well as watch Burj Khalifa from the front side. If you have a VR headset, there is nothing better than this app to pass the time. This app can be installed on almost any Android mobile, but you need Android 7.0 or later version to get the VR experience. Download
8] InCell VR
Biology is exciting but not a cup of cake for everyone. Even if you hated that subject if your high school, you will fall in love with that after installing this app. This is a game where you need to collect points by saving brain and body cells from the virus. You do not need to apply your high school biology knowledge to gain more points since this is a basic virtual reality game for Android. For installation, you should have Android 4.4 or later version. Download
9] VirtualSpeech – VR Courses
Speaking fluently and enjoying the same in front of five hundred people in a stadium can be a hectic job for newbies. To gain that confidence, you need experience, and VirtualSpeech will help you obtain that. There are some handy courses for people who want to be a public speaker. You can wear your VR headset, and start speaking in front of a room of people so that you can know what is about to happen in real life. This VR app is compatible with Android 5.0 or later version. Download
I hope these apps will be helpful to get started with your new VR headset.