Best Voice Memo And Recorder Apps For iPhone, iPad
If you have an iOS device and you want to record some points audio, you can try out these following apps. Here are some of the best voice memo and recorder apps for iPhone and iPad. Although Apple has already included and inbuilt application to record your voice, most people do not like it because of the lack of functionalities. If you need more features than the native voice recorder app for iOS, this article might be helpful for you.
Best Voice Memo And Recorder Apps For iPhone, iPad
1] Voice Memos
Voice memos is the inbuilt voice recording application that is included by Apple in iOS devices. If you need fine voice quality, you can try out this inbuilt application. Although it does not offer a lot of options, you can perform the basic task and get the job done without any advertisement or any clutter. The user interface of this application is pretty good since all the options are well organized. It is very easy to use this app to record your voice. You need to open the voice memos app on your iOS device and delete the record button. Following that, it will record all the audio around your equipment. There is no limitation of voice recording and that is the best thing about this application. After the record, you can share it via email Facebook WhatsApp or anything else with your friends, family, or office colleague.
2] iTalk Recorder
If you are trying out a free application to record your voice, you should check out this application called iTalk recorder. It is one of the simplest and best voice recording application that is available for iPhone only.  Talking about the compatibility, you must have iOS 7.0 or later version. The free version of this application helps you record the voice only. However, if you purchase the paid version of this app, you can get more features like sharing the recorder voice to soundcloud and more. The user interface of I talk recorded pretty good, and it comes with an inbuilt file manager so that you can manage all the recorded audios from one screen. Download
3] QuickVoice Recorder
If you need a simple voice recording application for your iOS device you can take a look at this quick voice recorder that is compatible with iPhone and iPad running iOS 10.3 or later version. It does not come with a lot of complex features, but it can get the job done without any problem. You can open up the application and hit the start recording button to record your voice. Completing, you can get a file manager included in the stool so that you can play the recording and share it with someone else. All the free version of this software does not come with a lot of features; the paid version has something more that you might like. Download
4] Smart Recorder and transcriber
If you are okay with handling a lot of features included in our voice recording application for iOS, you can install this app called Smart Recorder and transcriber. This application is compatible with almost all Apple devices, including iPhone, iPad, and Apple Watch. The user interface of Smart Recorder and transcriber is pretty good, and it comes with all the modern features so that users do not need to off for another application post recording. It has the iCloud support so that you can save your voice recordings directly to the cloud storage and synchronize them across multiple devices. It has the best area support so that you can get the best recording quality out of this application. All these features are included in the free version but the problem with the free edition is that it displays some advertisement. If you want to get rid of unwanted ads, you need to purchase the pro version. Regarding the compatibility, you must have ios 10.0 or newer version to install it. Download
5] Voice Recorder – Perfect Recording & Voice Memos
Like some of the app for dementia and voice recording apps for iOS, voice recorder be installed on iPhone and iPad without any issue. However, you must have the iOS 8.0 or later version to install it on your iOS device. The user interface and features are the primary things you should check out fast. Talking about the user interface, you cannot get a better than this in a voice recording application for iOS. Apart from recording your voice, it can translate your voice into text so that you can use it somewhere else. The quality of the recorded voice is pretty good and much better than some of the Other apps mentioned in this list. Last but not the least functionality of this application is password protection. In other words, you can lock down this app with the inbuilt password so that others cannot open your recorded voice. Download
6] Voice Record Pro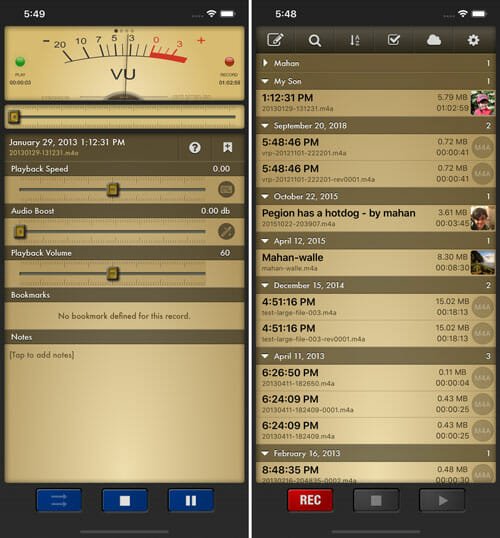 If you have lost the dedicated voice recording microphone, you can install this application on your iOS device to get the same job done. This voice recorder has almost all the features that a journalist might need on his mobile. Before starting the recording process, you can go through a lot of options so that you can get the best voice quality. For example, you can change the bit depth, bit rate, etc. Before recording voice. Please voice recording app is compatible with iPhone, iPad, and apple watch, but you must have iOS 9.0 and watchOS 4.0 or later version. Download