If you are into graphic or web design, you might have heard about Adobe Illustrator. In one hand, Photoshop is more like a photo editing tool. On the other hand, Illustrator is a designing app that you can use to design letter cover, resume cover, app icons, magazine cover, and so on. However, if you are just getting started with this tool and you want to check out some existing work in your field, you should follow this article, where you can find the best websites to download Adobe Illustrator templates. Almost all the following websites are free to use. However, this is not recommended to use their work with your name and without giving any credit.
Best Websites to Download Adobe Illustrator Templates
1] Freepik
Freepik is one of the best sources to download Adobe Illustrator templates or vectors. As the name defines, you can download vectors from this website for free, and you should not get any problem regarding compatibility with your software if you are using the latest version of Adobe Illustrator. The best thing about this website is you can download all the vectors for commercial use, and there is no string attached. You can find business card, greeting card, icons, modern art, resume cover, magazine cover and so on.
2] Free Vector
As the name defines, you can download Adobe Illustrator templates for free from this beautiful website called Free Vector. Although it doesn't offer as many vectors as other websites do, you can find a ton of free vector on this website. You just need to search for the vector you want, and then you can download it to use it further. However, not all the available vectors are free since this website has PREMIUM option.
3] Vecteezy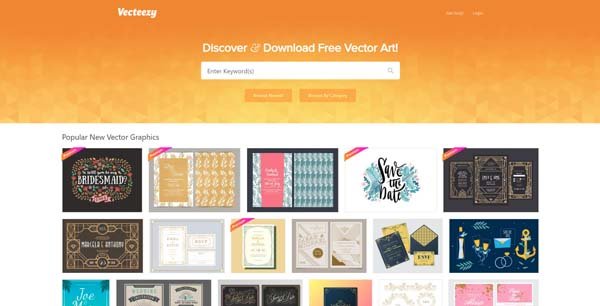 Vecteezy has a huge database of free vectors that you can download and use without any problem. No matter whether you want to find a texture or make a Thanksgiving card, you can certainly find that on this website. There is a huge list of categories that you can use to find out a template you want to download. Like the aforementioned website, you cannot get all the vectors for free since it also offers a paid subscription. If you subscribe to it, you can download beautiful looking templates and use that without any issue. If don't, you should check the permission before using any template with your work.
4] Pixeden
If you are using either Photoshop or Illustrator, you can find Pixeden quite useful since it offers PSD files as well as Al file. You can download mockups, business card, backgrounds, text effects, textures, mobile app UI and more others. The only drawback is you need to create an account with this website. Otherwise, you cannot download any file from Pixeden. The best thing you can download from this website is dashboard design. If you are building any analytics type application, you can check out some suggestions from this website.
5] Stockio
Stockio is yet another source you can use to download free vectors for your work. No matter whether you want to use it on your YouTube video or you want to print it from physical use, you can certainly use this website to find a well-fit template. You can find magazine cover, dashboard suggestions, icons, social media cover photo and so on. The best thing about this website is you do not have to create any account to download any vector from it.
6] Vexels
Although the number of available templates is comparatively lower than other websites, you can use it to get beautiful templates. However, the problem with Vexels is you cannot use their work for commercial use. You can, but you need to purchase a license for $5. If you want to get access to all the templates, you can purchase a subscription for $7.50/month. It includes more than 60k designs, 200 downloads/month, one design request/month and their support. For finding any vector, you can use the categories of this website which has travel, decoration, holiday, wedding, icon and so on.
7] Vector Portal
Vector Portal has a huge collection of free Adobe Illustrator template that you can download and use it for any purpose. However, according to the website, a credit would look good but not mandatory. The best thing about this website is you do not need to create account. On the other hand, it offers a huge list of categories that you can use to find desired vector for your work. Apart from templates, you can download Illustrator brush, shape, and more others.
8] Shutterstock
If you are a writer, blogger or media person, you might have heard of Shutterstock, which is probably the biggest stock photo database. Apart from the stock image, you can get tons of vectors on this website. No matter whether you want to use it commercial purpose or any other, you can certainly download that from this website and use it accordingly. This is meaningless to mentioned that Shutterstock vectors are not available for free. In fact, those are quite expensive as well.
That's all! These are some of the best websites to download Adobe Illustrator templates. Hope you would like them. You can try all these websites in different situations to find out the desired template.