Best Websites To Sell Photo Online And Make Money
Days are gone when people used to have a big camera to capture a special moment. Nowadays, you can use your mobile phone to capture a photo. Most of the people go to a location, capture some images, and upload them on Facebook, Instagram, etc. Do you know that it is possible to sell your photographs and make some money out of them? Here are some of the best websites to sell photo online so that you can make some money while travelling and from your photography skill.
Important Note: No matter which website you use to sell your images, you must have a good skill and something unique. Otherwise, why would someone pay you for being a copy-cat?
Best Websites To Sell Photo Online
1] Shutterstock
Shutterstock is the biggest marketplace of royalty-free images. They buy and sell images to/from anywhere in the world. As a seller, you can earn up to 30% commission for your image. They would give your money as per download basis, and the rate starts from $0.25/download, and it can go up to $120/download. This is very easy to sell your photographs as they have a dedicated panel for sellers. You can create your account, upload files, and wait for someone to download your image. For your information, Shutterstock paid more than half a billion to the sellers since they started their business.
2] Gettyimages/iStockPhoto
Gettyimages and iStockPhoto are partners, and that is why you can apply to both these communities at once. The editors decide if you're eligible for either site or not after you submit an application from the mobile app. That said, you need to create your CV ready with some sample photographs captured and edited by you. After applying, you need to wait for a couple of days till it gets accepted. However, they have a quite strict policy since people often include someone else's photograph in the resume. The only problem with this website is that they never reveal the commission rate before getting accepted. However, they have a reputed community, and they won't disappoint you for sure.
3] Adobe Stock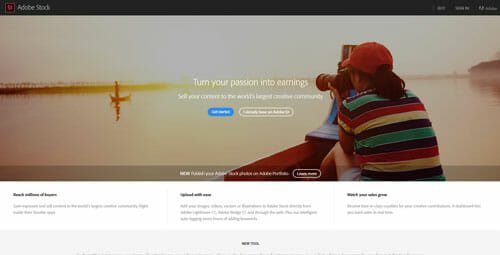 What tool comes to your mind when someone says something about photo editing? Photoshop – like thousands of others, right? The parent company of Photoshop has a dedicated marketplace for photographers so that people can sell their work and earn money online. Adobe Stock (formerly, Fotolia) is one of the best websites where you can sell your captured photographs and earn a commission from 20% to 60% on a regular day. Apart from the website, they include your work in photoshop and other Adobe tools so that people can purchase from there also. Even after selling the image or vector, you would still be the owner of the copyright.
4] 500px
500px is yet another handy website that you can use to sell your work online. They have a pretty big community to sell your work, and that is why you can ear a huge commission from your work. This is quite easy to be a contributor or seller on 500px since they do not have a huge requirement. The only mandatory thing is that you must have a creative knowledge of photography and that should reflect through your images.
5] 123RF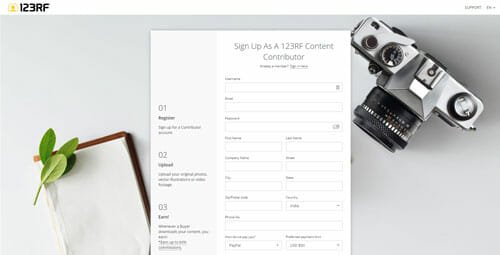 If you want to sell your photographs quickly, 123RF is probably the best option for you since they have more than 100 million users from across the globe. This is quite easy to be a contributor to 123RF, but you should have a good amount of photographs to sell. Otherwise, the commission rate may disappoint you as they have a different structure for commission. For example, if you are a level one contributor, you can earn $0.216 per download. However, if people have downloaded your photographs over a million times, you are a level eight contributor which will let you earn $0.432 per download. In other words, the commission rate starts from 30% and goes up to 60%.
6] Stocksy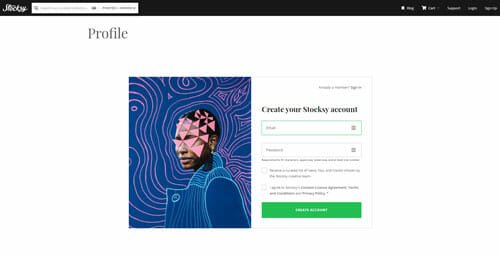 Stocksy is a high-rated stock photography site, and they sell only high-resolution photographs. That said, you must have some essential photography tools to get accepted on Stocksy. Once you become a contributor, you can earn from 50-75% commission per download. However, this is quite tough to be a contributor to this website since they have some strict rules to maintain the class. You need to fill out a form with all the details alongside 25 photographs in high resolution. These images would decide your application, and that's why you must have to include some of the best images you have captured so far from your camera or mobile.
7] Alamy
Alamy has some great terms and conditions for the sellers or contributors. As a contributor, you can earn 50% commission/download from your image. The best thing is that you can sell your photographs on some other websites as well. For example, you can upload your work on Alamy as well as any other online stock photography websites mentioned on this list. The only drawback is that you can ear 40% commission if you do that and you need to inform them before doing so. Become a contributor to Alamy is very easy and not much time consuming too. You can sell the image as well as vectors on this website.
These are some of the best websites to sell photos online. However, there is another way to do the same. You can create your custom marketplace and start selling. The only problem with this method is that you have to form a registered company before doing so. Otherwise, people can begin misusing your work and may resell them without prior consent. However, the advantage of this method is that there is no middleman, and you can earn more than usual websites.