How to See Follower Stats and Bulk UnFollow Inactive Twitter Followers
There are web-based tools to unfollow Twitter followers in bulk but a good idea would be to first see the activity and tweets of your followers and then decide whom to remove from your following list.
The Follow / Unfollow game is an ongoing process and with time the following list grows. That's when you need tools to remove inactive followers or those who aren't following you back.
1] Manage Flitter – Filter Inactive, Active and Quiet Twitter Followers
Manage Flitter lets you remove Twitter followers who are inactive and haven't tweeted for a long time. After logging in with your Twitter username and password, you will see 4 tabs to begin the cleanup process.
Remove inactive followers in bulk: This tab lists all the inactive followers whom you are following. Hovering over a profile shows the last posted tweet along with the date, following and follower count.
Remove most active followers: There will be some followers who tweet quite often and may be, the tweets do not match your interest. Using this tab, you can get rid of the "Noise" and unfollow those who post a huge number of updates every day.
Unfollow people who aren't following you back: If you want to unfollow those people who aren't following you back, switch to the "Not Following Back" tab and you can bulk unfollow all of them in a click.
You can export the follower list as a CSV file and deselect verified Twitter accounts. The CSV backup of your followers is a new feature and I haven't seen such an option in other web-based Twitter Apps.
2] Tweepi – Bulk Unfollow Twitter Followers Based on Stats
Tweepi shows you detailed follower stats so that you can see the recent activity and remove the followers who are less active. You can choose from one of the following preset targets:
Active users (no. of updates last 7 days).
Higher reach or influence (Retweets).
Twitterers who discuss much (compare replies).
Higher followers to following ratio.
Avoid linkless ramblings.
Each target will show/hide relevant columns and sort accordingly.
You can sort the people who are most active or influential and quickly unfollow spammers. One limitation of this tool is that the stats are limited to only last 7 days. (also read: Twitter tools that save you time.)
3] TwerpScan – Manage Twitter Contacts
Similar to Tweepi, there is Twerp Scan which generates a report of all your followers with the following fields:
Follower to Following ratio.
Date of last tweet
Number of tweets.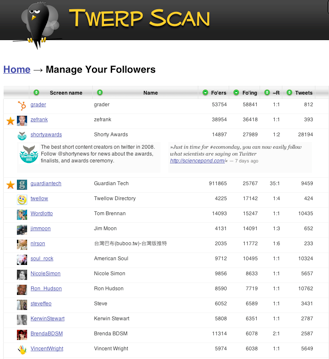 You can mass unfollow followers as well as block individual followers using Twerpscan. The user Drilldown feature looks really impressive and is a must use for Twitter addicts.
4] iUnfollow
iUnfollow is yet another tool that allows you to unfollow all the inactive followers at once. You can either select all the inactive users one by one or at once to unfollow them from your account. This website or tool is pretty good in terms of storing username and password since they do not do that for security purpose. However, you need to authorize your Twitter account so that iUnfollow can fetch your details and followers. The best thing about this tool is they keep a list of all unfollowed people. However, you can find the list for 30 days only. After that, the list gets deleted from their server. Therefore, do visit the website, authorize your account, and start a spring cleaning.
5] CrowdFire
CrowdFire is a social media account management tool available for people, who want to spend some money to improve their online presence. From publishing content on Twitter to unfollow people in bulk, everything is possible with the help of this tool. No matter how many people you want to unfollow, you can do that with the help of CrowdFire. The only disadvantage of this tool is you can unfollow only 25 people daily. Although you can use it for free, this is suggested to use a paid account to unlock all the options. It is possible to purchase an account for as low as $9.99/month. You can link up to two profiles, schedule 100 posts, publish video content, and so on. You can also install a browser extension, which is compatible with Google Chrome only.
6] Twitter Unfollow All
This is a browser extension that is compatible with Google Chrome. As the name suggests, you can unfollow all the followers at once. This is quite risky and you should use it only if you have proper knowledge. Otherwise, you may end up losing all your followers within 30 seconds. You need to install this extension, log into Twitter profile, and find it in the extension bar. You can set it up from there, and it will start working according to your requirements. Download
These are some of the best tools you can find for this purpose. Hope they will be helpful for you. What's your favorite bulk unfollow tool to manage Twitter followers? Share your thoughts in the comments section.