ConfigFox: Make Firefox More Secure
Firefox is certainly a great web browser when it comes to security and stability. In fact this is more popular than Chrome because it uses less memory and RAM than Google Chrome. On the other hand, Firefox has better security than Chrome and all the other browsers. This is perfect for them, who want to browse the internet anonymously.
Firefox has a great panel, which helps users to set it up as per your requirements. For example, if you want to remove something that is included by default, you can just open that panel, find the list and change it. However, that takes much time.
Hence, if you want to make Firefox more secure for browsing the web but in a user-friendly way, here is a solution. ConfigFox is such an awesome portable tool for Firefox that allows users to make any change in about:config panel without even opening it. In fact, you do not have to open Firefox browser to make the change in this. ConfigFox is not a standalone software but its workflow is absolutely standalone.
ConfigFox: Make Firefox More Secure
This is very easy to use ConfigFox. As this software doesn't need any installation, you can simply download and start using it if you are Firefox user. When you will open it for the first time, you will get a popup like this,
It asks you to create a user.js file so that it can store all the changes in it. Following that, you will get a window like this,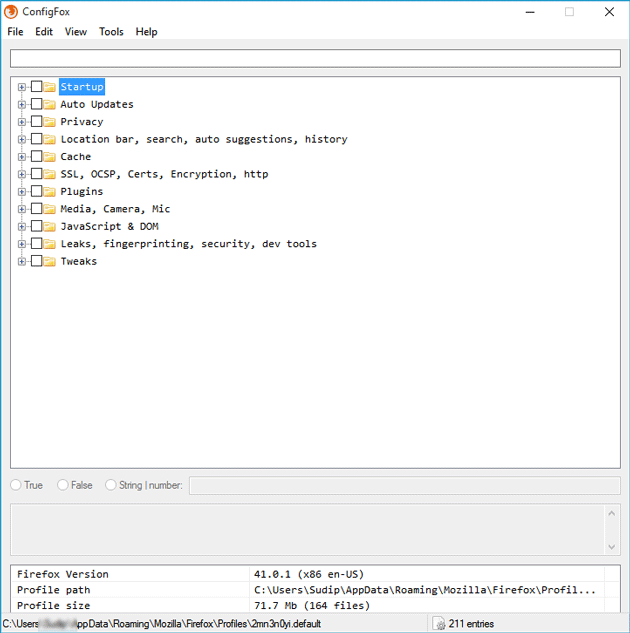 Here you can get all the options, what about:config panel has. For example, you can change the following things,
Disable startup checks
Skip checking of browser's current milestones
Empty welcome page URL
Disable browser auto update
Disable browser installing updates automatically
Disable search plugins update
Disable add-ons checking for new versions
Disable add-ons auto update
Disable check for plugin updates
Disable auto updating of themes
Disable extension discovery
Disable cookies on all sites
Clear history when firefox closes
Disable location-aware browsing
Disable GeoIP-based search results
Disable telemetry
Disable heartbeat
Disable health report
Disable experiments
Disable crash reports
Disable plugin crash reports
Disable add-on usage reporting
Disable reporting the URL where a plugin crashed
Disable new tab preloading, ads
Disable Snippet Service
Disable hello
Disable Pocket
Disable built-in Reader
Disable social features
Disable block reported web forgeries / URL check
Disable safebrowsing URLs checks
Disable tracking protection
Disable background prefetching
Change default search engine for the location bar
Disable directly searching from location bar
Disable location bar domain guessing
Disable location bar dropdown
Display full url with protocol
Disable URL bar autofill
Disable autocomplete
Disable history suggestions
Disable displaying JavaScript in history URLs
Disable history manipulation
Limit history per tab
Disable CSS querying page history
Disable disk cache
Disable offline cache
Disable storing extra session data
Set "Do Not Track" HTTP header
Disable Referer from an SSL Website
Block rc4 fallback and disable whitelist
Require certificate revocation check through OCSP protocol
It also has some other features to setup Javascript, fingerprinting, dev tools, SSL, Plugins and Media. Apart from that, you will get some options to tweak this browser. For instance, the following options are available for this,
Disable warning message on about:config
Disable warning on closing multiple tabs
Disable warning on closing multiple tabs
Disable closing browser with last tab
Disable new search panel UI
Bookmark backups to keep
Disable website icons
Increase mouse wheel (scroll) sensibility
Use a custom UserAgent String
You can expand the primary section and make a tick in corresponding checkbox so that your option gets enabled. This is as simple as that.
Final Word
Instead of using the about:config panel of Firefox or the dedicated Options panel, this is far better to use ConfigFox. It provides a user friendly window with all the options. Hope you will find it useful.