CrashPlan – Cheap and Best Backup Service for PC
We all know that Cheap and Best do not come together. However, CrashPlan has manifested it wrong. CrashPlan is a cloud and offline backup service and application that helps PC users to make their data totally protected from undesirable compensations. Although, there are hundreds of online and offline backup software and tricks to backup data fluently, yet, CrashPlan comes with some lighted features, what are worth checking.
What is CrashPlan?
In a simple line, CrashPlan is a backup service as well as application that lets users backup their data to different destinations including friend's computer, computer in the same network, external hard drive as well as cloud storage that is provided by CrashPlan itself.
How much does CrashPlan cost?
Three are several packages and you can purchase according to your needs. For instance, if you have only one PC, you can purchase the Individual plan that costs only $59.99 per year (It varies from one billing cycle to another). If you have multiple computers, the Family plan may help you. This Family plan costs around $149.99 (It depends on billing cycle). If you have a company or anything else, where more 10 PC are installed, you may have to opt for Business plan. The price of this plan does depend on the number of computer.
It also has two things that are more interesting what you should know about. If you live in US, you can order a dedicated external hard drive to backup your data since internet backup may consume a lot of time as well as bandwidth. On the other hand, you can also order a Restore-to-Door service to get your backed up files. Unfortunately, this service is not available anywhere except US.
Features of CrashPlan
In terms of features, you can find a difference between trial version and paid version. Nevertheless, all the paid version accounts of CrashPlan has almost same features. You can get the following features with CrashPlan subscription,
Online backup
CrashPlan cloud storage
Unlimited backup
Auto and manual backup
Zero bandwidth caps
Multiple backup sets
Schedule backup
Backup individual file
Pause backup on low battery
Pause backup over particular WiFi network
Seeded backup (Not available everywhere)
Restore-to-Door service (Not available everywhere)
448-bit encryption
128-bit AES transmission encryption
Private password to restore files
Manually created passkey
Keep or permanently delete deleted files
Restore specific file
Excellent support
Forum for support
Apart from all these features, CrashPlan comes with more other essential options those are worth checking.
Availability and System Requirements for CrashPlan application
As of now, CrashPlan backup service is available for Windows, Mac and Linux. CharshPlan 3.6.3 is now available for consumers.
This particular application requires 1GHZ CPU, 1GB RAM, 250 MB hard drive space on Windows XP, Windows Vista, Windows 7 and Windows 8. This is also available for Windows Server 2003, 2008, 2012.
If you want to use it on Mac, you must have 1 GHZ + 64-bit Intel CPU, 1GB RAM, 250 MB free space on OS X 10.5 or later version.
On Linux, it requires 1 GHZ +x86-64 CPU, 1GB RAM and 250 MB hard drive space to be installed.
How to get started with CrashPlan?
CrashPlan requires a minimum setup, which can be done within thirty seconds. To start using the pro plan, I would suggest you to check the free edition to know whether it is for you or not. Anyway, at first, download CrashPlan application on your respective operating system. After installing it, you will get the following screen,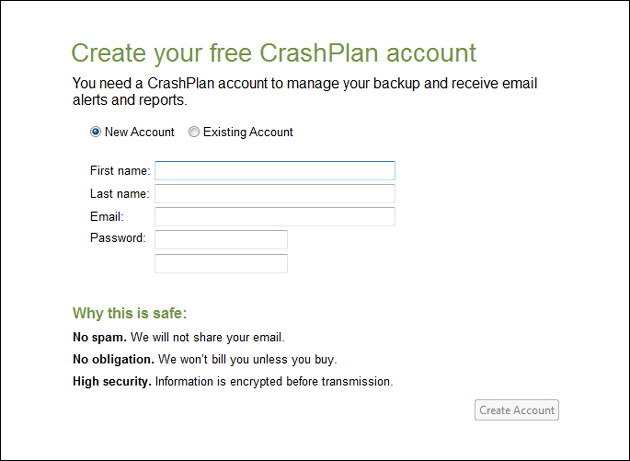 Just enter correct details to create a free account on CrashPlan. After signing up, the following screen would be appeared on your monitor,
Now, you can use it as per your requirements.
Bottom Line
Instead of relying on default Windows backup feature to protect your data, you can choose CrashPlan, which is cheap and comes with awesome features for daily needs. On the other hand, CrashPlan provides dedicated application. That means, you can select any PC and your files will be on your monitor all the time.