How to Disable Best Tweets First on Android, iOS and Web
Twitter is one of the most popular social network and microblogging websites, which is having more than 320M monthly active users from across the globe. Twitter was much different from Facebook. Features wise, options wise, looks wise, there were a lot of differences between Facebook and Twitter. Although, most of the people often prefer Facebook over Twitter yet Twitter is not that bad and that is why it is having more than 1B monthly unique visits with embedded tweets.
Anyway, few days ago, Twitter has launched an algorithmic timeline. This is quite similar to Facebook's timeline. You know that Facebook can show two different timelines. First, you can get popular Facebook posts from your friends, groups and pages. Second, latest Facebook posts from the same. Quite same feature has been arrived on Twitter few days back.
What is Best Tweets First on Twitter?
As mentioned before, Twitter has implemented an algorithmic timeline, which shows posts like Facebook does. This is called Best Tweets First. If Best Tweets First feature is turned on in your Twitter account, you will get most popular and trending tweets from your followed people. Previously, Twitter used to display latest Tweets. But, now, it has been changed to Best Tweets first.
Problem:
This particular feature has advantage as well as disadvantage. The advantage of Best Tweets First is you can get most popular posts right on your timeline after opening Twitter account. That means, you do not have to find out best tweets those are trending now. On the other hand, the disadvantage is you may not be able to see latest tweets from your friends on Twitter. You have to scroll down a lot to check latest tweets. Sometime, this is time consuming and sometime it may not work as it is mentioned.
To solve this problem, you can simply revert back to the old timeline. For that, you have to disable Best Tweets First in your Twitter account. Here is how to turn off Best Tweets First on Android, iOS and Web.
Disable Best Tweets First on Android
This is very easy if you have the official Twitter app for Android. Just follow the subsequent steps to get things done. At first, open Twitter account for that you want to disable Best Tweets First. As this is account based, you will have to open the actual account. Therefore, tap on the three dotted button and go to Settings.
Following that, you have to go to Timeline settings, where you can find a toggle button labelled Show me the best Tweets first. By default, it should be turned on. Just remove the tick from corresponding checkbox to turn it off.
Disable Best Tweets First on iOS
Alike Android, it doesn't come with any three dotted button. Therefore, you need to follow this guide. At first, go to Me tab to open your profile. Therefore, tap on the settings gear button that is positioned next to your profile picture. Then, tap on Settings.
Here, you will get Timeline settings. Tap on that and toggle the button that says Show me the best Tweets first.
That's it!
Disable Best Tweets First on Web
If you want to disable it from the web version or the Twitter website, this is even easier. Just open your Twitter account and go to account settings. Here, you can find Show me the best Tweet first option under Content section.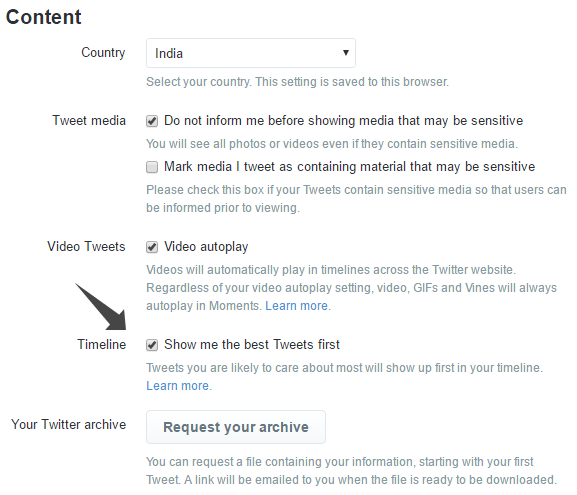 Just remove the tick from the respective checkbox. That will be all.
Hope this tiny trick would be helpful for you to get a better Twitter timeline.