Rest Assured That Data On Your Social Accounts Are Securely Backed Up
Instagram got bought by Facebook. And as Facebook went IPO way editorials are doing the round explaining why it may fail this way. Google too has a bad history of closing down failed ventures like Wave and Google Plus may go down too considering the fact that most think it's still a ghost town. So what does this mean for you? Unless you are not someone who has funded in these great apps, it won't matter much financially. Think again. You have invested something more valued than money, TIME and INFORMATION. Rephrase, YOURSELF. All of it may just go down the drain with those big companies. So the way we can take control of it is to backup our data stored in their pockets. Now if you are a SOCIAL person, and your network spans across all the lengths and breadths of the web, you are in deep mess. All those social networks and all those updates, photos, checkins, messages you shared there just seem too big to handle at a time. If you have a few(it's really a small amount) bucks to spare Social Safe is here to ease up the process for you.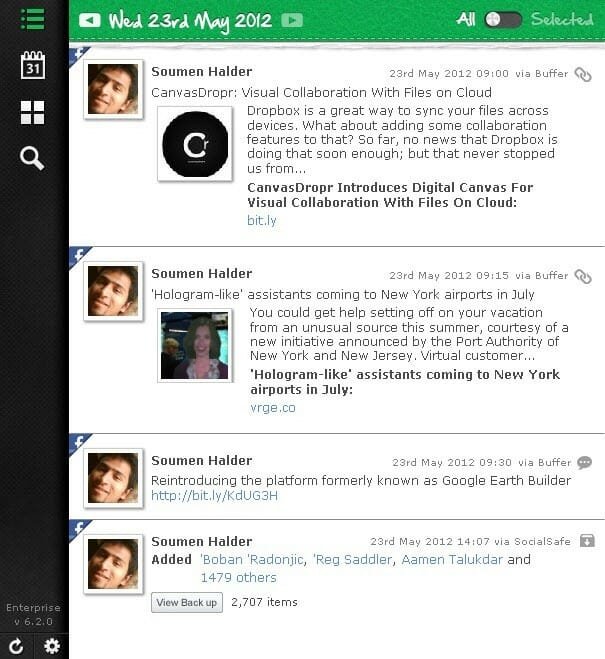 Download the free app from the Social Safe website. Start the installation; but prior to that you will need to have Adobe AIR installed on your computer. If you do not have it already, get it here or install it when prompted by the Social Safe installer. As the installation finishes, fire up the app and let me show you how to get started.
You can either enter your license(if you have already bought it) or start with the free account by connecting the app with Facebook. In serial steps, you will be requested to login, authorize the app and finally the syncing will start. The first backup for any social account that you add to Social Safe will take some time but afterwards it will be a fast incremental backup that won't be a pain.
Once the data is backed up you can browse through it offline. You can add the license key afterwards once you are convinced to buy it. And as you do, you will be able to add other social accounts and mighty features as well. Multiple accounts for a same network are also supported in the PRO version of the app. Social Safe also lets you search all the downloaded data and all of it can be searched at one go. Apart from these you can also export the downloaded data as CSV(for texts) or ZIP(for images) files. If you are still in doubt check out all the features Social Safe offers.
The tool offers a wide range of pricing plans based on the feature set it has to offer. Considering the span, the features of the free version is just the tip of the iceberg. So opting for Standard($3.49/year) or Pro ($6.99/year) is just a petty price to pay for all the peace of mind that's guaranteed.
Presently with Social Safe you can backup Facebook, Twitter, Google+, Viadeo, Linkedin and Instagram. Flickr is also on its way to get included. Features such as Facebook messages backup and Facebook notes and checkins download is likely to be seen in the future versions.
For me, it's a real comfort to think that all my social accounts are securely backed up in my hard drive. To be double sure, I'm thinking of finding a way to create the backup in one my cloud storage accounts to be twice as sure. True free options are there to backup your social accounts, Social Safe beats them all by miles. Not just browsing your data offline but also the one stop solution makes this the best bet so far. So what are your take on this? Are you better off letting your data go away with them or you wish to have them back?
RELATED: Archive Your Twitter Identity
Are you an app developer? Or do you want us to post about an app you just found out? Reach us at TIPS@AMPERCENT.COM or you can use the contact form right away.