Best Websites To Download Dynamic Wallpaper for Mac
Like Windows, macOS Mojave users can change the wallpaper automatically throughout the day. Apple introduced this feature so that users can get a different experience while using the latest version of Mac. Some dynamic wallpapers can define the time of the day as well. If you want to set a dynamic wallpaper, you can open System Preferences. However, the problem is Apple hasn't included a lot of dynamic wallpapers. Therefore, if you like to use dynamic wallpaper on your Mac computer, you can check out these websites to download best free dynamic wallpapers for macOS Mojave.
Best Websites To Download Dynamic Wallpaper for Mac
1] Dynamic Wallpaper Club
Dynamic Wallpaper Club is a place where people can showcase their work on dynamic wallpaper. In other words, people can create their dynamic wallpaper for Mac and upload them to this website. As a regular user, you can download the desired wallpaper and use them accordingly. Not all the people, who upload dynamic wallpaper on this website, are professional. That means all the wallpapers are not 100% awesome. You can find some of the best wallpapers on this website, but you need to spend some time to find one suitable one for you. It has a dedicated button to download any wallpaper to your computer. Following that, you can use it on your Mac computer.
2] 24 Hour Wallpaper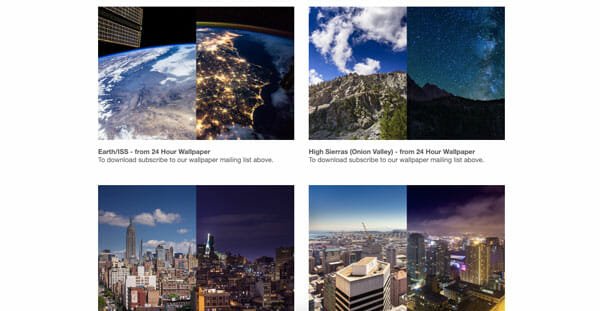 It doesn't have a massive list of wallpapers. Instead, you can find some specific wallpapers that you can download to your computer and use it according to your wish. It has a 24-hour view of four different places including the whole earth. Apart from that, you can find New York and San Francisco as well. You can find a 24-hour view of those cities right from ISS or International Space Station. People, who like space and overall view of earth from a different lens, should love these dynamic wallpapers. Visit official website.
3] Dynwalls
Dynwalls is a simple website, where you can find a good amount of dynamic wallpapers. It mainly offers wallpapers related to earth, moon, etc. Apart from that, you can find some city wallpapers, as well. All the wallpapers are available for free. However, if you support them on Patron, you can find some more exclusive wallpapers that you can use as usual. The size of their wallpapers is pretty higher than other websites. Having said that, you can opt for an unlimited data connection before downloading any wallpaper from this website.
Although it's been a quite long time, still there are only a few websites where you can find dynamic wallpapers. These are the top three websites to download dynamic wallpapers for macOS Mojave. In case you do not know how to set up a dynamic wallpaper, do check out the following guide.
How to setup dynamic wallpaper on macOS Mojave?
Steps are exactly the same as settings up a regular wallpaper. However, if you are using Mac for the first time and you do not know, you can follow these steps.
At first, you need to download the dynamic wallpaper to your computer. After downloading, move it from Downloads folder to either Documents or Pictures folder.
Then, open System Preferences panel. Here you can find an option called Desktop & wallpaper. Click this option. On your left-hand side, you should get Documents and Pictures folders. Select the folder where you have pasted the downloaded wallpaper. After that, just click on the wallpaper icon.
That's it! This is as simple as said. I Hope these websites and this simple tutorial will be helpful for you.