How to Edit PDF File using Word Online
Without having any doubt, anybody considers PDF when it comes to security. We have always said that PDF is the most secured file format. You can easily password protect and send PDF to your friends. Moreover, a password protected PDF file is much more secure than a password protected Word document or even a folder.
PDF file can be protected by password but there are only few apps that can edit a PDF file. Suppose, you have created a PDF file from Word document. But mistakenly, you have not saved the Word document. Also, you need to make some changes in your PDF document. This is where PDF editors comes in. Although, there are only few web apps and dedicated software such as PDF Office, PDF Escape etc. that can edit PDF file as per your requirements, but they cannot do a heavy change.
If you want to edit a PDF file just like a Word document, here is a solution. Word Online is such a great substitute to Microsoft Office Word that will do that for you. You know that Microsoft has OneDrive and it has some other great web apps i.e. Word Online Excel Online etc. what can be used just like original MS Office apps. The most beautiful thing is you can get the Word Online or other similar apps at free of cost when the MS Office package is too expensive for a regular edit.
How to edit PDF file using Word Online?
This this however very easy and it doesn't consume a lot of time. The whole procedure is very simple. At first, you need an Outlook account to get started. If you already have Outlook account, just sign in to the Outlook. If you do not have any outlook account, go and create your own account. It takes two or three minute to create and setup Outlook account.
After signing in, head over to the top left of your screen and click on Options button and select Word Online. It will open the Word Online right away. There is no such shortcut method to open Word Online directly. Hence, you have to execute all these steps.
After opening Word Online, click on File and go to Open tab. You will find More on OneDrive link.
Just click on that. Now, you have to select that particular PDF file from OneDrive account. That means, you must have that PDF file in your OneDrive account. Therefore, you have upload that file to OneDrive. Just do so and select the PDF file.
After that, click on Edit in Word button that is located in the top navigation menu bar. If you click on the document, you will also get Convert and Edit button. Click on any one link.
Then, you will get a confirmation popup. It will say you that Word Online will have a copy of original PDF file and converted Word File. You just need to click on Convert button.
After that, you can use your PDF file just like a Word document. You can do anything with this document.
After doing everything, click on File button and head over to Save As button.  Now, click on Download as PDF.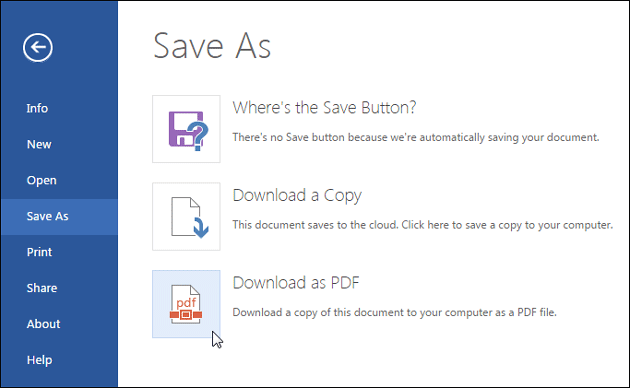 That's all! Now, the edited PDF file will be downloaded to your PC.
Hope this tiny tutorial will help you a lot. Do let us know, if you have any problem.