Search Better with these Tips And Tricks for Google Search
In our post sometime back, we mentioned the various ways you power your search in Bing. But how about powering your search through something as ubiquitous yet powerful as  Google Search? From the time of its inception, Google has been known to employ a variety of tricks to help users get the relevant search results. By know you would have known about quoting the search query to get results containing the exact phrase, or even about dragging the images to the Google Image Search to get similar images. Here we will show some of the cool tricks you can employ to get the search results you desire.
Want to Know Time, Weather, Statistics of a Place? No Problem
Countless time you would want to know the current time at a place in the World like New York, London etc. Google can get that for you with a simple "Time London" query, replace London with any city or country you wish to know time of.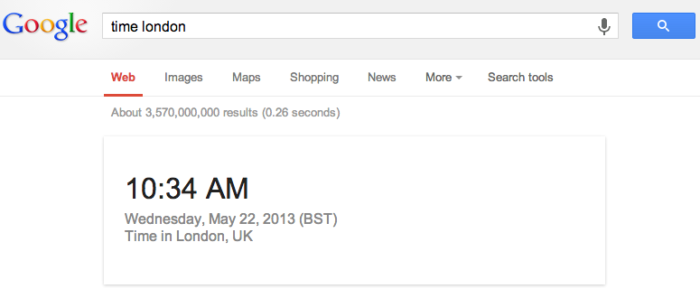 You can not only get the Time at a place, you can also find the weather at the place. A nice card displays the information you need.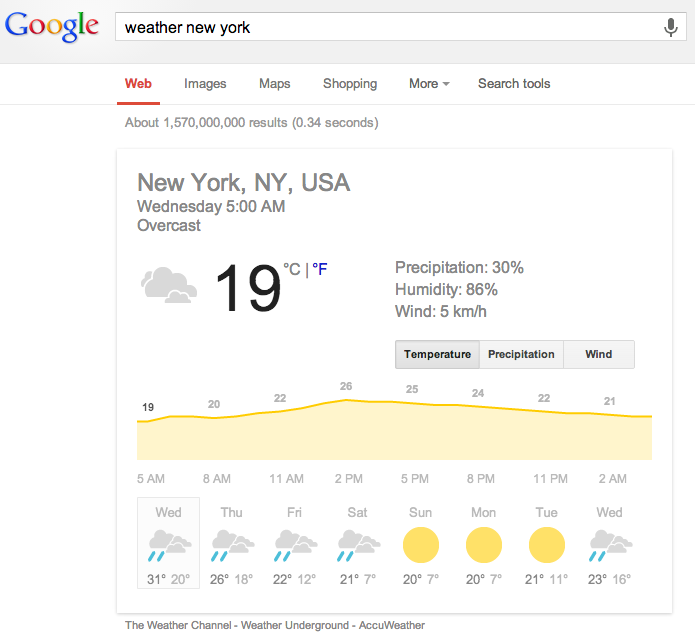 You can even get statistics of the place like population, unemployment rate and more!
Count or Multiply something? Pounds to Kilos? Google it!
Google Search can function as a calculator too! Just type the equation and get the result in the card! You can also enter terms for unit conversions, Miles/hour to Km/hour, feet to centimeters, and more.
Search within any site!
Rather get varied results from different sites, you can also search within a specific site with this search query – "your query :site name" or "site:site name your query"
If you use the Chrome Browser, you can directly type the site address, press tab, and enter the search query. You can get results that is within the site. Check this post for more Google Chrome tricks.
Boolean operators, list, and more!
Apart from the quoted queries, you can add boolean operators such as OR, AND etc to get a specific use case of the search you wish to make.
You can also use the list operator, "…", to get listings of products from shopping websites and many others.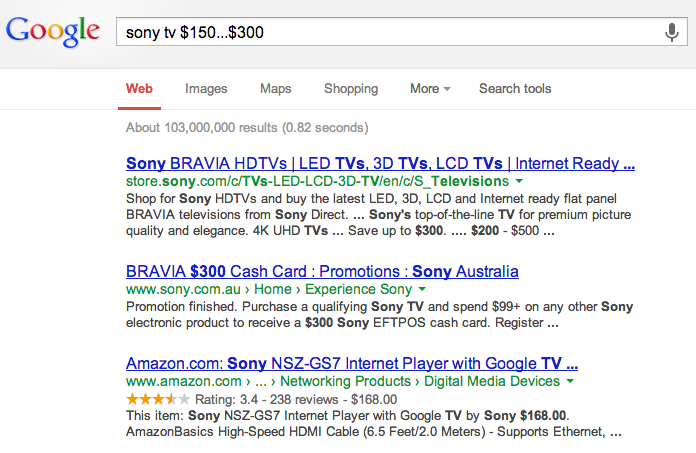 You can use "-" to get search results minus the term after the term and "~" for similar items search.
Realtime stocks, Definitions, Movie Timings, Flight Schedules, (phew!) Search by Voice!, and more!
There are many many more of search tricks that you can head to the Google Search Tips and Tricks page to check out all there is. For now I will leave you with collection of tricks that I find very useful.
Get Stock updates – Just type the Stock handle
Get Word Definitions – "define" and then your word.
Get Movie Timings in your city, simply type the movie name and the city where you live. Sometimes just the movie name alone would be enough.
Get Flight Schedules
Get the latest updates from the sporting world
Search by Voice – Desktop (Chrome), you can click the voice icon to start speaking to search. It also supports conversational search.
There are lot more tricks that you can check out at the Google page. Another point to note is that Google uses your searching habit to generate personalized inofomation that you get on Google Now, if you have a smartphone that is either Android or iOS device. Most of these features also work in Google custom search also.
Source: Google Inside Search [via Mashable, Google Blog]