GFI Vipre: A New Approach To Networking And Security
GFI Vipre is a complete new way for securing your PC from new age malwares that has evolved over time. The antivirus will help you keep a watch on the security status of all the PCs over the network you wish to monitor. Let us take a quick look at the network antivirus solution that the app has in store for you.
Configuring GFI Vipre Antivirus:
Grab a 30 day trial copy of the anti-virus from the download page and install it on your PC. Once installed run the program to configure the tool.
1. Start by pressing Next in the database configuration window.
2. Provide a name for the site you wish to monitor using Vipre.
3. Choose a password, confirm it and press Next. Wait as the tool configures the database with the provided details. Proceed through the final steps and finish the setup.
Monitoring With Vipre:
Once the tool has successfully configured the database, go ahead and start the tool. You will now see the Dashboard window. This window shows the PC status, security, processes etc as a whole.
Install Agents: For setting up the antivirus to secure the computers under your network, go ahead and install agents on them. You can either install them directly from the admin console or you can generate MSI, MST or EXE installers and then use them to install agents on the computers. The installer packages for agents can be generated for every policy.
Once the agents are installed, the user on the agent computer can use the Vipre antivirus. The native Vipre antivirus window is shown below.
Start Manual Scan on an Agent Computer: Open Vipre console and go to Agents tab. Now right-click on any of the installed agent and choose Scanning > Deep Scan/Quick Scan. The tool will automatically invoke the scan process on the agent computer. You can also carry out a lot of tasks like waking, restarting, shutting down the agent PC. You can also choose to perform right-click scan for any file or folder on agent PC.
Editing Policies: Policies control different attributes of a scan. Right click on any policy and choose Properties to edit the policy settings. Go ahead and customize Agent properties,  scan schedule, email antivirus, remediation etc to name a few. Choose them from the left pane and make changes within the main window.
Report Viewer: To have a better and detailed look at your site go ahead and start the Report viewer from File > Report Viewer or use the dedicated Report Viewer button(see demo). You can custom generate reports for saving them to disk or send as email attachments. Check out a sample report.
Manage Sites: Go ahead and use the Site Manager to create or edit sites for Vipre monitoring.
Features: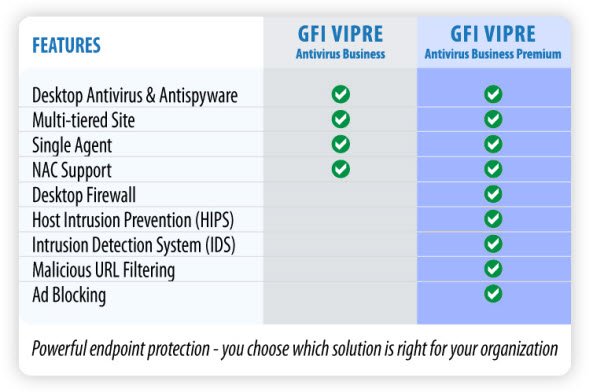 Fast & Secure: Vipre is fast and the impact on PC is minimal. This implies that for any business, where time is key factor for growth, this antivirus program will ensure security without slowing down the computers by cutting short your RAM usage.
Easy-To-Use Console: The user-friendly interface offers a nice outlook of your system security and offers an easy-to-use console to keep your system steady and safe at the same time. The developers believe Vipre to be a tool "by admins for admins".
New Age Threat Protection: The scanning technology approaches the problems from a new perspective, thereby making it more efficient than its older counterparts. The tool also integrates anti-rootkit technology for even better malware detection. The tool offers real time monitoring and even promises protection against zero-day threats.
Email And Web Security: The tool offers direct support for popular mail clients like Outlook, Outlook Express and Windows Mail. The tool also offers web protection from malicious URLs.
User Profile: You can create user profiles and define controls based on their roles. This is a neat feature for any multi-level team.
Threat Definition Update: Vipre gets threat definition updates from a vast library of malwares that are being processed everyday.
Compatibility: The tool works on Windows 2000, XP, Server 2003, Vista, Server 2008, Server 2008 R2 and Windows 7, 32- and 64-bit. However, you can also avail a MAC client too for computers running on Mac OS X versions 10.5 and 10.6.
Pricing:
Try Vipre free for a 30 day trial period. Once you decide to buy the tool place a quote on this page. If you are looking for an antivirus solution for your home PC you can try Vipre for home.
To put down some final words about GFI Vipre its necessary to mention about the robustness of the tool and the security it offers and that also in a quite easily manageable way. While testing it on my home network I was very satisfied looking at the results and the reporting provides a complete peek at your system health.