5 Services That Help You Find Email Addresses Related To A Domain
In the corporate World, communication plays a crucial role for growth. Whether we want to do business or launch a new service, letting your product and yourself get noticed by people is very important thing. Even though you can find people/companies profiles on social networking sites such as Facebook, Twitter, or LinkedIn, e-mail communication serves this purpose better because you can reach out to them personally with appropriate content explaining your thing. But the problem is it is not always an easy thing to find email addresses of a company/people belonging to particular domain. Even though many companies provide their email in the contact page (contact@domain.com, hi@domain.com etc), they might be getting lots of email to that address every day and they may not be able to address each and every mail. So, it is important to know what emails exist at a particular domain and decide to send your mail.
To serve this purpose, there are some services online. Here is a curated list of some of those.
1. Email Hunter
Email Hunter is a very easy online service that lets you find out Email address of a particular domain. Go to the website, just enter the domain name of your desired company like ampercent.com to find email addresses available in that domain. It will look out for sources mentioning the email address with tailing @ampercent.com string and give your results along with number of sources containing that address.
For obvious reasons, you cannot enter web domain names like @gmail.com or @yahoo.com. You can search for 10 domains for free without any account. If you want to use this service you can sign up for free and get 200 free searches/month. There are various pricing plans with more number of searches if you want to check out. There is an extension for Chrome available if you want to check out.
2. Anymail Finder
Anymail Finder is another web service that allows you to find email addresses of a startup. This service comes handy if you happened to know name of a person working at a company and want to know their email address for contact. Just go to the website, enter the desired name and domain. That's it. It will display result containing that name at that domain. It is always advisable that you enter first name of a person since many emails have person's first name as a username. For free, you can use this service for 20 times and it counts successful attempts only. If you like this service, you can check out their pricing options and subscribe to them.
Anymail Finder has another featured called Bulk Search using which you can search for more number of emails automatically. You just have to upload a csv file to the site containing names in the first column and domain name in the second or you can enter all of them in the text box provided in the site. Anymail finder also offers a Chrome Extension you can try.
3. Norbert
Norbert another web service that lets you find email addresses. The good thing about this service is you can find email address of a specific person at a domain name. Go to website and enter the name of the person and domain and it will deliver the results for you by checking the server records. This will let you contact a desired person without any headache.
This service also provides massive search option. You can have all your names and domain names in a CSV file which can be uploaded to the site to get the results without entering each name at a time. You can do 3 successful mail searches per day or subscribe for their plans if you liked the service.
4. Find That Lead
Find That Lead is a Chrome extension to find email addresses in your LinkedIn profile. This extension comes very handy when you want to find address of an official residing in your LinkedIn profile. Just install this extension to your Chrome Browser and login using your LinkedIn profile.
Even though this tool may not provide you with 100 percent results, the developers say that they are able to find 43% of the time with 98% accuracy. There is a scope for development of this service, so we can expect better results from them. Anyway, it is an intriguing idea in the first place and works nice.
5. Name 2 Email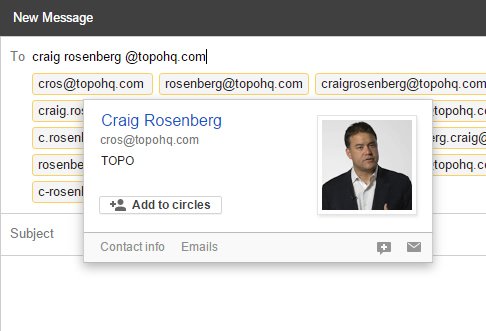 Name 2 Email is another Chrome extension which would help you to find possible email addresses of a person which works with Gmail. Just install the extension to your Chrome browser, open your Gmail, add name of the desired person and domain name on your "To" field. It will generate possible combinations of emails of that person. You can just hover your mouse on each possibility and the one with valid information is the email address you are looking for.
Just like rapportive, this extension sites in your browser and serves the purpose very well.
Honorable Mentions
If you cannot find exact address of a person at a domain, there are some services available to guess the possible combinations of an email you can try with. They check records and give you the combination typically used by persons working at that company or generate possible ones using which you can make a contact. Whether to find out which one is correct, you can always confirm the validity of that email on social accounts or mail search boxes or Using extensions like rapportive.
Email Breaker – This will give you email formats in seconds. Just go to the website and enter domain name to get results.
Email Permutator + – This service will generate possible email combinations for an email address of a specific person at a domain name.
Email Generator – This is another service using which you can generate 50 possible combinations of a persons email address at a particular domain.