How to Improve MacBook Battery Life within 3 Minutes
MacBook is a very powerful device being designed by Apple, which comes with lots of improvements in every year. Over the past few years, Apple has been trying to improve the battery life of MacBook and they somehow are successful since a MacBook can provide up to 12 hours of battery backup, which is almost a day. However, many people have claimed that their MacBook is providing only 2 or3 hours of backup while there is no power adapter plugged in. Therefore, this article will let you improve MacBook battery life within a few moments. Here are some practical tips and tricks those will let you get better battery backup from a MacBook.
Improve MacBook Battery Life
Getting a better battery backup from MacBook is not that tough, and many people have been using these useful tricks to get that. However, let's take a look at these tips.
Before opting for any solution, you should know what is your laptop's age since age matters all the times. You cannot get a huge amount of battery backup from a 4-5 years old MacBook. Obviously, you can expect, but that is not in this case. You may end up being frustrated. Therefore, if your laptop is maximum two years old, only then you can try these simple tricks on your MacBook.
What do you do with your MacBook? Do you just browse the internet, or use your MacBook to edit videos, pictures, movie, etc.? This does matter since the more heavy task you do, the more pressure will be on the hardware including battery. Also, I had seen a significant difference when I connected my MacBook to an external monitor. The bottom line is, you should check your daily workloads before using any trick or going to service centre.
Many people do not update their OS version for a long time, and hence they start getting different issues. If you are getting a comparatively low battery backup, and OS update is available, you must opt for that. Many times, we do not consider updating our OS. Sometimes, Apple may not be aware of a bug that is ruining your battery life, and they have launched an update to fix that bug. But, if you do not update your OS, you will not get the bug fixed. Hence, this is recommended to update your computer to the latest Mac OS.
This is the best way to get better backup from your MacBook's battery and who else can do that job apart from Apple itself? Apple's operating system comes with a feature that helps users to know the current battery condition of a MacBook. This is quite easy and not much time-consuming. You should perform this check when your laptop's battery is draining within one hour or two. To check battery condition, press the Option key, and click on the battery icon visible on top menu bar. You can find a text like Condition: Normal.
Energy Saver is such a feature of Mac that helps users to put hard disk to sleep whenever that is possible, or you can dim your display whenever possible. You can open Energy Saver from the battery menu itself. For that, click on the battery icon > select Open Energy Saver Preferences. Following that, make sure the following two options are checked;
put hard disk to sleep when possible
Slightly dim the display while on battery power
Use Safari instead of Chrome
When we move from another operating system to Mac, we look for Google Chrome whenever possible. However, you may not know that Chrome is a RAM eater as well as battery. Your battery may be consumed more when you use Google Chrome. On the other hand, Apple Safari is a very optimised and comparative less battery eater than Google Chrome. Therefore, if you do not have any specific work with Google Chrome, just start using Apple Safari.
Uninstall unnecessary apps
Many times we install an app and forget about that. That app may consume your battery significantly. Therefore, you should check whether you have any unnecessary app or not. If you think an app can be deleted, you should do so to save the battery life.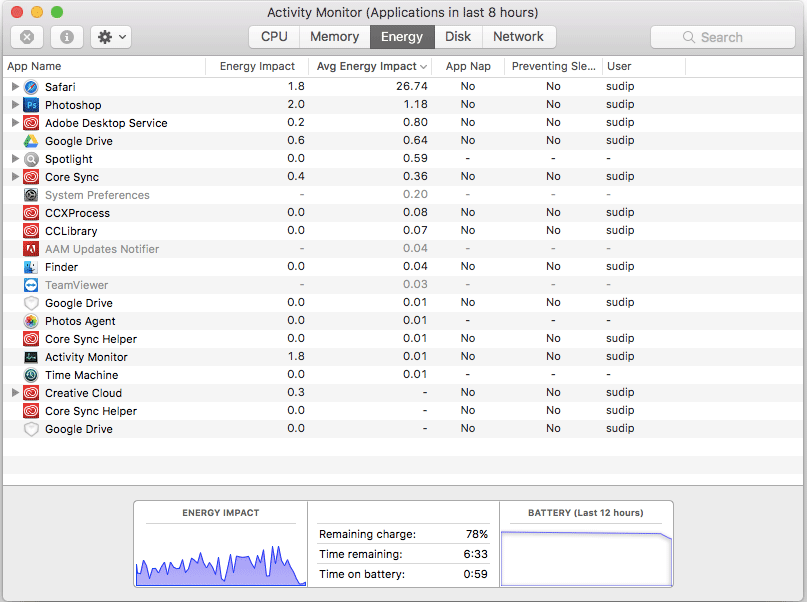 You should also check which app is consuming more battery and which is using less. To do so, there is no need to use any third-party app since Activity Monitor is included in the OS. To check the energy impact of a various app, open Activity Monitor on your computer, go to Energy tab and check which app is consuming more battery life.
That's it! There are many other things what you should check when you are getting a low battery backup. However, these tips and trick would help you to get something more backup from the existing battery. If you think you are not getting a good backup, you should consider changing the battery.