How to Install Windows Media Center in Windows 10
Windows Media Center is a complete package of Microsoft Windows to solve all kind of media file playing issues. This is possible to play almost all files using Windows Media Center. This all-in-one tool of Windows can play video files, open image and play audio without having any issue. Apart from playing video/audio and opening images, it can do more other things. For instance, you can open slideshow, play recorded TV, setup your live TV, complete general tasks using this WMC.
However, unfortunately, the Windows Media Center is not available for Windows 10. Windows Media Center is available for only Windows XP, Vista, 7, Windows 8 Pro and Windows 8.1 Pro. Apart from these versions of Windows, you cannot get this tool for any other version like Windows 8 Home or Windows 8.1 Home. Although, the Windows Media Center support has been discontinued, but still this is much popular among all the people, who use Windows on a regular basis.
Nevertheless, if you are using Windows 10, you cannot get Windows Media Center from Microsoft since Microsoft has not developed it for this recent edition. This is probably the most awkward thing for them, who have upgraded their PC from older version to Windows 10. Although, Microsoft launched a bulletin to let users know about the discontinued features but still this can create problems, who have not read that carefully.
If you are using Windows 10 and want to get back Windows Media Center in your PC, here is a simple solution that will let you play music using Windows Media Center again. Although, Microsoft has not launched Windows Media Center for Windows 10, but one developer has patched it for Windows 10. The most interesting thing is it is running on Windows 10 without any lagging, freeze or hanging. That simple means, Windows 10 has all the components of Windows Media Center to run smoothly.
Install Windows Media Center in Windows 10
MyDigitalLife is a popular forum for all types of people. You can get your problems solved by experts and some developers share their tools with other members. If you are an existing member of MyDigitalLife, you know how useful this forum is for a regular person. If you do not know about this forum, you should definitely check out this forum for various tools and solutions.
Anyway, to install Windows Media Center in Windows 10, at first, visit this link and download the set up file for your machine. The WMC is available for Windows 10 32 bit as well as 64 bit. Download it according to your machine architecture.
After downloading, unzip it. Following that, you will get a file called _TestRights.cmd. Just right click on this and select Run as Administrator.
A command prompt will be popped up. If you do not get any popup command prompt, you need to restart your PC and try again. This is very fast though.
After that, right click on Installer.cmd and select Run as Administrator. You will get a command prompt window like this,
Within a moment, the following window will come out,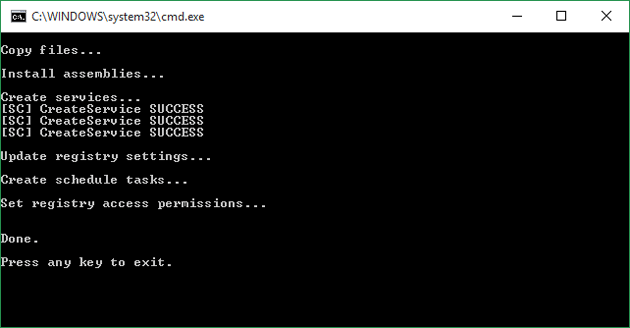 Just press any key to close the command prompt. Then, you can open Windows Media Center using Cortana search or from start menu.
You will get all the features of old Windows Media Center in this version that is available for Windows 10. The start screen looks like this,
You can add pictures, songs, video files or do anything else.
Final Word
Although, Microsoft discontinued Windows Media Center, yet, they have included more other tools like Music, Movies & TV etc. to play various files without any third party software. But, if you really want to use Windows Media Center in Windows 10, use this trick to get things done. You can also try some alternatives to Windows Media Center in Windows 10.