How to Open YouTube when Blocked in Office
YouTube is undoubtedly the most popular video broadcasting website that not only entertains but also disseminates useful information to its audiences. No wonder it is one of the most searched platforms, just after Google, which is also its parent company. After all, Google alone has the technical capabilities and resources required to host such a gigantic project.
With this, Google has changed the way people look up for info and not being able to do so, can be quite frustrating. People use this medium for a ton of different purposes — the affiliate marketers and digital marketers use YouTube to promote products, while Programmers use it to learn from the quick 'how to' videos. Then again, students prefer to use this video broadcasting site to learn something new all the time.
Reasons To Open YouTube when Blocked in Office
However, all of that is jeopardized when you are in an environment that does not let you use your favorite search platform and its resources.  So, if you are in an office, college, or school that blocks YouTube, then things get a wee bit frustrating. Nonetheless, this could be necessary for the Authorities as it imposes reasonable restrictions on those who misuse YouTube. For example, a company may want to enforce such restrictions to ensure that the Security division does not get distracted.
Also, those involved in other administrative jobs may not need it, and it may lead to a waste of time and bandwidth. However, if you are in the Digital Marketing or Programming division, then you can't do without YouTube.
Besides being a mode of entertainment and information, YouTube is also a lucrative platform for Creators. However, since YouTube is banned in some countries, people tend to lose out on entertainment, information, and a potential source of income.
So, if you are in a YouTube-restricted zone, then here's some relief. You can still open YouTube when blocked in office, school, or college and watch your favorite YouTube videos by bypassing the restriction, with the help of the below-listed solutions.
Here are some exciting tricks that can help you access YouTube when it is blocked or banned in office, college, school, or country.
Open YouTube when Blocked in Office
The below-listed methods would not consume much of your time and are easy to follow. By following these methods, you are sure to be able to watch your favorite YouTube videos, even if it is blocked. However, you need to try each of the below-listed methods to figure out which one works the best for you.
1. Check if YouTube is up or not
The very first thing that you should do is to ensure whether or not YouTube is up. There are times when websites go down unexpectedly, and during those times, you cannot access that particular website. YouTube is a Giant, and there are faint chances of this one going down, but no harm in checking it out. To check if any website is up or not, just ping that site from your command prompt.
You can do that by opening the command prompt by pressing Win + R, or by hitting the windows key and typing in cmd in the search bar and then hitting enter. Once you've opened the command prompt, type – ping www.youtube.com –t and hit enter. If your ping gets a response, then it confirms that the site is up, and you can be sure that YouTube is working just fine.
However, if network administrators indeed block YouTube, the response to your ping would show "Request Timed Out." That means you cannot even confirm whether or not the site is up through the command prompt. So, in that case, you can check whether YouTube is up by clicking here and entering the URL, as shown in the image below. If YouTube is up, you will get this result.
With that, you have confirmed that YouTube is up and working fine for everyone else. So you can now move further to bypass the restrictions and open blocked YouTube from office or anywhere else.
2. Check host file
One of the tricks that most network admins use to block certain websites is through the host file. If your network admin has done this, then you can easily lift that barrier by fixing it in your host file. If you don't know what that is, then no worries. Just follow the below-mentioned steps relevant to your system.
For Windows:
Usually, you can open the Host file using Notepad, without any administrator privileges. However, to edit it, you DO need Admin rights.
Therefore, open Notepad with administrator privileges and navigate using the following path.
C:\windows\system32\drivers\etc\hosts
Then, it opens a file called Host File. Just open it and check if there is any mention of YouTube.com. If anything is written, just erase that portion and save the Host file and you are done.
For Mac and Linux: If you are using Mac or Linux, and want to open the Host file to inspect it, enter the following command in the terminal.
$ sudo nano /etc/hosts
3. Open YouTube using IP
Here's another effective trick that lets you access YouTube even when it is blocked. Quite often, network admins block YouTube, but forget to block the IP address of that website. If that's what your admin has done, then you can easily open YouTube by using its IP address. If you aren't sure of how to do that, then no worries.
You can easily find any website's IP by using the command prompt and entering the below-mentioned command.
tracert www.youtube.com
Here you will get an IP address. Just enter that in your browser, hit enter and you are done. You can replace 'www.youtube.com' with any other website and use the same procedure to find the IP of any other website blocked in your office, school, or college.
4. Use proxy
If nothing else seems to be working, then you can try using a proxy, and that works like a charm. You can easily bypass all restrictions blocking you from using youtube by using a proxy. If this is the first time you have heard this word being associated with technology, then here's the deal. The proxy or the proxy server hides your IP and makes use of another one, which lets you get your foot into the door. As you can choose a proxy from any other country to open YouTube, it helps jump over the hurdle.
So, if you are in a country that does not permit YouTube, then you can always try getting a proxy. We recommend that you invest in a reliable paid proxy. It isn't costly but adds an extra layer of security while you browse the internet. So by using this simple solution, you can mask your identity and also access youtube. Below listed are some of the best free proxy server service providers that let you use a country-specific proxy.
5. Use Google Public DNS or Open DNS
Authorities tend to block websites by rolling out directions to the ISPs, instructing them to restrict certain websites. So, if you have a reason to believe that your ISP is blocking YouTube, then here's a quick fix. Try unleashing the power of Google Public DNS or Open DNS to access YouTube from your office, college, or country even if it is blocked. To change the DNS in Windows, you will have to follow the below-listed instructions.
In the command prompt, type ncpa.cpl and hit enter.
Here, you will either see Local Area Network (in Windows 7) or Ethernet (in Windows 8+). Right-click on it and go to Properties.
Once you see Internet Protocol Version 4, double click on it to change the IP. Now, replace your IP with the following:
Google DNS:
Preferred DNS Server: 8.8.8.8

Alternate DNS Server: 8.8.4.4
Open DNS:
Preferred DNS Server: 208.67.222.222

Alternate DNS Server: 208.67.220.220
Now, you should be able to access YouTube.
6. Use a Proxy Extension to unblock YouTube in office
Although this may sound similar to the abovementioned trick, it is quite different. Instead of using a third-party proxy 'website,' you can use a third-party proxy 'extension,' which is more reliable and faster. There are many third-party proxy extensions like Hola, Zenmate, etc. You can install them in any standard web browser like Google Chrome, Mozilla Firefox, etc.
Some Useful Proxy Extensions:
7. Use the mobile version of YouTube
Although this is a rare solution, many people have found success with this trick. Like Facebook, you can also open the mobile version of YouTube from your desktop. However, most people are unable to do this because, unlike other sites, you can't just type in m.youtube.com and get started with it from your desktop.
Doing that would automatically take you to the desktop version since you are trying to access it from a desktop (Google owns YouTube, and they are pretty smart when it comes to detection and automation), so beware. Instead, try using this URL: http://www.youtube.com/?app=mobile from your desktop to access YouTube's mobile version.
8. Use TOR Browser
When it comes to accessing blocked websites, consider downloading and installing the Tor Browser package. Using TOR is a time-tested trick that never fails. Its efficiency is also trusted by cybercriminals who use it to stay undetected. You can easily run a Google search for TOR and download and install it. You can then use it to browse any website that you wish to, without the worry of being tracked or obstructed.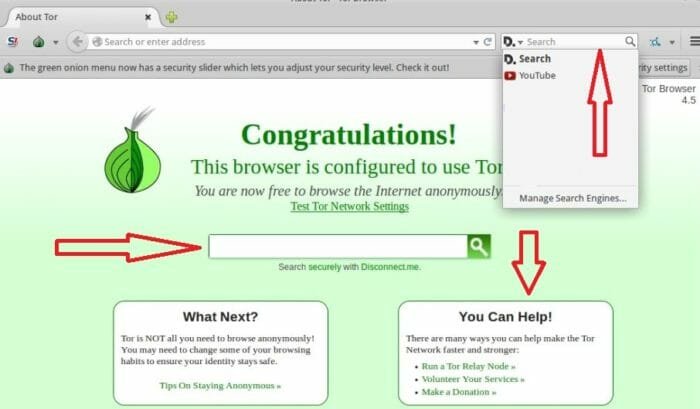 You can download the Tor Package from here and install it. Then you would see the abovementioned page, which you can then use like you use any other search engine.
So go ahead and use it to open YouTube when it is blocked in your office, college, school, or country.
9. Use Short-Link
At times, you can open YouTube when it is blocked in your office, school, or country by merely creating a short link. If you aren't quite sure of what short links are, then check your WhatsApp group messages, and you'll surely find one. Short links are shorter redirects that take you to a particular website. Moreover, it's easy to create them, and all you need to do is copy-paste the link in one of the many free short link generating websites.
Below listed are some of the most popular free short link generators.
https://tiny.cc/
https://cutt.ly/
https://bitly.com
To shorten the link, follow the below-mentioned steps.
Open the browser and navigate to one of the above-listed free short link generators.
Copy Paste the long YouTube URL. You can get this by opening the video and copying the URL from the URL box.
Then paste the Long URL and click on shorten.
After that, you can copy the short link and paste it in a URL box to watch YouTube videos.
10. Remove HT Employee Monitor hotkey
Another method that most admins use to regulate and restrict an employee's activities on the internet (including youtube) is by using the HT Employee Monitor. You cannot find it in the Task Manager or anywhere else on the PC. However, if the Admin (like most others) has forgotten to reset the default key, then you are in luck. Below mentioned is a hotkey that you can use to open the HT Employee Monitor's control panel.
Ctrl + Shift + Alt + Z
Once you do that, the task manager opens up. Next, you need to click on the "invisible" nameless folder and click on 'End Task.'
We have listed down some of the best methods to open YouTube when blocked in office, college, or even if it is banned in your country. You can choose one, depending on your OS and how much access you have to your system. With that said, you no longer "need to" be friends with the System Admins, not unless you want to.
11. Use VPN
If YouTube is blocked in your current location, you can take the help of a VPN. There are tons of free and paid VPN services that you can find for your device. While using a VPN, try to choose a different country rather using the same that you are in.
Did you know that you can also open Facebook when blocked in office, school, or workplace?