A detailed comparison between iPhone 6s+ and Samsung Note 5
Both tech giants Samsung and Apple had released their major flagships this year. While The Korean giant announced Galaxy Note 5 as their recent Android premium flagship, Apple recently announced their high end smart phones 6s and 6s+. Both phones in terms of quality and performance stand right up there this year. Some people who want to buy a high quality smart phone irrespective of type of platform would still be in confusion which one to chose from. If you are one of them, this post will help you.
Common features
On the outside:
Design:
iPhone 6s+ has nearly same awesome design as iPhone 6 from last year, with change in dimensions. This gadget is made of 7000 series aluminium, which would make this phone strong, which wouldn't let the phone bend easily. It is basically a round sided phone.
Coming to Note 5, it is also made up of metal with glassy back having curved angles on four sides, which makes the device to get fingerprints easily.

Display:
Both 6s+ and Note V have great amazing displays using their respective latest technology. 6s+ has a 5.5 retina HD display and Note V has 5.7 inch Super AMOLED capacitive display. Even though both have great displays, Note V has Quad HD resolution with more pixels per inch (ppi). Which means crispy display with sharp viewing angles and excellent brightness even on day light with clear cut performance with 518 pixels per inch. This makes the screen more clean, sharper and brighter.
Technical Specifications
OS and Performance:
Both devices run their respective updated software versions with super fast performing chip sets. So, both devices are fast, handle multi tasking really well without a single lag..
Note V runs Touchwiz on top of Andriod OS V5.1.1 Lollipop having Exynos 7420 chip set, with 4GB RAM to handle high-end usage, which is bigger than Galaxy S6.
6s plus runs iOS 9 on amazingly fast new Apple A9 chip.It has 2GB RAM which is more than enough for iOS9 performance. It has got some metrics for its fast awesome performance than its predecessor already.
Battery and Storage:
iPhone 6s+ takes its advantage by having more battery capacity than 6s. It has embedded with non-removable Li-Po 2750 mAh battery. Even though this looks small, the device handles battery very well. It would definitely last for one day.
Note V has noon-removable Li-Po 3000 mAh battery(bigger than Galaxy S6). Though on paper Note V seems to have bigger battery, but since note V has to handle a bigger display with more pixels, 3000mAh is not enough. So even though 6s+ wins in this aspect. Samsung tried to cover its less battery capacity with fast charging. It's got good reviews and it works pretty well.
Last year note has removable back with expandable storage feature, but this year note V doesn't have those features. That would be a disappointment for some people.
Camera
This year iPhones have camera bumped upto 12 MP with f/2.2 aperature, meaning iPhones are now capable of taking 4K videos. It's an amazing advantage for Apple since it's known for utilizing camera with less pixels with it's great image processing and awesome easy interface.
Note V has 16MP camera the sensor as Galaxy S6 and S6 Edge with f1.9 aperature.This device also has the ability to take 4K videos. Both devices take great photos even in low light.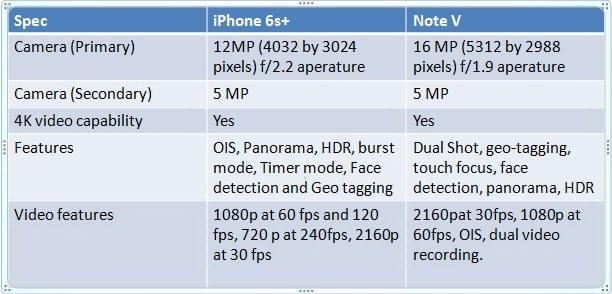 Unique features
Both companies introduced some cool features which make their device unique.
Galaxy Note V:
S-Pen or stylus: Note V has a brand new improved S-Pen with added features like being able to take notes without even turning on the device, select anything on the screen and save, drawing etc.
One can take a screen shot more than one page and share it with our friends
Samsung own features like S health, S Note and S voice to perform some cool things on the device.
iPhone 6s+
3D touch – New introduced feature called 3D touch which allows you to select an item by applying pressure on screen multiple times. Meaning, if an app supports this feature then you can apply some pressure on screen to get a preview of that item, and can get full view by applying even more pressure. Though many apps won't support it now, it would gain more popularity when developers use this feature better
Very fast fingerprint sensor on front which allows you to unlock the device just like that
Live Photos – A new feature in camera which allows us to capture 1.5 sec before and 1.5 sec after you press the camera shutter, like a gif image.
Apple's new features like Touch ID and Apple Pay
Conclusion
Even though both devices have pros and cons in some areas, they both have some cool features. Again, both are high-end devices with expensive price bracket. The selection of the device from the two depends on which platform (Android or iOS) you are comfortable with.