Microsoft Remote Desktop Preview App is Available for Mac
Despite having the Microsoft Remote Desktop app for Mac, Microsoft has introduced the preview version to ensure that users can test out the latest features on their secondary Mac. Definitely, this is quite cumbersome for new users but Microsoft's decision is kind of good and fair. Those, who have Mac, can certainly use Microsoft Remote Desktop app on their Mac, which has been obtainable since past couple of months on iTunes.
However, this time, Microsoft has unveiled the preview edition of the same app on HockeyApp, which was acquired by the software giant in the last year and what you can use on secondary Mac to test new options/features. The version is tagged as V 8.2.5 and contains a Preview tag.
Microsoft Remote Desktop Preview App is Available for Mac
This new edition has some new features and a lot of UI improvements. The official download page indicates that this app is going to get some other updates in near future. Anyway, as usual, Microsoft is giving away this app to all Mac users for free. This is free yet very useful.
New Features in Microsoft Remote Desktop Preview App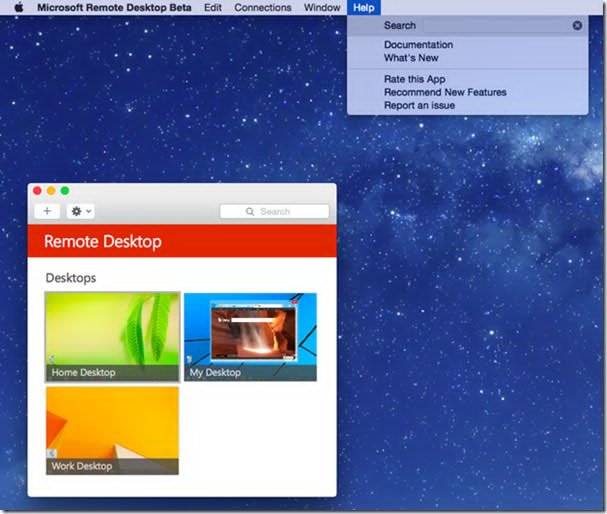 Although, Microsoft has not implemented loads of new features in this edition, yet, all the new features are really useful and these are what make it even better than the stable edition. Some of the new features are as follows,
User account management – you can make change in one Mac and all the other connected devices will get the settings automatically.
Brand new UI – the UI has got a redesign. Although, this is not fully changed but the new UI is more than 50% unique.
More secure connection – previously, some users claimed that Microsoft Remote Desktop app is not much secure. However, the preview version users have not claimed anything like that.
HD video and audio streaming – previously, it was much difficult to play any video or audio over this app. However, the problem is going to solve with Microsoft Remote Desktop Preview app since now this feature has been included. Users can stream HD video and audio smoothly over it.
Easier Copy-Paste via keyboard shortcut – this is another awesome feature, which will let users Cut-Copy-Paste easily with corresponding traditional keyboard shortcuts.
What To Expect in Future Updates?
Along with the stable version, Microsoft is going to update this preview edition as well before that. You can expect the tot have multi-monitor support, Cut-Copy-Paste between remote session and local Mac applications, access to Azure RemoteApp and more.
Which App to Use?
If you are in confusion to decide whether you should use the Preview edition or not, I would recommend you to SKIP it. Since this is a pre-release version and there might have some bugs. Therefore, this is not a good idea to use the preview edition on your primary machine. But, if you want, you can try it on secondary machine.